Do you have an affiliate website? Do you find it difficult to come up and make your own content?
If you think Content Gorilla 2.0 is the solution, you'd better think again. In this review, I'll give you the sobering points to ponder before taking your wallet out and relying on this content generator to do all the hard work for you.
Is it really the content machine that works around the clock? Is this content system really a secret source? You're about to find out.
I've made almost 200 reviews on making money online opportunities, software promising traffic for your offers, software promising content for your website, and all other products that deal with making money online.
I'll tell you content is only king when you make it yourself. More on this later.
For now, let's dive right in and see what Content Gorilla 2.0 is and what it can offer you. Then we'll analyze if it's worth your buck.
If you're ready, let's get started!
Content Gorilla 2.0 Review At A Glance
About: Content Gorilla 2.0 is a YouTube content extractor promising to make you your own content from puling closed captions on videos.
Price: $47
Pros: The software has some useful features.
Cons: Most features can be found for free elsewhere.
Verdict: Content Gorilla 2.0 is a risky source for website content. Without proper filtering, you'd use videos with no Creative Commons License.

What Is Content Gorilla 2.0?
Content Gorilla 2.0 poses to be an "all-in-one" content creation and marketing solution. It's made by Neil Napier in December 2020.
Neil says Content Gorilla 2.0 has been used by over 3,500 people and was able to generate a staggering 250,000 content pieces.
In the sales page, he was smart enough to create a need bubble for this software.
Neil says, "content marketing is the foundation of building a solid business".
True.
But the next statement he made is not as true. He says as a non-native English speaker, he needs a shortcut.
Ooops… Red flag. It's starting to sound like a shiny shortcut.
You see, when you're a non-native English speaker, it's always better to get some "help" to get you the content you need, but never a shortcut.
Shortcuts in the online sphere always led to a dead end. A dangerous one at that.
Neil supposedly gives you 3 choices:
1. Write content yourself BUT it's time-consuming and painstaking.
2. Hire a ghost writer BUT it's outrageously expensive
3. Use a software BUT it makes your content sound robotic so use an article spinner with it and guess what… It ends up sounding worse.
Neil's Secret Content Solution
It's actually no secret. Many people have seen this refer, I'm pretty sure you have too.
Neil's "secret source" are YouTube videos with closed captions. He says it's a "content goldmine".
It can be true, but not in the ways he makes you want to use it.
How Does Content Gorilla 2.0 Work?
Content Gorilla 2.0 supposedly uses YouTube videos with Creative Commons License that you can turn to written content. These kinds of videos have creators who allow other people to use or distribute their videos.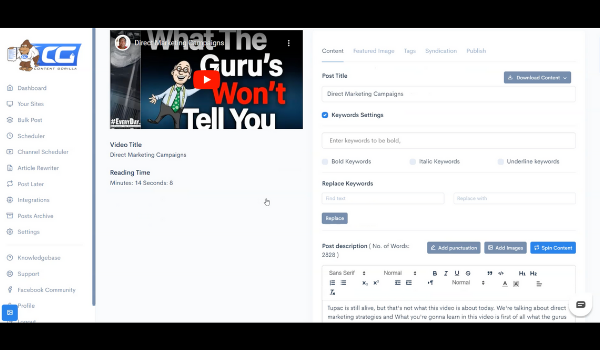 But here's the kicker:
Content Gorilla 2.0 only uses YouTube videos with Creative Commons License as an option.
There's no filtering system that separates those with a distribution license from those that don't.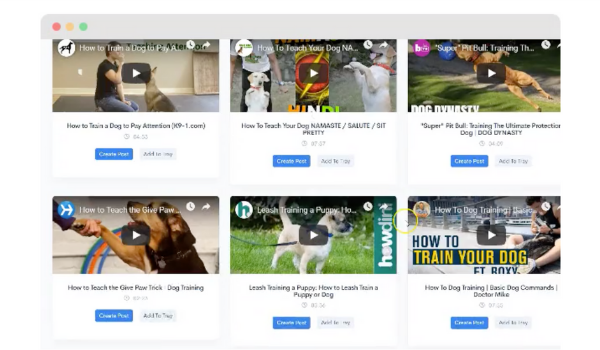 As a beginner with little to no experience of what these are, you can end up using videos with no Creative Commons License. If this happens, you'll get into a lot of trouble with the original content creator.
You can either get fined or have your website suspended. Whatever the case, the outcome won't be good for you.
So, if you decide to use this software, you should have first-hand knowledge on how to distinguish videos with Creative Commons License from those without it.
How Much Is Content Gorilla 2.0?
The sales page says Content Gorilla used to cost $325, but for a one-time promo, you can get the software for only $47.
What Do You Get In Content Gorilla 2.0?
I must say, I'm a bit impressed with how much function Content Gorilla 2.0 has. But the amazement died down when I find out only a few of those functions are really useful.
I'll go through each one of them to explain what I mean.
1. Grammar Checker
Content Gorilla 2.0 has a built-in grammar checker. I'd say this is very useful because when you need another pair of eyes to check your content for any mistakes, a grammar checker can help a great deal.
But you don't actually have to pay Content Gorilla from a grammar checker, you can use Grammarly freely for this function.
2. Content Spinner
Ironically, they discourage the use of a content spinner in the sales page, but here they are using it.
I personally don't like using content spinners because it makes your content sound awkward.
Don't get me wrong, there are good content spinners out there, but the cost is way much at least $2000. Anything priced less, work awful.
3. Auto Images and Featured Images
Content Gorilla 2.0 automatically puts related images to your content to make things faster for you. If you don't fancy their choice, you can always change it.
They also have a database of stock photos you can use if you want to change or add more photos to your article.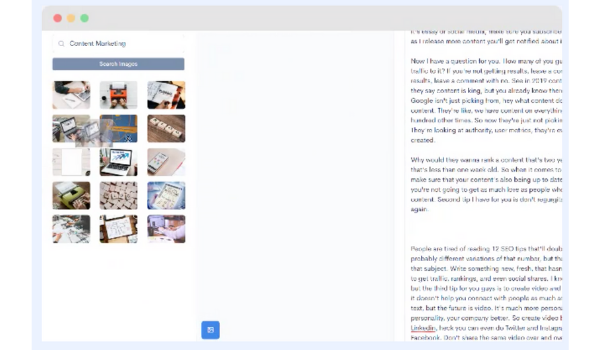 Personally, when I make my reviews, I take the time to choose good photos to use, if Content Gorilla 2.0 automatically provides these things, some weight will really be off your shoulders.
But if you have to change all the photos they automatically put in it, there's double the work for you.
Actually, you don't really have to pay for stock photos, you can find free ones in Pexel, Pixabay, Unsplash and other stock photo sites.
Logically, this has no value to the $47 you pay to use the software.
4. Find & Replace
Taking the manual work off your hands will definitely help avoid getting your eyes strained from checking which words to replace.
After all, the close captions will likely say things like "this video" you want to change every time it's mentioned to "this blog" or "this article".
5. Article Writer
This supposedly rewrites your content. But since the computer is doing all the work, I don't see how it's any different from the content spinner feature.
6. Auto Punctuator
If you don't have the patience to put exclamation points, questions marks, dots, colons, and so on, Content Gorilla 2.0 will do it for you.
Just double check though, the punctuations might end up in the wrong places.
7. Post Archive
One of the helpful functions. This basically helps in keeping track of all your posts.
8. Internal Linking
Neil is really taking the "no heavy lifting" thing to the next level, even the linking that helps you to rank, he takes care of it. It's said to automatically search for related blogs to add to the bottom of your post.
Pfffft not smart enough.
It would've been better if he did the linking withing the texts of the post.
9. Bulk Poster and Quick Multi-Post
If you want to publish multiple blogs at one time, these will make it easier for you. It takes care of scheduling and editing all the posts. You just have to select the videos and your work is done.
But here's the problem:
Bulk posting also means you don't give enough time to watch and check each post. So, you can't guarantee there's any value to the content you'll make.
10. Social Content Syndication and Post Image Builder
How do you get people to notice your post? Content Gorilla says you use social media, it even provides you with the image to post leading to your content.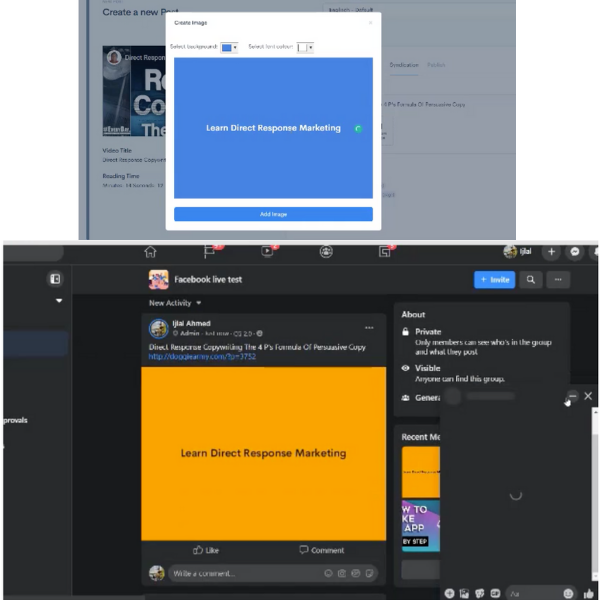 Red flag there.
If Neil wants you to use social media to drive traffic, then it safe to say the content won't be good enough to rank in search engines so you'll generate organic traffic.
Why I Wouldn't Use Content Gorilla 2.0
If you use Content Gorilla 2.0, you'll run the risk of duplicate content.
You see, people using this software will get the same results as you, if you end up choosing the same video, your content will be the same too.
For sure you won't be using the lousy content spinner because it does a no good job so really, you'll end up with the same content others have.
And here's the thing about videos with Creative Commons License:
Naturally, content creators make outstanding content for a purpose.
It's to get more traffic, subscribers, engagements. The point is there's always a benefit in mind why they make good content.
The tendency is creators who grant a Creative Commons License either see little or no more value to those videos. Why else will they give it to you when they can still get something from it?
In most cases, CCL content is either outdated or lacks value that's why the creator freely gives you the right to use it.
This basically means you'll be publishing mediocre content.
Mediocre content won't make you credible in the niche you're in. People will always follow those who provide the latest content in the niche they are in. If you use CCL content, you're off the choices.
Think about this too:
Remember you're just copying other people's content, so why will people waste their time reading your unoriginal content when they can simply watch a more interactive version in YouTube?
I'm not saying written content will always be on the losing end, but if people are given a choice between blogs or videos, they'd prefer the more interactive one.
To compel people to read your written content, it must be compelling enough, packed with so much value and just mediocre hullaballoos so people will find it worthy to read.
Copied content is not worthy to be read.
Is Content Gorilla 2.0 A Scam?
No, Content Gorilla 2.0 is not a scam. But it's software you can do without. If you really have a hard time making content for your website, it's safe to hire someone to who you can relay your visions.
You can hire someone from OnlineJobs.ph to the job for you. This way you'll get a good content with your goals in mind.
Last Thoughts On Content Gorilla 2.0
Content Gorilla is a shortcut that won't do you anything great.
Worst case scenario, you can end up sued for using videos without Creative Commons License.
If you want to learn the right way to bring traffic to your website, Wealthy Affiliate can walk you through it.
The course focuses on affiliate marketing but has invaluable traffic lessons for any online business.
If you're interested in checking out affiliate marketing, then double benefit for you.
To get started, you can head on to this in-depth Wealthy Affiliate review to know more about what the course offers.
What's Your Take?
Do you think Content Gorilla 2.0 is something you can do without? Are you determined to look for a better traffic solution? Tell us what you think in the comments and we might just be able to help you out.
Simon Crowe is on a mission to help as many people as possible kiss their bosses goodbye.
Take the free Commission Academy course to discover how to smash your online income goals and make your dream business a reality.