AMZDFY is presented as a done-for-you online business you can sustainably make money from.
If you think you just sit back and relax and wait for the money to come in, you're getting it all wrong.
You'll find the humungous investment you have to make if you sign up to AMZDFY anything other than relaxing.
In today's review, I'll tell you what this make money online opportunity is all about and share my thoughts on whether this is a good online opportunity to try.
AMZDFY Review At A Glance
About: AMZDFY is an automated Amazon business solution supposedly helping you make big sustainable money online.
Price: The packages start at $5,000 but can go all the way up to $40,000+
Pros: Kevin David is a legit and experienced online marketer.
Cons: The cost is just way over the top.
Verdict: AMZDFY is a legit opportunity but anyone deciding to give it a shot should be ready to invest large amounts and risk making nothing out of it.

What Is AMZDFY?
AMZDFY is an Amazon business solution. It's an automated program that supposedly does the heavy lifting of finding products, negotiating costs, paying Amazon fees, keeping an inventory, shipping products, and getting good feedback.
This program is said to create an automated Amazon FBA business for you just by paying an amount that's worth a king's ransom.
Kevin David and David Arnett, the other owner, will take care of handling shipping and all the other tasks needed to be done to make money with Amazon FBA.
If you think this is the undeniable solution to financial freedom, you'll be in for some surprise as you read on.
Who Are Kevin David And David Arnett?
Kevin David is an Amazon FBA expert who has offered courses on the business model before like FBA Ninja.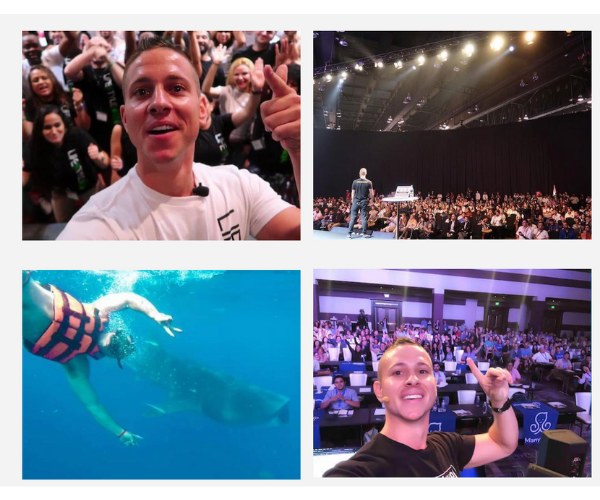 However, unlike FBA Ninja, AMZDFY is an Amazon done-for-you business solution.
Apparently, lots of people trust him. His YouTube channel has over 1.27 million subscribers.
Here's one of his most popular videos:
Even Kevin's Trustpilot reviews are packed with people singing his praises: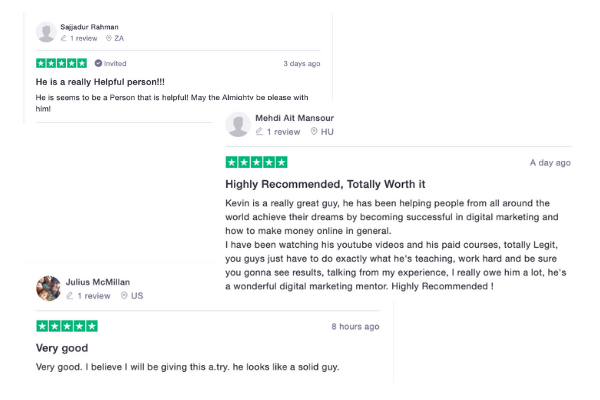 But I did more digging and I actually came up with something. Although it's like looking for a needle in the haystack, I was able to find negative reviews about him.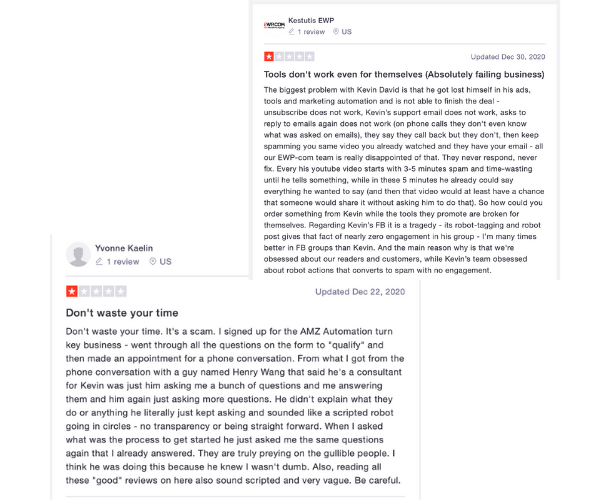 While doing it though, I've gone through pages of reviews and wondering all the way why at certain dates he gets tons of good reviews which covers a few pages.
If you want to check it out yourself, go to the pages with reviews April 13, 2020.
Do you smell something fishy? I do.
Apparently, when doing my research, I found a screenshot of a negative review which said David pays to get good reviews.
It can be the reason why the comments on these reviews are generic and quite short. But we can never know for sure. It's just a claim of one person who made a bad review which I cannot find on the pile anymore.
Like Kevin David, David Arnett is also known to be a successful Amazon marketer and according to his social media profile, David is an 8-figure Amazon marketer.
Here's David on their warehouse.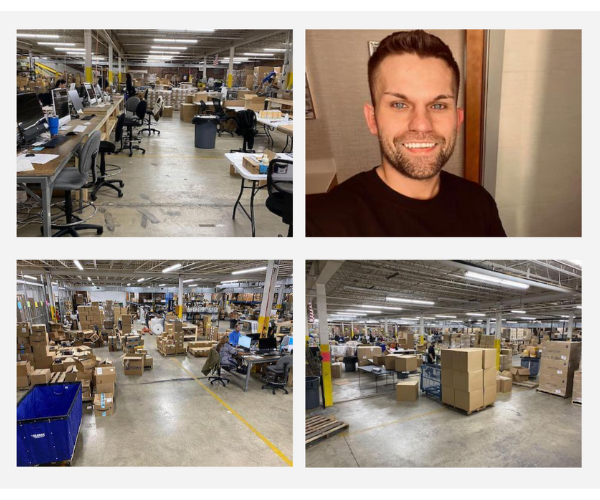 How Much Does AMZDFY Cost?
AMZDFY has a couple package choices. Silver package for $5,000, Semi-Automation package for $10,000, and Emerald package for $30,000.
But here's the kicker:
Your launch service expires. For Kevin to continue running it, you have to pay $500 or 30% of the profits to them, whichever is higher.
Can You Get A Refund In AMZDFY?
According to the automation terms, AMZDFY doesn't grant refunds. For making investing 1000s of dollars, you have to think thoroughly if it's worth every buck you put in.
To help you decide, the following sections will give you the key points to think about.
How Does AMZDFY Work?
The AMZDFY team will supposedly build an Amazon FBA business you can make money from. To avoid all the work involved, Kevin and David will run "your" business for you. You just have to pay them to do it and give them a cut of the profits.
Kevin and David will even give you recommended products (but you will buy them yourself) to sell so you won't have to do the thinking of what products sell and what won't.
Other than that, instead of usually storing it on Amazon warehouses, Kevin and David will store your products on their warehouses.
2 Problems With AMZDFY
1. AMZDFY Will Take A 30% Cut On Profits
Aside from paying for the staggering packages, Kevin and David will also get 30% of the profits you make.
On one side, this gives you a level of assurance they'll do what they can to sell your products so they can make money too. But on the other side, it can also mean they're leveraging your ignorance on how the business works.
This is why it's always best to invest in learning about the ropes of the business so you can have full control over how to run and how you can scale it for more profits. Unless you do so, you'll completely put income in somebody else's hands.
And remember, yours is not the only business they're taking off, they have their own business and the business of other AMZDFY takers. (who by the way are recommended to sell the same products like yours)
But why a 30% cut?
If you check Sellercentral Amazon, only one seller account is allowed per household.
You can have one more only for legitimate reasons. This means each person can only have up to 2 Amazon Seller accounts. Kevin and David combined can only have up to 4 accounts.
In order to get more people to sell their products, they'll use you to make an Amazon Seller Account and let you sell their products too.
This means they can work in multiple niches with your help.
They get their products sold by you, and they take a 30% cut so they make money from it too.
But if you think about it, they're already making so much because they supply you the recommended products you buy and still get 30% when it gets sold to consumers.
Pretty smart, eh? But a bit sketchy too.
2. You Shoulder All The Risk
Getting to sell recommended products by successful Amazon marketers do not guarantee you will make money.
If you think about it, if you don't sell your products, you'll be the one with big loss, not Kevin and David because they've already made money from selling to you the products you'll sell to consumers.
The 30% cut is just an additional income for them.
But even if you do sell the products, it'll be hard for you to recover your initial investment not just because Kevin and David get a portion of the sale but also because Amazon has very thin profit margins.
You'll hardly be left with anything.
Is AMZDFY A Scam?
No, AMZDFY is not a scam. Unless you have a huge pile of money to spare, I won't recommend this to you because you have no control about how much you'll be making and the income you get is way too little.
What Do you Do Now?
Junk AMZDFY and invest in learning online business models yourself so you can take full control and scale your business as much as you can.
Instead of Amazon FBA which has very thin profit margins, you can consider drop shipping or affiliate marketing.
Dropshipping involves being a middleman between a product creator or manufacturer and a buyer. You don't have to keep products in stock, you just have to take customer orders and handle customer inquiries. 
The best dropshipping course is Marketplace Superheroes. 
However, with dropshipping, you have to do the work of finding suppliers and handling customer concerns. 
If you want an easier business model to work on, you can choose affiliate marketing.
In affiliate marketing, you basically promote someone else's product and when people buy it, you make a commission for each sale, but the product supplier handles all customer concerns.
With affiliate marketing, once you convert people, your job is done with them.
The best affiliate marketing course is Wealthy Affiliate. 
Wealthy Affiliate covers lessons starting from how you choose a niche, how to build a website for your niche, and how to find visitors who will convert to be buyers. 
It covers all the things you'll need to start and maintain running a sustainable business for just $49 per month.
Best of all, you can test the waters out for free. Wealthy Affiliate allows you to take the first 10 lessons without cost to let you gauge if it's a good fit for you or not.
If you're interested in knowing more, head on to this comprehensive Wealthy Affiliate review to know more about what this course can offer for you.
What Do You Think?
Did you think AMZDFY is way too expensive?
Do you think it's better to try a business model that's easier on the pocket and gets you full control over your business?
Tell us what you think in the comments. 
Simon Crowe is on a mission to help as many people as possible kiss their bosses goodbye.
Take the free Commission Academy course to discover how to smash your online income goals and make your dream business a reality.