Hello and welcome to my review of My Business Venture. Today we're going to uncover the truth behind Thomas Stridiron's make-money-online opportunity. 
A lot of people now prefer to build a business online rather than the traditional brick and mortar. In many cases, especially with scammy opportunities, people will be led to believe numbers will start clicking in a jiffy. 
If you take a look at My Business Venture's sales page, they're on the "start today, profit tomorrow" hype: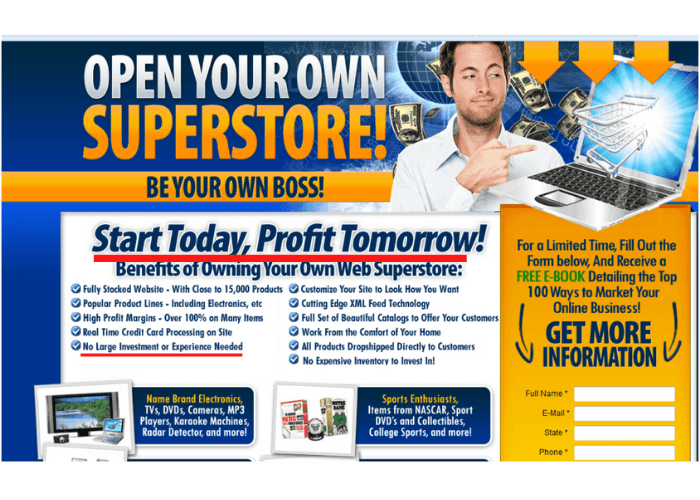 Can they deliver?
Let's find out!
My Business Venture Review At A Glance
About: My Business Venture is a done-for-you drop shipping business providing 15,000 products to sell.
Price: The package price starts at $495. The most expensive package is priced at $3,995. It gets you a turnkey website, training, and business logo.
Pros: Lots of product choices and the inventory is updated regularly to keep products in stock.
Cons: Sales page is misleading, package choices expensive, only available in the US and Canada.
Verdict: My Business Venture is not an overnight success business like what the sales page pitches. Driving customers depend on expensive ads. 

What Is My Business Venture, Exactly?
It works like Human Proof Design. The difference is My Business Venture is a DFY for drop shipping while Human Proof Design is for affiliate marketing. 
My Business Venture started back as early as 1992, however, the current website was only registered back in 2003. Thomas Stridiron mentioned another website www.mbvsites.net but currently, it's not available anymore so I assume this was the domain they used before they switched to mybusinessventure.com. 
My Business Venture has offices in California, New York, and Atlanta but the office they registered in bbb.org is the one in Smithtown, New York. 
It generally offers to make an online store for you and stocking in with as much as 15,000 products they offer in their platform. Because it's in the dropshipping marketing strategy, you won't have to keep tabs on the stocks available because My Business Venture will take care of it including the shipping process. 
They describe it as a turnkey website or much more familiarly called a franchise business. 
As I said earlier, making money from DFY websites is not as easy as handing over your money. Although they provide you with the website, hosting, domain, and shopping cart, the work doesn't end there. 
The money you will make from it will very much depend on how visible your store is in the virtual world. This calls for working on driving traffic to your website. 
How Much Are My Business Venture's Packages?
There are 3 choices:
Standard Package ($495) – this just gets your website setup. The upfront fee cost is $495 but you'll also have to pay $99.83 for 36 months. You'll end up spending a total of $4,088.88 for this package.
Professional Package ($2,795) – this gets you the website setup and access to a number of training videos.
Enterprise Package ($3,995) – this gets you the website setup, training, and a custom logo for your website.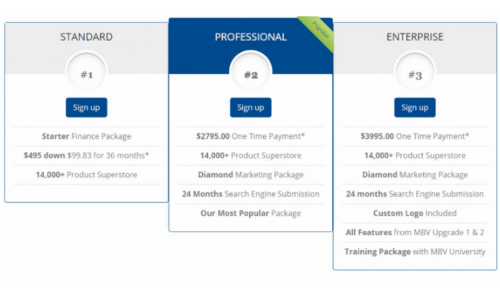 Honestly, I see the Standard Package only as a dummy package for you to choose either of the two latter packages. But take note you'll only access the MBV University (this is the training program they provide to teach you all the marketing strategies you will need to keep your business running and earning) if you buy the Enterprise Package. 
Sucks, right? 
The package you'll need to buy is only the tip of the iceberg. Stridiron himself said that realistically you'll have to spend as much as $8,000 to start generating income!
Making money online isn't complicated…
This video will show you exactly how to get started. Tap to watch now »
Why does it cost an arm and a leg? Because you still have to spend on paid traffic to get people to notice your website. I'll talk more about this in the next part. 
How Does My Business Venture Work?
So, after buying a package, My Business Venture will build a dropshipping website for you complete with hosting and domain, and whatever the package you buy includes too.
Now you have a store and products to sell, what you'll need next are people to visit your store and check out the stuff they can buy so you can start making money.
Here's the kicker: 
DFY websites especially E-Commerce websites won't rank easily in search engines. (You'll need it to rank, best in the first page for people to start noticing it)
What use is a good website if you can't drive people to it and make money, right?
This means you have to be an expert in driving free traffic. If you're a newbie it'll take time for you to learn the ropes of this strategy. Most likely, you'll have to turn to a faster way which is the paid traffic. 
The problem with paying for traffic as a beginner is, this will require a trial and error approach to get the right campaign to drive the right people (those who have the highest potential in getting interested in what you're offering. This means you'll end up spending maybe even more than $8,000 to get the perfect campaign.
Paid traffic is very risky, and you'll need to have a really deep pocket for this and unless you have that, this might not work for you. 
The funny thing is:
If you go back up to the sales page image, one bullet there says: no large investment or experience needed. Totally opposite to reality! 
Misleading? A lot!
Or maybe, they don't see $8,000 as a large investment yet. So then, what is?!
Before bringing out your wallet for My Business Venture, I suggest you think things over first if the costs fit your budget or it requires you to sell your house. 
Granted, the two latter packages include some marketing strategies they'll put in place for you. But since you'll just be paying for the package once, the marketing they'll do for you will also be for one time. 
If you want to keep the money rolling in, you have to learn these marketing strategies yourself or pay for traffic.
So, is making money as easy and as fast as they claim? NO. 
Will you need a large investment? YES! A truckload of it!
Here's my point:
Yes, you can make money from My Business Venture, but only if you have enough budget to cover the hefty costs.
The question that always comes with this is: Will you be able to make more than you'll spend? 
If you think you'll earn as much as Thomas, remember it took him years of experience before he was able to as much make money as he does now. 
Making money from this business will not be as fast as 24 hours. It can take months, or even years before you see income trickling in.
Pros Of My Business Venture
Access to over 15,000 ready-to-sell products
Regular product updates to make sure you won't run out of stocks
You'll get support and training (well if you bought the Enterprise Package that is)
Cons Of My Business Venture
The drop shippers are only available in the US and Canada so this business is only for those living in those countries
Packages choices and traffic cost are absurdly expensive 
The sales pitch is misleading, you won't really earn overnight
Upsells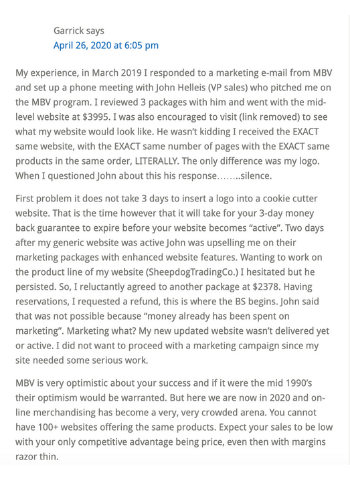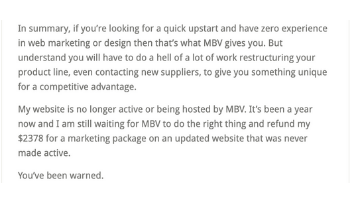 Is My Business Venture A Scam?
I don't think it is, the misleading pitches doesn't necessarily make them a scam.
Come to think of it, it's easy to say an opportunity a scam if it doesn't produce what you expect from it. In some cases, it's just getting the wrong picture of what it claims to deliver. 
Still, they said you'll start making money the next day, but the reality is, it can take more than 24 hours. 
Other than being misleading I think My Business Venture is somehow credible. They have been in the business for decades and Thomas was even interviewed on radio and TV shows to discuss My Business Venture.
If it was a scam, I think he wouldn't go as much as slapping his face on live television because it can make it harder for him to slip away when things go haywire. 
Personally, I won't recommend it though. It's just way too expensive and I also don't fancy the misleading pitch. 
I'd rather choose an opportunity that says right off the bat it will take time for me to make an income rather for something claiming to be super easy yet really isn't.
I think you'll just end up disappointed with My Business Ventures when you realize what they promise falls short of what they can deliver. 
My Business Venture Review Closing Thoughts
Making money from My Business Venture doesn't come overnight. You'll have to shell out a whole lot of cash and spend long hours of work getting the right concoction to drive traffic.
Like what I've said earlier, you'll have to weigh if you can really make more than you'll spend, and if you can, how long?
Always remember your ROI will largely depend on how much traffic you can drive to your website. Not just any traffic, but the right kind of traffic. 
Someone describes it as getting the car full tank without a driver. It's absolutely useless because it can serve its purpose!
If you're a newbie and don't want to risk thousands of dollars for something you're not sure of, you don't have to throw in the towel.
You can still learn to make money online for something way cheaper. Affiliate marketing offers great training to help you build a business from scratch for just $49 a month.
If you're really tight on budget and you want to make sure it's the right fit for you, you can access the first 10 lessons without cost.
If you're interested in a much cheaper option yet still provides quality training, you can go on and check out this in-depth Wealthy Affiliate review. 
You don't only get training but a network of like-minded people who'll help you build your business. 
The great thing about affiliate marketing is, starting out is free, succeeding costs are reasonable and you'll be working in a time-tested platform.
It still requires time and effort, but the income will surely cover the cost when you put the work in.
How I Make A Living Online?
After years of working in call centres I finally figured out how to create a 5-figure monthly passive income stream and become financially free.
Thanks to the right training and a lot of hard work I kissed my old boss goodbye and booked a one way ticket to Thailand.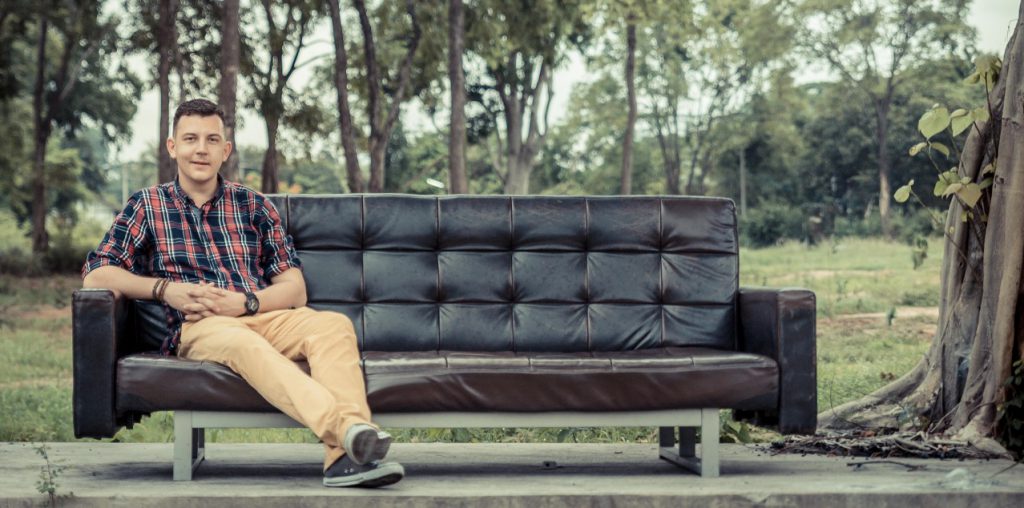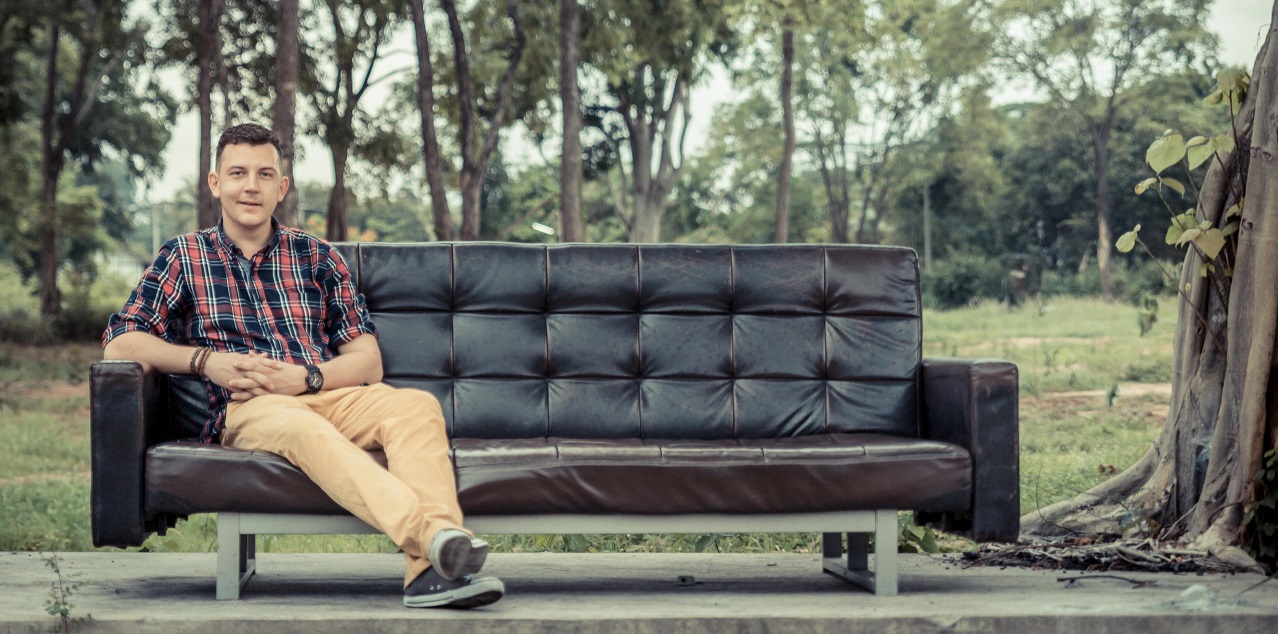 So if you're serious about building a thriving online business, click here for the exact step-by-step formula I follow.
Violent Reactions?
Many say you have to gamble to be successful in making money online. I say, taking calculated risks is much better. Do you think My Business Venture is worth the price or is it too much to start with?
Share your thought in the comments section below. We'd love to hear from you!
Simon Crowe is the founder and editor of The Make Money Online Blog on a mission to help as many people as possible kiss their bosses goodbye.
Watch this video here to discover how to smash your online income goals and make your dream business a reality.