What is Wealthy Affiliate Bootcamp about?
(Hint: It's got nothing to do with army training! 🙂 )
Wealthy Affiliate Bootcamp is an extensive training course within the Wealthy Affiliate online community specifically designed to help you promote Wealthy Affiliate and make money.
Wealthy Affiliate primarily teach beginners to affiliate marketing how to set up and build a successful affiliate websites, getting traffic and teaching them real ways to monetise their websites.
There are hundreds of Wealthy Affiliate success stories shared daily within the community from people who have built websites around their interests and passions, replaced their full-time incomes, quit their jobs and become independent, profiting online entrepreneurs.


Through the Wealthy Affiliate Bootcamp you can promote one of the best affiliate courses online for beginners and get paid for every referral.
The monthly recurring affiliate commissions make Wealthy Affiliate one of the best affiliate marketing programs to promote.
What we'll look at in this post:
Who is the Wealthy Affiliate Bootcamp training for?
Wealthy Affiliate Bootcamp training course overview
Why Wealthy Affiliate Bootcamp might not be for you
3 Types of Recurring Income Streams 
How much money can you make promoting Wealthy Affiliate?
Who is the Wealthy Affiliate Bootcamp training for?
The Wealthy Affiliate Bootcamp will guide you step by step through the process of setting up your own affiliate website with the primary aim of promoting Wealthy Affiliate.
Whether you're already experienced affiliate marketer within the make money online niche who wants to start promoting Wealthy Affiliate within your existing marketing, or you're a complete beginners looking to start making serious money online through a sustainable online business model, the Bootcamp training will help you.
(Newbies also see below for why Bootcamp might not be for you)
One of the great things about the Wealthy Affiliate affiliate program is you can earn money even as a free Starter member, though your commissions will DOUBLE is you decide to upgrade to Premium.
Wealthy Affiliate Premium is $49 if you pay monthly but you can apply the Wealthy Affiliate discount to get your first month's remium membership for just $19.
You can read more about the differences between the Wealthy Affiliate Starter and Premium memberships here.
Wealthy Affiliate Bootcamp training course overview
The training will transform you from total beginner to affiliate marketing pro as it takes you by the hand and walks you through setting your foundation right with your very own income-generating website.
You'll learn the top techniques for attracting website visitors through search engines and social media and to maximise your affiliate earnings by optimising your conversions.
Elizabeth from TheRoadToMakingMoreMoney.com has put together a great 7 minute video tour where she walks through of the Bootcamp training courses and to a look at your potential affiliate earnings.
(Fullscreen recommended)
The Wealthy Affiliate Bootcamp course has 7 phases in total, each level has 10 interactive, high quality video training lessons and actionable steps, which means you earn as you learn.
Everything is thought of in this training and each phase builds on the last. You can click here to create your free Starter account and start the training.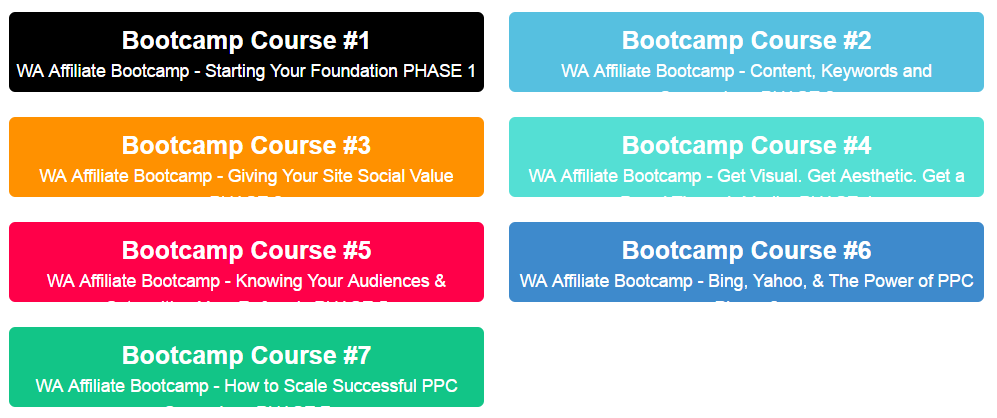 Are You A Newbie? Wealthy Affiliate Bootcamp Might Not Be For You
The opportunities of earning money online are truly enormous and making money by promoting Wealthy Affiliate is a great way to do it.
Ian Pribyl, owner of StoppingScams.com wrote a brilliant article here talking about why Wealthy Affiliate Bootcamp might not be for everyone… and I have to say I agree.
Allow me to explain:
Wealthy Affiliate teaches it's members to create affiliate websites around an interest or area of expertise. The problem is when you're first starting out, thinking of profitable and untapped website niche ideas can be difficult, and this is why lots of Wealthy Affiliate members revert to the making money online niche as a default.
At the time of writing this article, 10,500 people have already gone through the Wealthy Affiliate Bootcamp training – that's a lot of people cramming into a small niche space. This is on top of the fact the affiliate marketing/make money online niche is already extremely saturated.
My advice?
If you're a brand new beginner, don't make your first website about making money online. I only started the Make Money Online Blog after I had already experienced success in a much less competitive niche and I'd already learned how to build an email subscription list, create high quality content consistently and turn casual readers into committed buyers.
Here's the truth pill:
Starting in the make money online space with your first website is very, very difficult. It'll take anywhere form 9 months to 12 months until you start seeing any results… that's long upward climb, unless you know how to stand out.
If you're brand new to Wealthy Affiliate, starting by going through the Online Certification Course and learn how to build a niche Amazon affiliate website where you can start to see results in weeks not months. That way you won't get disheartened and quit before experiencing your breakthrough.
I'm sorry, I'm really not trying to put you off but you should at least know what you're getting into before you start. If you've got any questions or any ideas you want to bounce of me, please your comments below 🙂
3 Types of Recurring Income Streams 
Ok, with that said, let's get to some of the awesome ways you can leverage what Wealthy Affiliate have to offer to maximise your conversions!
You see, Wealthy Affiliate is way more than a training course, yes, they do absolutely have the best affiliate marketing training available anywhere online, but they've been busy working behind the scenes to give affiliate marketers the very best chances of success since they launched in 2005.
Today they also have the SiteRubix state-of-the-art website builder, including easy domain registration and hosting. Co-owners of Wealthy Affiliate, Kyle and Carson have also develope the industry-leading Jaaxy Enterprise keyword research tool.
As you work your way through Wealthy Affiliate Bootcamp, you'll be able to widen your scope and potential audience and use programs and features to build multiple income streams for yourself.
1. The Wealthy Affiliate Online Community
As we've already talked about, this is the core affiliate marketing training and community that is ideal for people looking for a real business model to follow to start to make money online.
Nothing can compare to what Wealthy Affiliate have to offer and their free Starter membership make this an easy program to promote.
Target audience:
Students looking to pay their way through university
Retired pensioners looking to supplement their income
Anyone looking to take control of their lives and say goodbye to the day job.
Recommended reading:
2. The SiteRubix Affiliate Website Builder
Fully integrated with WordPress Express, SiteRubix is the easiest and fastest website builder and takes the hassle out of getting your first website up and running.
SiteRubix gives you another gateway to send potential referrals through as Wealthy Affiliate free Starter members get 2 free websites including domains and hosting to play with.
Target audience:
Beginners to affiliate marketing
Someone who has never built a website before and needs community support
Anyone looking to start an Amazon affiliate website
A business owner looking to improve their online presence
Recommended reading:
3. The Jaaxy Keyword Research Tool
Although seperate from the Wealthy Affiliate offering, I'm going to include it here as it's from Kyle and Carson and used by many Wealthy Affiliate members.
As any experienced affiliate blogger knows, good keyword research is vital to build a winning blogging strategy and hit the top spot of Google.
The commission rates are slightly different, to find out visit Jaaxy.com.
Target audience:
Bloggers looking to increase blog traffic
Affiliate marketers
Anyone working within SEO
Recommended reading:
These are just a few ideas from the top of my head you can use going forward to push your internet marketing efforts and start seeing results. I hope you're starting to see just what an opportunity you have here!
How much money can you make promoting Wealthy Affiliate?
Both Wealthy Affiliate and Jaaxy give you my favourite kind of commissions – monthly and recurring 🙂
Although this is covered in the Wealthy Affiliate Bootcamp training, let me give you a quick overview of the commission rates assuming you're a Wealthy Affiliate premium member.
For each and every referral who adds a profile image and writes a user description, you earn 2 credits ($1 in value)
When a Starter member upgrades to Premium you get 50% commissions. As the Wealthy Affiliate discounts the first month's Premium if upgrade within 10 days, your commission is $9, then $22.50 every month after that.
On average, 1 out of 8 referrals will upgrade to Premium and the average length of membership is 6 months.

So there you have it, that's what the Wealthy Affiliate Bootcamp training is about. Are you ready to check out the course and community and experience it for yourself?
Remember it's completely free to join as a Starter member, no credit card details required. Click the big orange button below to create your free account and get started!
See you on the inside 🙂

Wealthy Affiliate Bootcamp FAQs
Do you have any questions about the Bootcamp training or anything related to the Wealthy Affiliate training? Leave your comments below and I'll be more than happy to get back to you. 
[toggle title="Can you promote Wealthy Affiliate as a free Starter member?"]
Yes absolutely you can. Earn $4 if someone upgrades to Premium within the first 10 days of joining as a Starter and $11.25 for every month they remain a Premium member.
For more information, take a look at Kyle's article: Starter vs. Premium are BIG commission differences.
[/toggle]
[toggle title="How much money can you make promoting Wealthy Affiliate?"]
That's really up to you, but the Wealthy Affiliate Bootcamp course will get you going in the right direction. As you work through the course, you'll be building your online brand and gaining momentum with your business.
Wealthy Affiliate makes it easy to track your number of daily referralsand estimate your monthly earnings/
For full details, click here to go to WealthyAffiliate.com, create your free profile and click on the airplane icon.
[/toggle]
Simon Crowe is on a mission to help as many people as possible kiss their bosses goodbye.
Take the free Commission Academy course to discover how to smash your online income goals and make your dream business a reality.