Hi, I'm Simon and thanks for checking out my Too Damn Easy review where together we're going to look at what Too Damn Easy is, how it works, whether it's a scam or legit and ultimately if this is the money-making opportunity you've been looking for.
The owner, (who oddly enough goes by the name 'Q') will tell you you'll get the equivalent of an annual salary delivered to your door via overnight courier each and every day.
Q goes on to claim the people following his cash gifting program are having six-figure months.
That's over $100,000+ per month or $1.2 million a year!
Sounds a little too good to be true if you ask me. But let's see if Q can really deliver if he's just full of hot air.
Oh, and one more thing: I am no way affiliated with Too Damn Easy. Here at The Make Money Online Blog, we are committed to helping you avoid the time-wasting, money-munching scams and achieve your online income goals with real money-making programs that work.
We do this by working hard to give you only the most honest and real reviews that give you exactly the info you need to decide what to do going forward.
With that out of the way, let's get stuck into the review:
Too Damn Easy Review In A Nutshell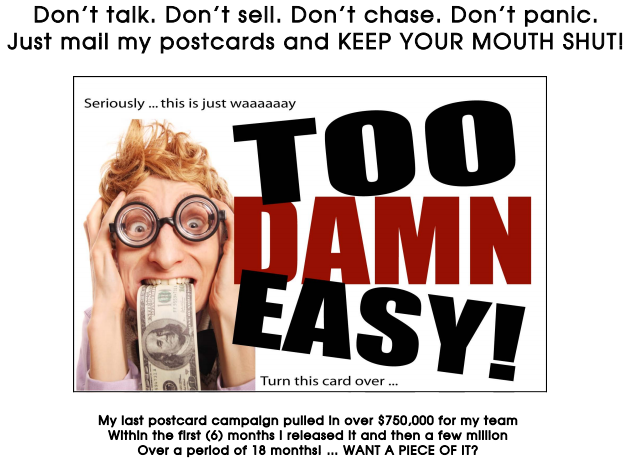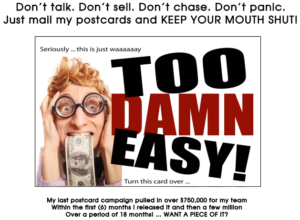 Product Name: Too Damn Easy
Product Description: Pyramid Scheme/Cash Gifting Scam
Let me get right to the point:
Is Too Damn Easy a program you should join?
Heck no!
Run as far away from this scam and anyone you see promoting it as quickly as you can. It's even worse than some of the scammiest programs we've reviewed like Funnel X ROI, Mailbox Profits and Instant Cash Solution.
Q's so-called money-making system fits the exact definition of a pyramid scheme and with membership levels costing upwards of $2,400, signing up is going to cost you dearly.
Too Damn Easy is nothing but hype and emotional manipulation, which is why it's virtually impossible to find out anything about how it works without subscribing to Q's email newsletter.
What about all of those people bragging about making $1,000's a day?
They're either completely morally bankrupt and enjoy cashing in by duping people like you into making one of the worst financial decisions of your life, or they're desperately trying to make some of their own money back using whatever means necessary.
Don't believe me? Read this review in full and I'll show you why Too Damn Easy is the kind of get-rich-quick scheme that ruins peoples' lives (no exaggeration).
Training -

1%

Support -

1%

Potential Earnings -

1%

Trustworthiness -

1%
Cons
Outrageous membership costs
Q is a nameless, faceless scammer
This is a pyramid scheme
88% of people will lose everything
There's NO refund policy
Wanna Make Money Online But Sick Of Scams?
Too Damn Easy Review
"Q" Is A Coward Too Scared To Show His Face
As far as first impressions go, the sales video isn't filling me with confidence…
All you see is an anonymous guy hiding behind a camera counting huge wads of money and telling you you'll be doing the same if you sign up.
"Q" is obviously the fake name he uses and the truth is we have haven't the foggiest idea who this guy actually is, any way of verifying what he's telling us and no way to contact him.
This alone should tell you everything you need to know about the legitimacy of this program. The fact this self-proclaimed cash gifting expert is choosing to hide his true identity from you should send alarm bells ringing!
What Is Too Damn Easy, Exactly?
Don't you find it even a little suspicious that you can't find any real information about what Too Damn Easy is or how you're going to make your fortune?
Head on over to TooDamnEasy.com and all you see is very dated looking sales page with clickbait headings and sleazy videos showing Q flashing his stacks of cash, but at no point are you ever told what it is you have to do to start generating money.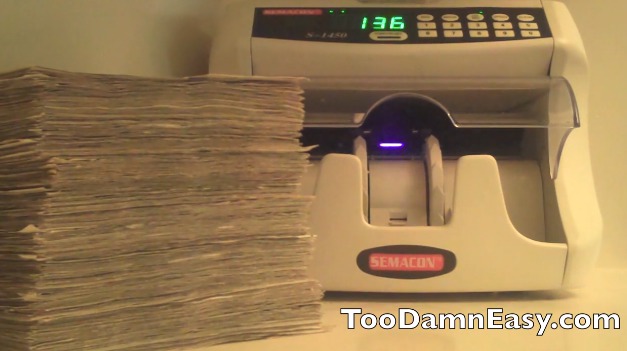 To find out more you're invited to subscribe to the Too Damn Easy email newsletter through the signup form at the bottom of the page: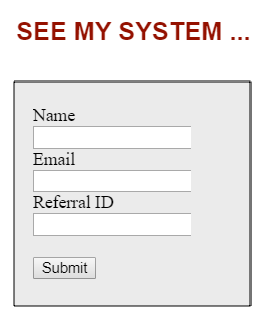 Fill out your details (not recommended) and you'll get an email with a link that takes you to a page with two downloadable PDF files called Dream Tube System, which is a 25 page long eBook and Q Box which gives you more hype on how much money you can earn as well as some step-by-step instructions to follow to get started.


Read through the documents and you'll learn that Too Damn Easy is a system with no products to sell or services to offer. There's actually zero value in becoming a member except to go on to sell the membership to others.
The only way you will ever make any money is by getting other people to sign up to the same scam you just fell for.
And the way you recruit other potential scam victims is by ordering 100's or 1,000's of postcards that are identical to the one you received: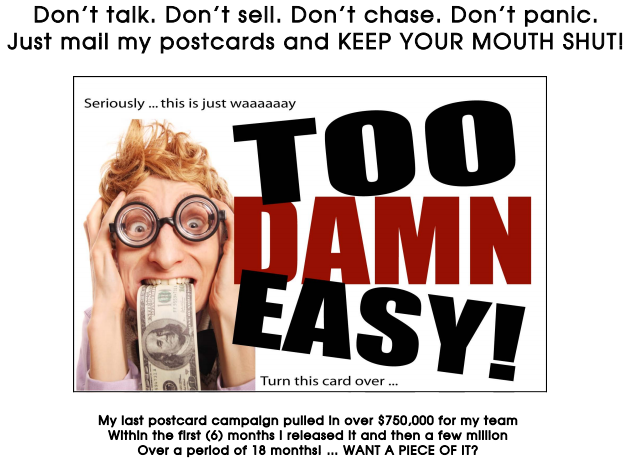 You are told this is a fully-automated system and the only strategy you need to follow is ordering more postcards that do all the selling for you. All you have to do is sit back, relax and wait for the money to land on your welcome mat.

The Crazy Expensive TooDamnEasy Costs
When someone gets one of these postcards in the mail they're invited to call a number to hear pre-recorded voice messages telling them about how great this opportunity is and to buy into the system.
Too Damn Easy have 3 membership levels ranging from $2,000 to, believe it or not, a whopping $18,000.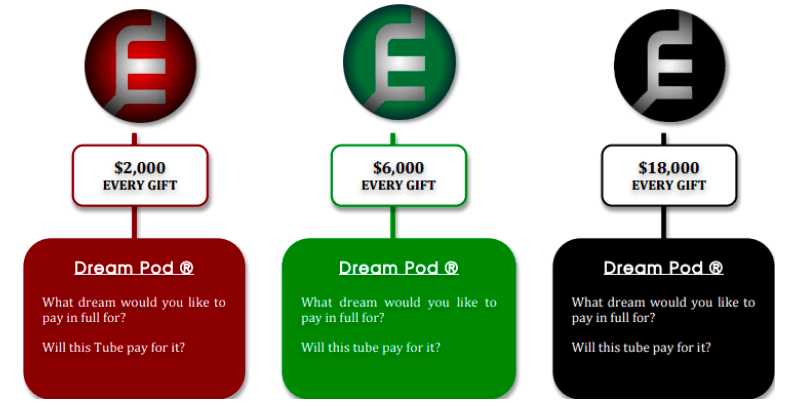 The most worrying thing about all of this is how the compensation plan is designed to get you to pay out $18,000 for the highest level…
Let's say you pay $2,000 for the lowest level of membership – you are then only eligible to receive payments from other members for that level. This means you miss out getting paid commissions for people who join at the $6,000 and $18,000 levels.
So you see now how you are strongly encouraged to sign up to the highest and most expensive membership level for the fear you 'miss out' on any future payments.
Be Aware: There is NO Refund Policy
As well as the $2,000, $6,000 and $18,000 membership costs you will also be expected to pay $400+ for what Q calls 'processing fees' meaning at the bare minimum you're going to need to fork out $2,400 within 24 hours of joining.
But it gets worse:
There's also an invitation-only membership option that will set you back a further $100,000.
Of course, Q justifies his crazy expensive fees by promising this is a great investment and you'll make all your money back and more within just a few days…
But do you really want to $2,400+ to a nameless, faceless guy knowing you will never get a penny of your money back?
Is this really the best long-term strategy to secure your financial future?
I think not!
Is Too Damn Easy A Scam?
Yes without a doubt Too Damn easy is a scam and an expensive one at that…
Despite the videos showing stacks of cash and the hyped-up claims about how much money you might make and however they try and disguise it, the Too Damn Easy system meets the textbook definition of a cash gifting scam.
Cash gifting is one of the oldest pyramid scheme type models around You send your money to people so other people send money to you.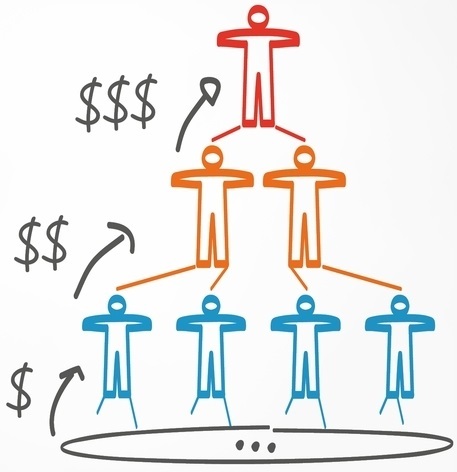 You might remember before the days of the internet, these kinds of scams normally took the form of chain letters, where you sent a dollar to the list of names you received in the post, delete the top name then add your name before mailing out the letters on to more people.
And on and on it goes until it fizzles out…
Too Damn Easy works in exactly the same way but with postcards.
Have you ever seen the scene from The Office (US version) where Michael gets duped into signing up for a pyramid scheme and immediately starts trying to recruit his whole team into 'getting rich quick'?
If a picture says a thousand words then this short video paints a clearer picture of how the Too Damn Easy scam works than anything I can write, so here it is for your viewing pleasure:
While it is technically possible to make money with these sort of gifting scams in the short-term, the vast majority of people never do. That's because pyramid schemes like this are completely unsustainable and collapse very quickly.
Stats show a massive 88% of people who get involved with a pyramid scheme lose everything they ever invested.
This is exactly why you can end up in jail for getting involved with schemes like Too Damn Easy. Cash gifting schemes are illegal in most countries and the only reason we haven't heard about any Too Damn Easy lawsuits yet is that this clever scammer has done a good job of masking his identity.
So save yourself a minimum of $2,400, save yourself the time and save yourself the massive letdown when it doesn't work out the way you were told.
Combine that with the fact Too Damn Easy have a ZERO refund policy and you can see why it's just way too damn easy to lost a heck of a lot of money with this scam.
It's heartbreaking to think how many people have fallen for this, stuffed envelopes with cash only to send it in the mail to a random address with no chance of ever seeing their money again.
Thankfully you're here and now you know better than to hand over your hard-earned money to scam artists like Q so you don't have to suffer the same stress and financial loss.
More Helpful Too Damn Easy Reviews
A REAL Too Damn Easy Alternative
It's clear by now that rather than counting wads of cash, Too Damn Easy is the best way to lose your money in the shortest amount of time.
The good news is there are genuine and legitimate ways to make money online and I can help show you how to get started. But before we do that, there's a couple of things we need to be clear about first:
1) You need to put in the TIME to learn.
2) You need to put in the WORK to see results.
If you can agree to these then you have the exact mindset it takes to succeed and you are already well on your way to making a full-time income online.
Your all-important first step is to get the right roadmap to follow. Wealthy Affiliate's step-by-step training is the best place I know to get started. Specifically designed for beginners, this free course will give you everything you need to know to build a very lucrative business online.
You'll get the support of an entire community of like-minded entrepreneurs as you're working your way through the course.
And the best part?
You can create a free starter account to see if it's right for you.
So What Do You Think?
What are your thoughts on Q and his cash gifting system after reading this review? Are you still tempted to pay $2,400 to sign up, or are you thinking you're better off sitting this one out and looking for something a bit more legitimate?
I'd love it if you could take a second to share your thoughts and questions in the comments section below! I do my best to respond to all comments personally and it would make my day to hear your thoughts.
Simon Crowe is the founder of The Make Money Online Blog and is on a mission to help as many people as possible kiss their bosses goodbye.
Get his free Affiliate Marketing Guide For Newbies to learn exactly how to build a real income online and make your dream business a reality.