Simple Traffic Blueprint presents itself as a 100% dummy-proof, step-by-step blueprint for making money online.
In this review, you'll know why Philip Borrowman says this is not a push-button software but is easy to implement. 
Honestly, I'm quite impressed. I've been reviewing 2 decent courses in a row after I did 100s on low-quality opportunities. I actually appreciate how upfront Philip is. Right off the bat, he'll tell you this won't be a quick fix and he also laid out the cost for applying what you learn.
So today I'm going to cover:
What Simple Traffic Blueprint is
Who it is for
What you get inside the training
It's pros and cons
If it's a scam
I'll then wrap everything up by telling you my personal thoughts on Simple Traffic Blueprint. Based on the facts we have, of course.
Simple Traffic Blueprint Review At A Glance
About: Simple Traffic Blueprint is an online training on using YouTube to create simple reviews and tutorials to supposedly generate free traffic.
Price: $49.99 for the whole training course, and around $70 for a monthly cost on domain, hosting and autoresponder.
Pros: The traffic method taught is simple and effective plus the overall training is comprehensive.
Cons: There will be an ongoing cost but can be covered by ROI once established.
Verdict: Simple Traffic Blueprint is a good way to learn using YouTube videos to direct traffic to your affiliate offers.

What Is Simple Traffic Blueprint?
Simple Traffic Blueprint is an online course made by Philip Borrowman on YouTube tutorials and reviews to generate free targeted traffic. He is an internet marketer himself who decided to put together a training on how to start and grow your own affiliate business.
This training will supposedly teach you how to create YouTube videos that drive traffic to your website and affiliate offers.
The sales page says Simple Traffic Blueprint is beginner-friendly, scalable, and honest. It even has a tagline: Honesty. Integrity. Transparency.
If you've fallen prey to shiny quick fixes before, you'll know the common hype they claim is that making money is simple. Simple Traffic Blueprint also says this, (it even says so on the product's name) but unlike the others' there's a ring of truth to their claim.
Why I Can Say Philip Is Trustworthy
You see, Philip is quite upfront. He says the traffic method he'll teach you about is honest, down to earth, and has integrity. He can rightfully say so because in essence, making video tutorials and reviews on YouTube is legit.
Unlike High Ticket Siphon that tries to unethically hijack other people's YouTube content for their offers, Simple Traffic Blueprint makes its own content.
Another reason why I can say he's upfront because right on the sales page, he'll tell you about the additional cost you have to spend for like the domain, hosting, autoresponder, and even a microphone.
Unlike Local Flip Magic and Smash My Campaigns which doesn't tell you what services and other stuff, you need to pay for.
The best thing he's honest with is when he said that "if you're looking for automatic profits… you're in the wrong place" and "just buying this course will not make you "instantly rich".


He even suggests you skip watching TV for a week and trade it for some work in learning and applying what you learn.
But here's a kicker (but not a total deal-breaker):
I don't know if this was an honest mistake but in one part of the sales page, he says there are no upgrades needed. You won't be presented with an upsell (if this is what he meant) BUT on the Frequently Asked Questions he says he's offering one additional upgrade called "The 7 Day Challenge".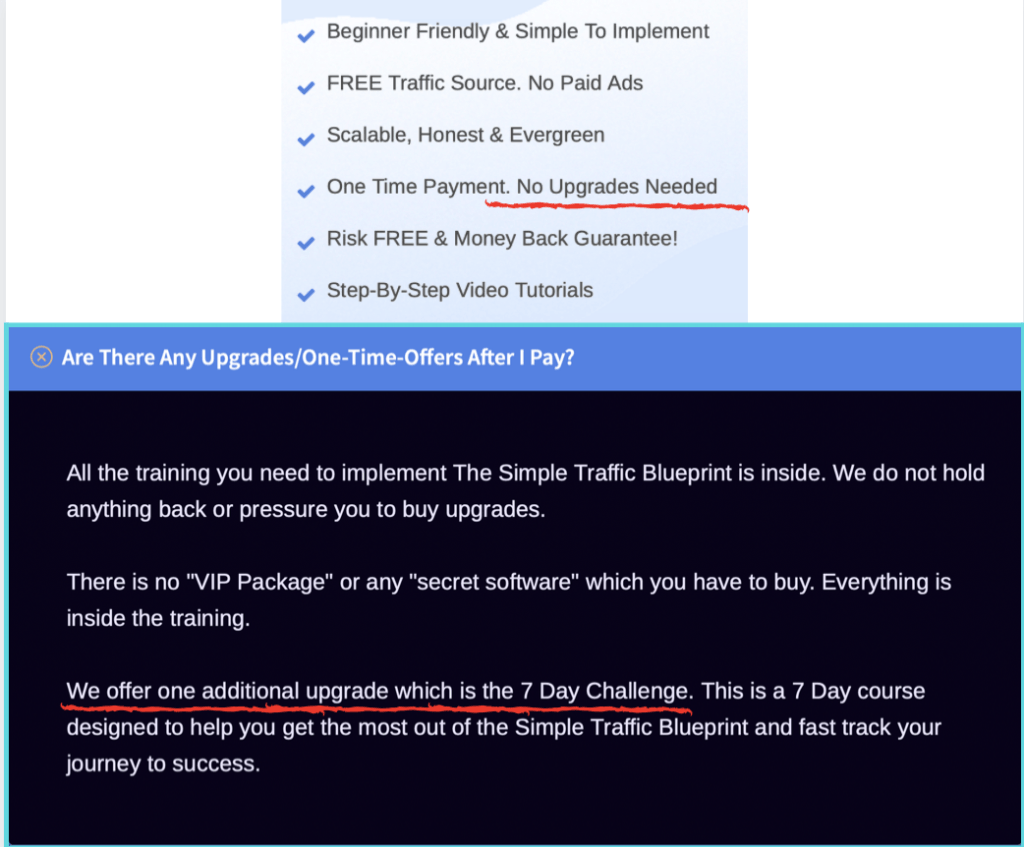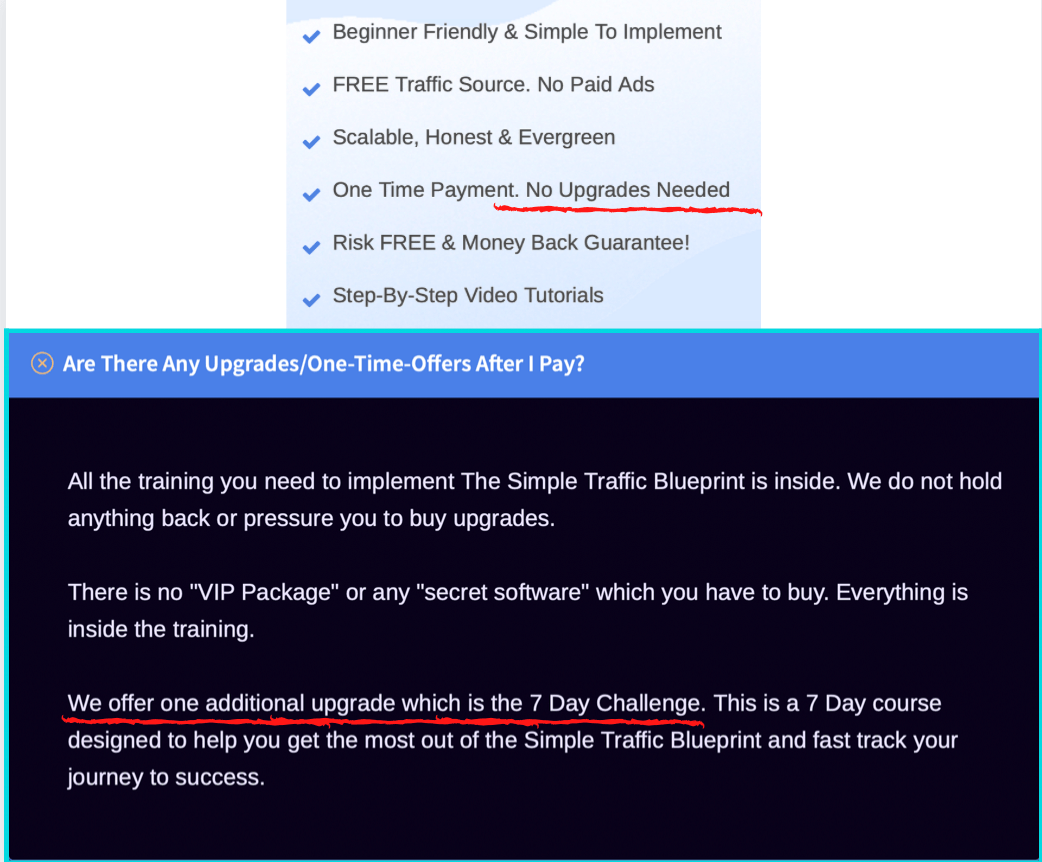 7 Day Challenge, is obviously, a 7-day course. It supposedly fast tracks your progress by asking you to implement certain steps every day so you can put what you learn into action.
Other than the upgrade blunder, Simple Traffic Commission proves to be a "cure to the shiny object syndrome'.
Who Is Simple Traffic Blueprint For?
Simple Traffic Blueprint is for those willing to invest time and effort in building a free sustainable traffic source. It is for those who really want to scale their affiliate offers.
This is also for beginners because the lessons cover what you need to do at the beginning like choosing and niche and building a website for your affiliate offers.
Since Simple Traffic Blueprint's method is making YouTube tutorial videos, you at least need to have the courage to speak to an audience, a virtual audience that is, because you'll be talking about a product.
You don't have to show your face though, but at least you have to be comfortable with your speaking voice.
Simple Traffic Blueprint: Inside Look
Immediately when you land on the sales page, you'll see a 2-minute introduction video. This will somehow whet appetite your appetite for the training proper.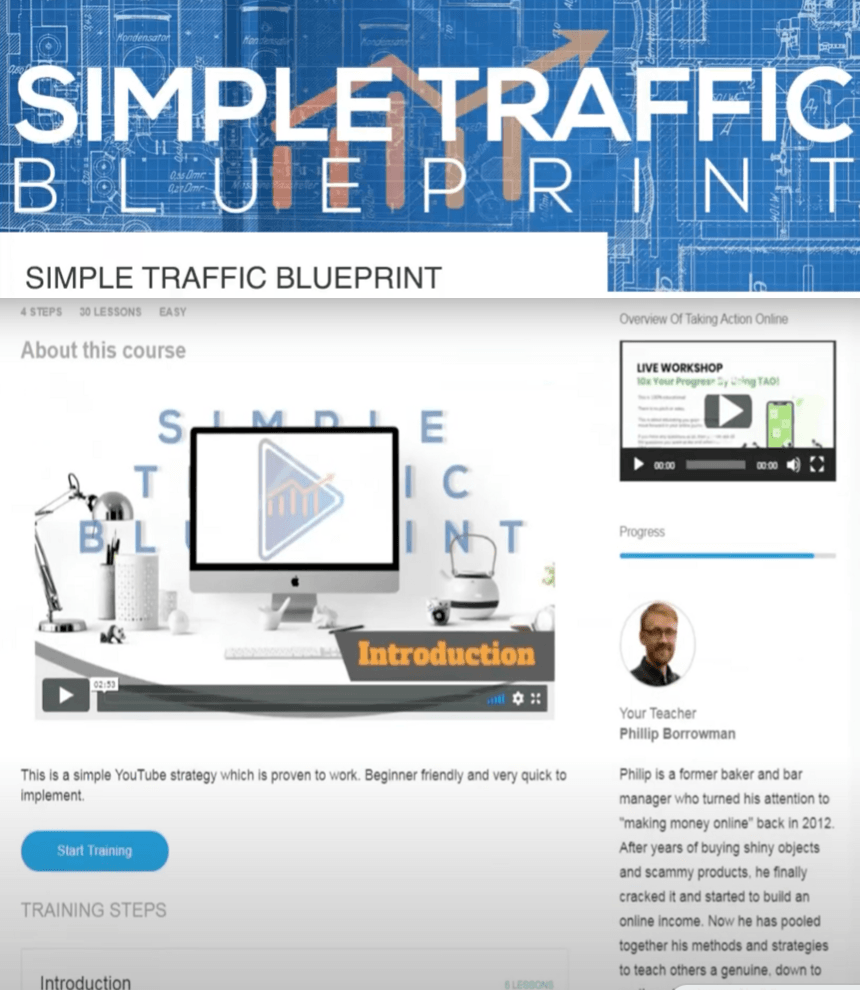 On the right, you'll see more information on who Philip Borrowman is. If you scroll down below, you'll see the 30 training videos divided into 4 modules:
1. Introduction
2. Getting Started
3. Implementation
4. Conclusion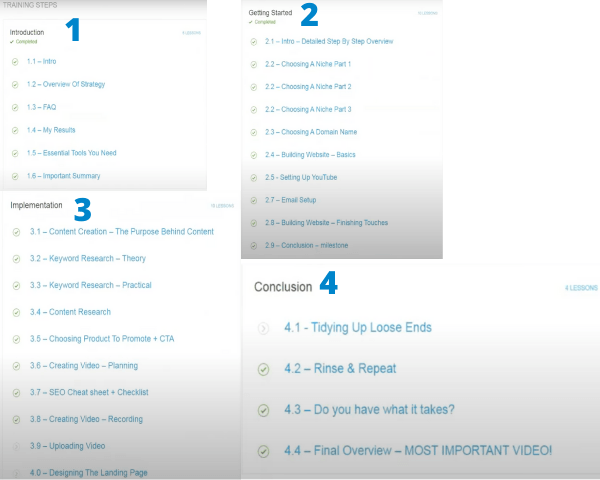 As summary, the steps are compressed intro 3:
1. Choose a niche.
2. Create video tutorials.
3. Generate traffic by uploading the videos on YouTube.
Back on the modules, the Introduction module will cover an overview of the traffic strategy. Philip will also answer commonly asked questions and show his personal results of using the method.
He'll then tell you about important tools you will need along the way.
The second module teaches you about choosing a niche and domain name. It will also teach you how to set up your website, YouTube channel, and email.
The 3rd module will go in-depth in content creation. He'll teach you about keyword research showing you how to find products you can make videos on that people will be interested in watching.
He'll then go on to teach about how to actually make your videos. Philip will also provide you an SEO cheat sheet checklist to make sure your video content will be fully optimized to bring in high traffic.
In the last module, Philip does a bit of encouragement and mental conditioning to push you to action. Because let's face it unless you apply what you learn, knowing about his method will be futile.
Another great thing about Simple Traffic Blueprint is having a community of internet marketers to work with, just like what Wealthy Affiliate and Income School offer.
Are Students Really Getting Results?
One of Philip's students is Richard Darby, the owner of the YouTube channel School of Nomads.
In Richard's review of Simple Traffic Blueprint, he goes to show his stats before and after he applied what he learned from Philip.
When I saw the stats, I actually realized doing YouTube Video content hits 2 birds with one stone. You just don't get free traffic for your affiliate offers to convert; you even monetize the videos.
As you can see in Richard's stats, his estimated revenue can already cover the cost for domain, hosting, autoresponder, and other tools needed.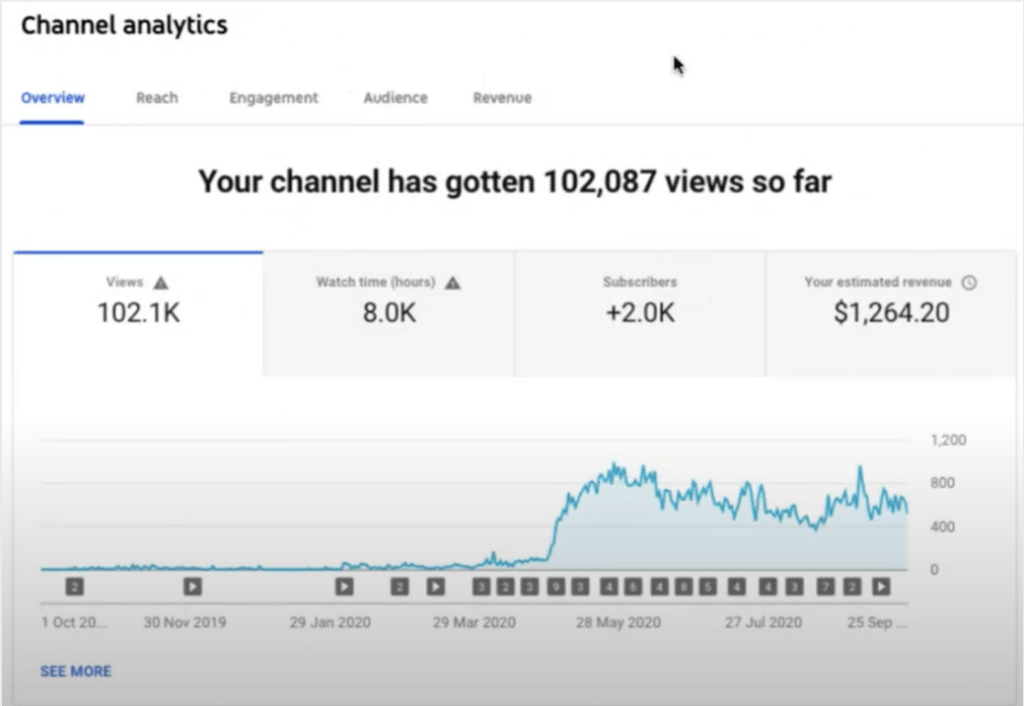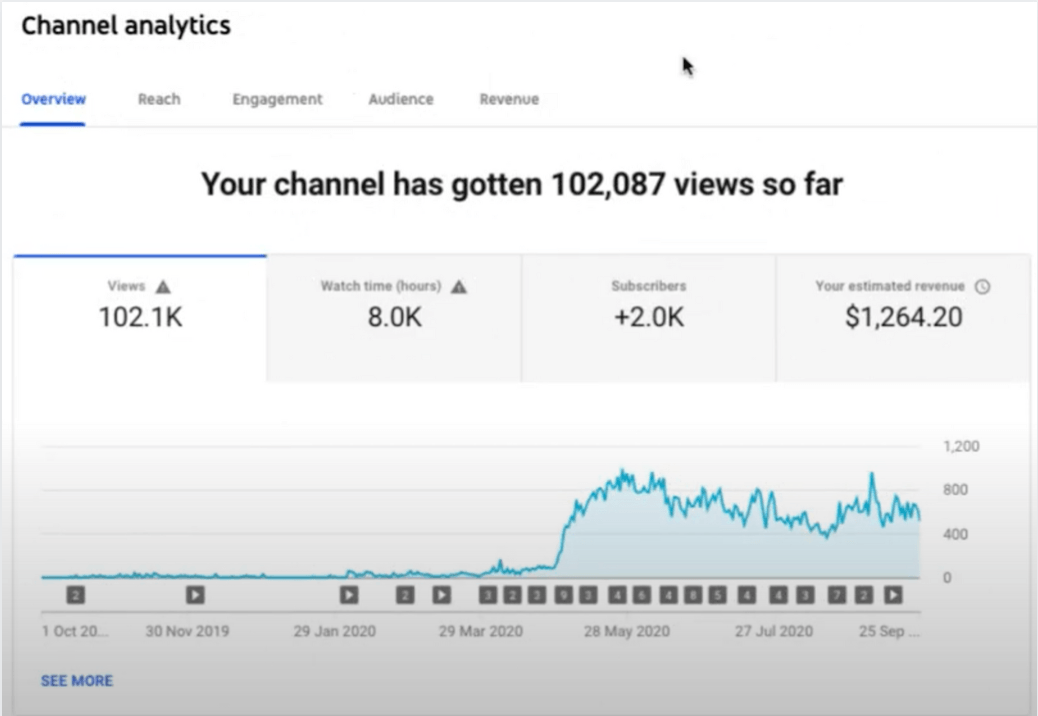 Another great thing about showing these stats is getting a glimpse of a realistic gauge of what his methods can do, it doesn't shoot up your subscriber list but it does increase views which can translate to targeted traffic.
I can definitely say it's a good traffic method to work on, especially because Philip doesn't over-promise results. He even says it might not get you to the top 1 on the search list but it will certainly get you enough traffic to drive visitors to your affiliate offers.
Pros Of Simple Traffic Blueprint
1. It's Owner Is A Legit Internet Marketer
Obviously, you cannot teach what you do not know. Being a long-time marketer really shows how Philip knows what he's talking about. Plus, he's not a creator who just shows up in the sales page and training videos, he even interacts with his students.
2. Simple Traffic Blueprint Has A Community Of Marketers
Having people to ask advice about is really vital in learning something. Training videos don't cover every bit of what you want to know. It's good to have people to ask about.
3. No Instant Income Hype
Philip doesn't promise fast results, instead, he tells you to invest time in learning and applying the method.
4. Covers A Lot Of Topic
For the 30 videos, you'll get to learn how to pick a niche up to driving traffic to your site, basically the basic package in learning how to set up an affiliate business.
5. Traffic Method Taught Is Effective
Creating YouTube content doesn't just drive free targeted traffic, you can even earn from creating videos alone.
Cons Of Simple Traffic Blueprint
1. A Little Misleading On The Upgrade
On the sales page he first says you won't need it yet later on he'll present you with one.
2. Only Has 30 Training Videos
In this sense, I'd say you'll get to learn more with Wealthy Affiliate. In the Certification course alone, you'll have to complete 173 tasks making you sure you apply what you learn.
Simple Traffic Blueprint on the other hand needs you to opt-in on the upgrade so you'll have the push to take action.
3. Doesn't Guarantee Income
Reality is, no legit income opportunity does. But it would be nice if they can assure you with something when you apply what you're taught.
Is Simple Traffic Blueprint A Scam?
No, Simple Traffic Blueprint is not a scam. In fact, it's a good traffic method training for affiliate marketers. You'll be taught how you can create highly optimized video content not just to drive traffic to your offers, but to earn from YouTube as well.
Simple Traffic Blueprint: Closing Thoughts
I won't stop you from signing up with Simple Traffic Blueprint. I rarely give a go signal with online opportunities. If I'm not mistaken, I've just said so for 2 other products.
However, if you want to widen your horizon with other possible great affiliate marketing training, you can also check out Wealthy Affiliate and Income School's Project 24.
As I said earlier, you'll get more coverage with Wealthy Affiliate and also have a whole community of marketers backing you up.
One edge I'd say it has is offering the 1st 10 lessons for free so you can get a feel of it.
Whether you choose Wealthy Affiliate, Income School, or Simple Traffic Blueprint you're going to get legit and decent traning.
However, if you want to give Wealthy Affiliate a shot, you can head on to this in-depth Wealthy Affiliate review to get to know the benefits of choosing this course.
What's Your Take?
Are you satisfied with Simple Traffic Blueprint? Did you like the traffic method it promotes? Tell us what you feel in the comments section below.
Simon Crowe is on a mission to help as many people as possible kiss their bosses goodbye.
Take the free Commission Academy course to discover how to smash your online income goals and make your dream business a reality.