If you're just starting out in the online money-making career, be aware you're a scammer's favorite.  It's way easier to pull over the wool on people who have no or little idea how the online industry works.
So, if you're interested in finding out the real score on Push Button Profits, this review will give you everything you need to know. 
For starters I want you to know get-rich-quick schemes and far-fetched testimonials are two of the most common strategies scammers use to lure people to buy their program.
So instead of relying on what you see on their sales page, you have to look to third party reviews like this so you won't get baited into mere pipe dreams.
Push Button Profits Review At A Glance
About: Push Button Profits is a funnel to Traffic Authority where users can earn a commission for referring people to the traffic platform.
Price: Starter Pack for $47 and Top Earner Pack for $144.
Pros: None.
Cons: Misleading hype and a pyramid scheme.
Verdict: Push Button Profit's main income stream comes from referring people to Traffic Authority. It's not a sustainable online opportunity. 

What Is Push Button Profits All About?
Amazingly, the website was registered back in 2011. While it's been running for some years now, it's not enough to conclude it's not a scam.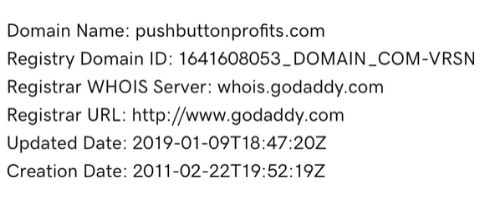 There's zero background information given on the website about who owns Push Button Profits, how it really works, and all the other information you will want to know in considering an opportunity.
So, the sleuth hat is on again and I was led to the names Jeff Gardner and Kit Elliot. There's also an Eric B, the video spokesman. Other than being linked to Push Button Profits, there's no more information on who these guys are and if they are ever credible money-making gurus.
My take on owners who don't introduce much about themselves is this:
How will I ever build my trust in their product enough for me to give it a try when the owners themselves don't give me reasons to trust them?
Enough about these dodgy guys, let's talk about the product.
Push Button Profits is just a funnel page for Traffic Authority, a platform that sells traffic. It includes training videos that show how to use the platform.
By directing people to Traffic Authority, the owners earn a commission.
I was quite disturbed with the redirection but if Traffic Authority was a worthy platform, I would have stop minding.
But here's the kicker:
Traffic Authority's packages are low-end suits that are massively pricey! I won't mind spending as long as I know the product will really convert and make me earn more than the amount I spent.
However, affiliates using Traffic Authority resorted to solo ads, personal email lists, and Facebook ads rather using the DFY campaigns it comes with.
Does that tell you something? It should!
How Does Push Button Profits Work?
To start, you have to choose between two packages:
Starter Package for $47 a month
Top earner Package for $144 a month
After buying a package you'll then be transferred to Traffic Authority.
I honestly thought about changing the title of this review because this involves talking more about Traffic Authority rather than Push Button Profits.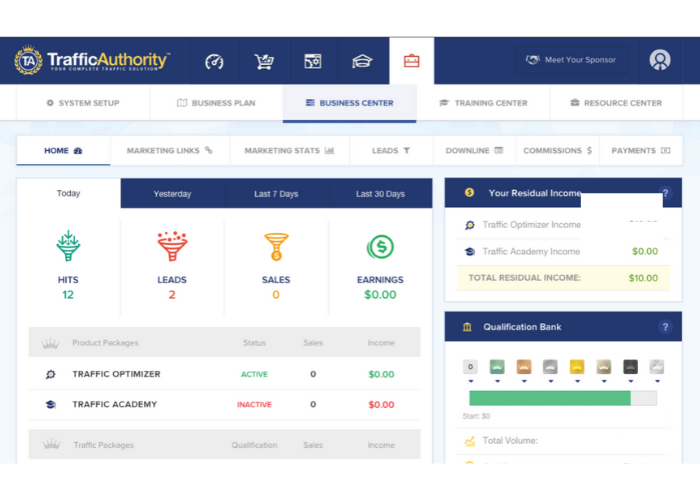 But anyway, once you get to the members' area, you'll the be able to watch the training videos. Essentially it will just teach you how you can market the Traffic Authority itself.
My thing with training videos like this is that if in any case, Traffic Authority closes down, what you've learned will be pointless.
So, I prefer paying up for training videos that deal with making money online techniques I can apply to many opportunities.
Anyhow, after watching the videos, you can then start promoting Traffic Authority to start earning commissions.
If the recruit buys the Started Package, you'll earn $16 and $40 if they but the Top Earner Package.
Here's the upsetting part:
You won't qualify for a Top Earner commission if you yourself only bought the Starter Package. And yes, this is a subtle technique into forcing you to buy the pricier package.
Another concern I have is this:
There's really not much information about what each package includes. So, you won't know what kind of traffic you're paying for and ultimately you won't know if this traffic has a high conversion rate.
Bottom line, you won't know if people in this traffic are even interested in the make money online niche. This means you'll be forking out hefty amounts with zero guarantees you'll ever make money from it.
Here's the truth about generating traffic:
More than just gaining traffic, you have to get the right kind of traffic. This means the audience in that traffic must be interested in your pitch, otherwise, you'll have zero chances of making a sale.
If Push Button Profits or Traffic Authority won't give you highly converting traffic, you'll have to build it yourself and the truth is, it takes more than just a push of a button to make that happen.
So, can you make money with Push Button Profits?
Maybe, but very unlikely.
The Cons of Push Button Profits
1. Misleading Hype
Massive income "proofs" will be flashed right in front of you without really getting an explanation of how they made it happen.
2. It Needs More Than Just A Push Of A Button
No, you won't make thousands of dollars by just clicking a few buttons. It involves more work than that and Push Button Profits won't tell you about this.
Being funneled to a traffic platform means working to get the right campaigns to the right traffic. However, because Traffic Authority doesn't tell you if you're really getting a good audience or not, you'll have to build it up yourself.
3. It's A Pyramid Scheme
Earning commissions without really having a product to market puts an opportunity in the pyramid scheme category. It can work as long as you make recruits but because you won't have products to sell, by the time recruits run out the system will collapse.
That's why the FTC warns about these kinds of schemes.
4. It Doesn't Give Important Information
If I'll be paying for something expensive, I'll surely ask what I can get for my money's worth. Unfortunately, Push Button Profits won't give you that satisfaction.
They won't tell you what the package you bought included and if the traffic provided is highly targeted and converts well.
5. Expensive Packages
For someone who's just starting out and still learning the ropes, the hefty monthly fees will rip your wallet apart.
The reality is, you'll only get low-quality traffic which ends in spending more than gaining. Basically, you're just flushing your money down the toilet.
The money I'd use to pay the monthly fees will be better spent if I use it for Facebook or Google Ads.
Making money online isn't complicated…
This video will show you exactly how to get started. Tap to watch now »
Is Push Button Profits A Scam?
Is misleading you to believe in one system and redirecting you to another define an opportunity as a scam? If you say yes, then it maybe is.
Personally, I can say Push Button Profits is one big fat deception so yes, without even asking you, I think it's a scam.
But even if it was legit, it's not something I'll recommend especially to newcomers in the online industry. You'll only get traumatized knowing the money you put in won't make it back to you.
Here's a list of other get-rich-quick schemes you can check and compare:
Push Button Profits Review Bottom Line
Here's a little recap on the red flags I saw with Push Button Profits
You have to pay for membership to make money
You promote the program and not products which gets you in trouble with the FTC
It's a mere gateway to Traffic Authority
Here's another catch:
Traffic Authority's income disclosure states the average income a member makes is just around $500-$2,000 a year!
Nope, that wasn't a mistake, I really said year, not month, not even week. So if you've seen Push Button Profits claiming to help you make $10,000 every week, I'm sorry to break it to you, but it's just a mere fairytale.
The concept of making money without any online money-making knowledge or experience by just simply pushing a button is like a unicorn, it doesn't exist in the real world.
The "easy money" tactic is a mere strategy to bait you in to buy their product. Nothing more.
Making money online can get easy in time, but starting out, you have to invest time and effort to build a sustainable business.
Plus, ask yourself, why do you even have to pay to promote traffic authority? For the low-quality traffic? There's no point paying for traffic you don't know about. Totally not worth it!
What I can tell you about traffic is this:
It's good to start with free traffic rather than a paid one. This is because you still have to concoct the perfect campaign to the perfect audience that converts wells.
By paying for traffic in the trial and error stage, you'll end up losing tons of cash.
And like I said earlier, it's better to invest in training you can use for various opportunities.
Take affiliate marketing for example. Wealthy Affiliate comes with training to teach you the ropes of making money online, not just by promoting the opportunity itself. Plus, you won't have to recruit anybody to make money!
If you want to make money online and earn month after month, affiliate marketing is a time-tested opportunity.
You don't have to take my word for it, you can check it out for free! To know more about how it works, you can head on to the Wealthy Affiliate review.
If the shoe fits, don't forget to come back and share your experience in the comment section below!
How I Make A Living Online?
After years of working in call centres I finally figured out how to create a 5-figure monthly passive income stream and become financially free.
Thanks to the right training and a lot of hard work I kissed my old boss goodbye and booked a one way ticket to Thailand.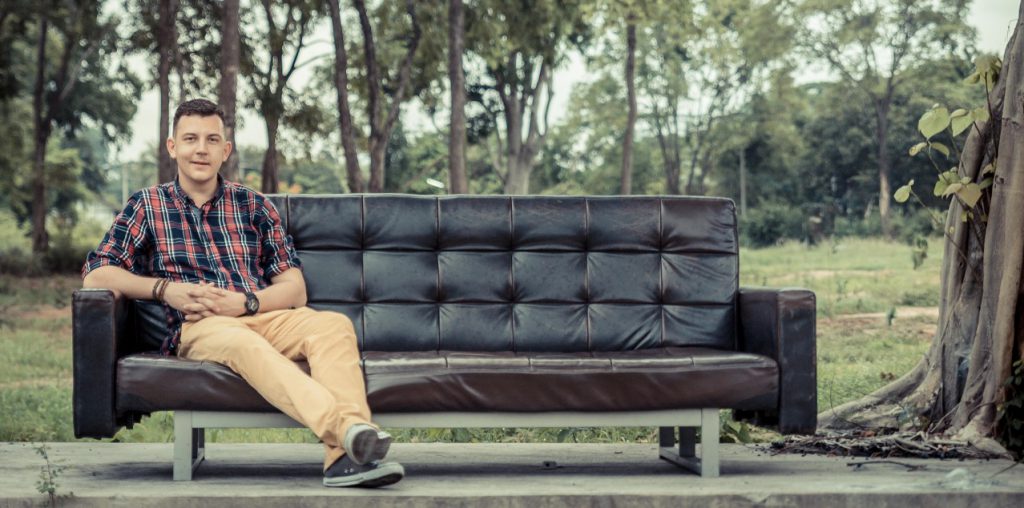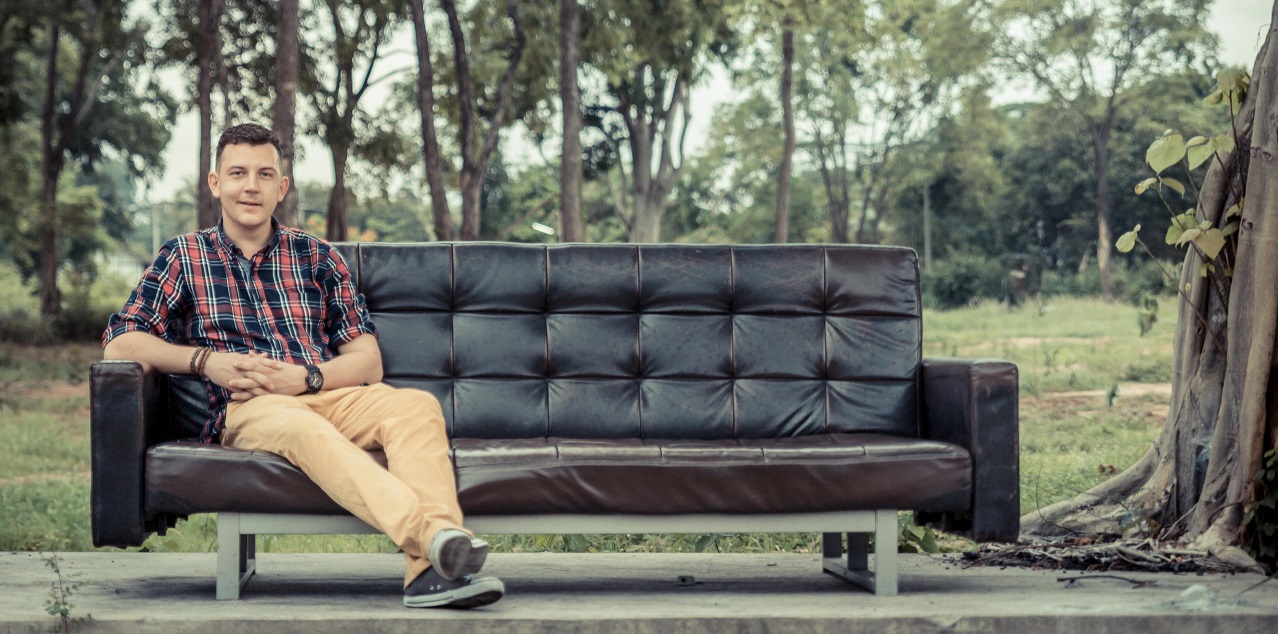 So if you're serious about building a thriving online business, click here for the exact step-by-step formula I follow.
Simon Crowe is on a mission to help as many people as possible kiss their bosses goodbye.
Take the free Commission Academy course to discover how to smash your online income goals and make your dream business a reality.