Not a week goes by without a new MLM popping up claiming to be THE route to unlimited income potential.
Nutricellix is just one of the latest who claims they can offer personalized supplements through DNA testing.
But can they really?
And is Nutricellix a legit business opportunity you should jump on board with or a just another scam to avoid?
Let's find out!
Nutricellix Review At A Glance
About: A health and weight loss multi-level marketing (MLM) company.
Price: $59 plus a minimum monthly spend. 
Pros: No need to buy a starter pack. The founder has a long history with MLMs.
Cons: MLMs typically have only a 1% success rate and these are expensive products with no scientific proof they actually work.
Verdict: Some people enjoy face to face selling but most don't. Want to start a business without selling or recruiting? Here's a smarter option.

What sets Nutricellix apart from most MLMs is they claim to offer modified supplements depending on your genetic make-up.
It can seem to be a state-of-the-art development, but a lot of people question its effectiveness and in all honesty, it's a little early to say as the company is still quite new.
They started out just this year so they're still not able to present an income disclosure yet. There's no way of telling if it's a good opportunity to make money from.
What I do know is with these overpriced products you're going to have a hard time recruiting people and an even harder time landing a sale and earning a commission.
What Is Nutricellix?
Nutricellix is an MLM in the health and wellness niche based in Texas, USA. It launched in January 2020 and is owned by Bo and Roni Short. Bo works as the CEO while Roni as the president of the company.
I don't know why but Nutricellix has 2 websites: Nutricellix.com and Mynutricellix.com. If you want to find more information about the company, check the latter website because it contains information about the company, income disclosure, and the compensation plan which you cannot find in Nutricellix.com.
Bo Short had his initial experience with MLMs when he became a Quixtar distributor during the 1990s. Quixtar is now better known as Amway, an MLM giant that also has health and wellness products. Bo later left Amway to launch Passport in 2001.
After Passport, he got connected with Univera Life Sciences then Max International until 2008. A year later, he became a partner in EIRO Energy, an energy drinks company that is now out of business. 5 years later Bo joined Jeunesse, a beauty and wellness MLM.
After Jeunesse and right before Nutricellix, Bo became Chief Sales Officer of Nerium International.
For more than 2 decades, Bo gained a lot of experience with MLMs but the constant shift into another company doesn't sit with me well. It could be 2 things: either a greener pasture is always offered to him or he didn't have good working relations with his previous company.
Also think about it:
How sure are you he won't leave Nutricellix for another company after a couple of years? If he does, where will that leave you and your investment?
Another thing I found out about Nutricellix is that one of its directors is Terry LaCore who bought Uforia Science in 2018. LaCore also merged with MaVie another company offering DNA-tailored supplements.
This connection, which is never disclosed in the company websites (which I feel should have been), somehow makes Nutricellix look like a white-label company. After all, why will LaCore bother to run 2 MLMs offering the same concept?
Another thing which makes my theory stronger is that both Nutricellix and Uforia Science offer their products at the same prices. Basically, you'll get the same products under different brand names. Doesn't sound too revolutionary to me.
Here's a video about Nutricellix:
The Cost To Join Nutricellix
Nutricellix's affiliate membership costs just $59. However, the amount you need to spend doesn't end there. You have to maintain point values per month to earn commissions. This means you have to spend enough to reach the minimum required point values, 50 PV for an Ambassador rank for example.
Nutricellix Products
Nutricellix DNA-tailored supplements concept starts with an expensive $100 DNA Analysis Kit to "test" what works best for you. Nutricellix takes your swab sample and sends it to a HIPAA certified lab. Based on the results, Nutricellix then offers either the AM or PM variant of Prime retailing at $129.95.
Prime is said to be "based on the unique variations inside your own genes" and claims to be "the most powerful tool in Nutricellix's Weight Management System". It claims to contain plant-based proteins, fiber, natural probiotics, amino acids, and more.
Other than Prime, Nutricellix also offer:
Core ($129.95) – Also with AM and PM variants, claims to help detoxify, burn fat, and manage stress
Prevail ($129.95) – Also with AM and PM variants, helps manage weight after using Core
Nutricellix Fit ($69.95) – works as a midday meal replacement
Surge ($49.95) – claims to improve the immune system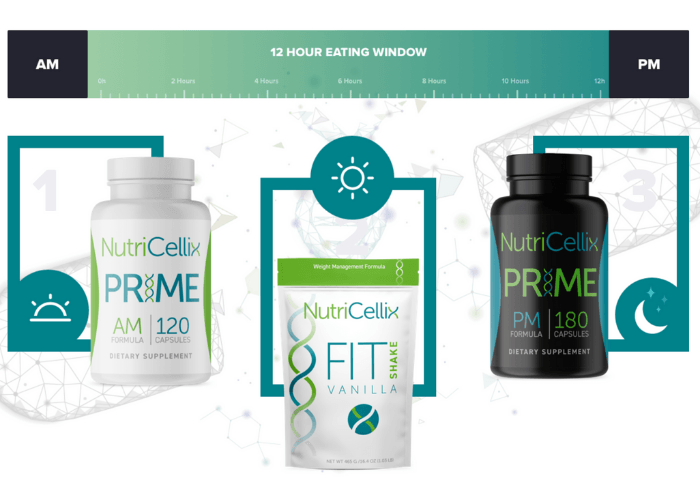 Here's the thing:
Offering customized supplements sounds more of a gimmick than actual science. Just imagine providing DNA-tailored supplements for at least a hundred people when at the same time you already have products ready for them to take. Doesn't sound too customized to me.
Why will I pay $100 for a DNA Analysis Kit if I'll only get the same products everyone has? To me, it's just a ploy to get more money out of your pocket.
Another thing:
While Nutricellix provides a disclaimer that the FDA hasn't evaluated their products, (because the FDA doesn't really evaluate supplements) there's no solid proof it works. If it does, I'm quite sure the effectivity varies from one person to another.
If you're looking to lose weight, I think it won't be because the product worked but because it's so expensive you don't have money left to buy yourself enough food!
Nutricellix Compensation Plan
Nutricellix uses a uni-level system to give out commissions. You can earn from retail commissions, smart save commissions, team commissions, matching bonuses, and leadership bonus pool. Nutricellix also offers incentives like trips and promotion.
To start this section, we're going through the 13 affiliate ranks in Nutricellix and see what each rank requires.
Ambassador – maintain 50 PV every month
Executive Ambassador – maintain 100 PV every month
Opal – maintain 100 PV every month and 2 Executive Ambassadors
Jade – maintain 100 PV every month and 3 Executive Ambassadors generating 1000 GV every month
Pearl – maintain 100 PV every month and 4 Executive Ambassadors generating 3000 GV every month
Sapphire – maintain 100 PV every month and 5 Executive Ambassadors generating 10,000 GV every month
Ruby – maintain 100 PV every month and 6 Executive Ambassadors generating 20,000 GV every month
Emerald – maintain 100 PV every month and 7 Executive Ambassadors generating 40,000 GV every month
Diamond – maintain 100 PV every month and 8 Executive Ambassadors generating 80,000 GV every month
Blue Diamond – maintain 100 PV every month and 9 Executive Ambassadors generating 100,000 GV every month
Black Diamond – maintain 100 PV every month and 10 Executive Ambassadors generating 150,000 GV every month
Red Diamond – maintain 100 PV every month and 11 Executive Ambassadors generating 300,000 GV every month
Crown Diamond – maintain 100 PV every month and 12 Executive Ambassadors generating 500,000 GV every month
By the way, PV stand for personal volume and GV is for group volume.
Here's the kicker:
If you want to advance in rank but your downlines can only afford to reach the minimum PV requirement, you have to shoulder the rest of the PV needed. This means buying more and more products which only gather dust on your shelves.
In my parents' case, when they joined an MLM and aimed for a higher rank, we first dedicated a shelf for the products and later on converted a room for all of it to fit! This can also happen to you if your goal is to reach the Crown Diamond rank.
The problem here is, the money you spend on buying products to reach a GV can be more than the commissions you'll ever earn. So, unless you and your downlines have constant retail clients, you'll just be burning money.
Retail Commissions
This is the money you earn for selling the products to retail customers. When you buy the products from the company, you get it at a wholesale price which is around $10 cheaper than the retail price. This will also stand to be your retail commission.
Smart Save Commissions
Customers can pay up for the Smart Save Program to get products at a wholesale price. The referring ambassador however will still receive a commission like when you've sold to a basic retail customer.
Although the customer gets the product at the wholesale price, I assume the Smart Save fee is where they'll get your commissions from. So bottom line, it's just retail commissions with a dash of tactic.
Team Commissions
A higher rank means more commissions to earn. Here's a screenshot of the chart showing much you can earn at a certain rank. As you can see, the higher the rank, the more levels you can earn from. Nutricellix pays up to 8 levels deep.
At level 1 every rank gets 5% commission, level 2 is 3% higher. However, in level 3 it goes back to 5% and goes lower for each level.
Matching Bonus
Nutricellix gives out a matching bonus from your downlines' residual income. It is monitored over a generation (Pearl of higher rank downline) in a uni-level team. It pays until 5 generations per leg.
For example, a Pearl ranked downline gets 10% bonus, a Sapphire gets 10% each from 2 generations, a Ruby gets 10% on the 1st 2 generations and 5% on the third. To get the full list, just check out the chart I included below.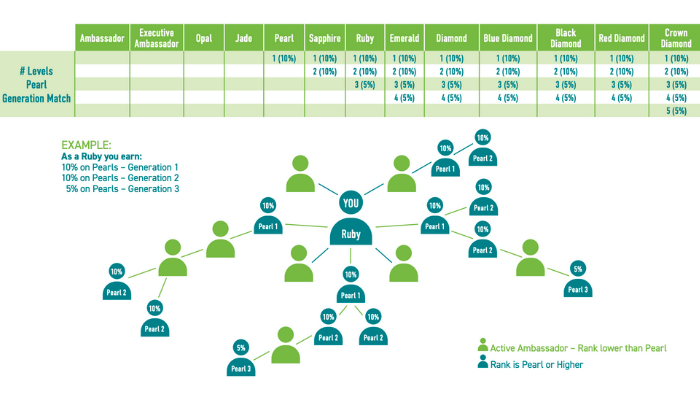 Leadership Bonus Pool
From Diamond up to Crown Diamond, Nutricellix gives out shares from the company-wide sales. However, it doesn't say about the percentage you can get, only the shares that are pretty vague. A Diamond rank gets 1 share and 1 additional share as you go higher up the rank ending at 5 shares for Crown Diamond.
You can click here for the full Compensation Plan.
Here's the thing:
If a compensation plan takes pages to explain, then it's not easy to understand. One thing I know with complicated compensation plans is that it's designed to confuse people into thinking there's much to earn in it while in reality there really isn't.
Making money online isn't complicated…
This video will show you exactly how to get started. Tap to watch now »
Nutricellix Earning Potential
Being quite new, the earning potential for an affiliate is hard to tell. Even the Income Disclosure Statement wasn't able to give projections.
It only says that if income projections are shown by the one who invited you in, these projections do not reflect the real income potential and should not be considered to be how much you will earn in reality.
Then it ends up with this sentence: "Success with NutriCellix results only from hard work, dedication, and leadership." What legit opportunity doesn't?!
Pros Of Nutricellix
Only $59 to join
No need to buy any upfront package to join
Owner has a long history with MLMs
Cons Of Nutricellix
Products are expensive and not proven to be effective.
A possible white-label company
MLMs generally have low success rate
Is Nutricellix A Scam?
Is still too early to tell if Nutricellix is a scam or not. Bo Short's long history with MLMs doesn't necessarily mean they're legit. At best, we can only theorize it's a white label company of Uforia Science.
Legit or not I still won't recommend it not because I see it as a scam but because as an MLM, it will be so hard to make money from it. Not only is selling hard but more so with recruiting someone who will work on the business with you.
Nutricellix Review: Closing Thoughts
99% of people who join MLMs lose money. No matter what niche the MLM is in, people will lose more money than they will even make. MLMs are designed to recruit people who will also recruit other in return, a task which is not a walk in the park for most people.
First, think of all the health and wellness MLMs that exist, then think about all the other niches in MLMs. Too many to count right? How do you think many fared with it? Not so good because too many people are selling the same stuff everybody is selling.
You're in for some tough competition because it's hard to stand out even if you have a gimmick like DNA-tailored supplements.
Practically though, how many people will you be able to recruit? Even if you have tons of friends and family, it's no assurance you'll get many people in. More like, many people will cross the road when you're around.
And truthfully, no matter how many times they say you're building your own business with MLMs, that will never be true. You'll always be building somebody else's business for them.
If you want to start your OWN business which can generate income month after month, I suggest you try affiliate marketing.
The great thing with it is:
You can get started for free
You'll get the training you need
You won't need to recruit
There are tons of products to promote
You can have a sustainable income
If you're curious about how it works, check out this in-depth Wealthy Affiliate review to see for yourself.
What's Your Take?
Have you tried MLMs? We're you able to make more than you spent? Share your experience with us in the comments section below.
Simon Crowe is on a mission to help as many people as possible kiss their bosses goodbye.
Take the free Commission Academy course to discover how to smash your online income goals and make your dream business a reality.