Hello and welcome to this Movie Review Profits review where we'll go through the pros and cons of Movie Review Profits to see if this is a scam not worth bothering with or a legit way to make money watching and reviewing movies.
In the sales video, Jeff says he's gonna show you how to make $20-$30 an hour in your spare time from the comfort of your own home.
He says it doesn't matter if you're 18 or 88 and there's no experience needed to get started: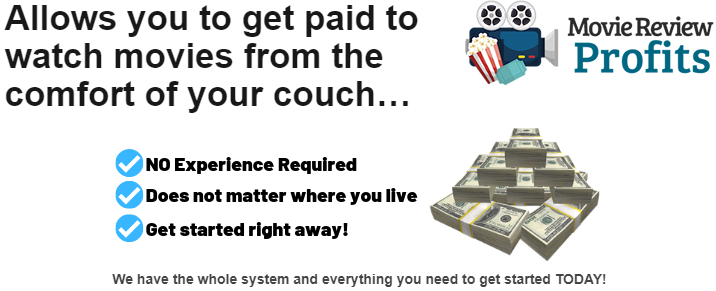 My reason for writing this Movie Review Profits review:
I fell for scam after scam before learning how to make a full-time income online. Today I help people like you achieve their online income goals by exposing time-wasting scams and finding real money-making programs that actually get results.
Here's what I found out about Movie Review Profits:
Movie Review Profits Review At A Glance
About: Movie Review Profits is a 6-lesson course on how you can make money writing movie reviews.
Price: $37.
Pros: Training available in different formats, comes with a 60-day refund policy.
Cons: Outdated training offering obsolete money-making methods.
Verdict: Movie Review Profits is not a scam, but it's hard to see how you can make $20-$30 per hour doing this. Check out affiliate marketing instead.

The Signup Process
Watch the sales video and you'll see an email form pop up offering you a free gift that will show you how to get paid to watch movies.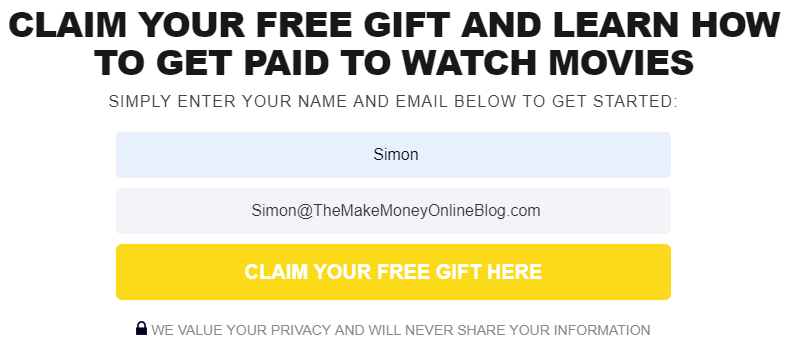 Enter your email and click the 'Claim your free gift' button and you're taken to another sales page complete with an earnings calculator and member testimonials.
Scroll down to the bottom you're given a 50% discount so you can get full Movie Review Profits access for a one-time fee of $37 where Jeff will take you by the hand and show you exactly how to get started as a movie reviewer.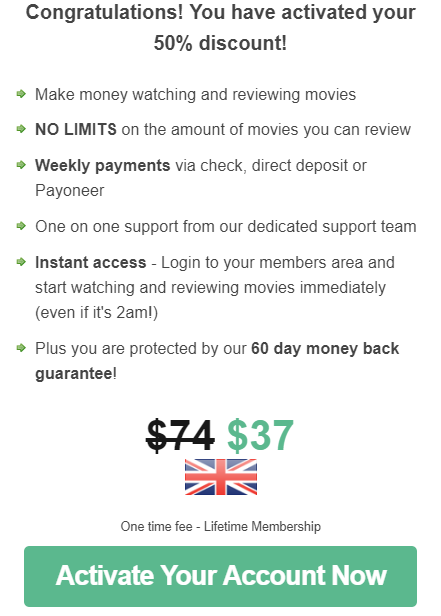 This product is sold through ClickBank.com so you can pay with a debit card, credit card or PayPal and you'll get a full 60-day money-back guarantee.
The Movie Review Profits Members' Area
As soon as I paid up I got an email with my login information and a link to the members' area which looks a little something like this: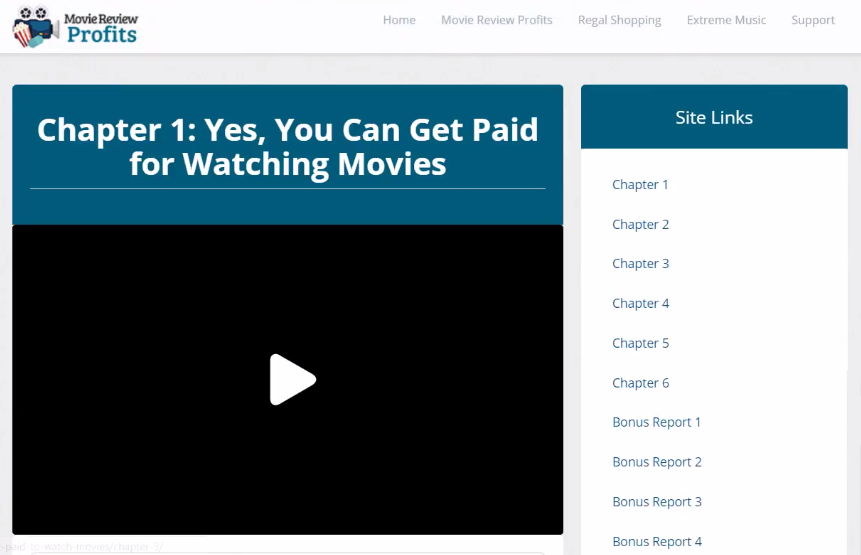 The core training has 6 lessons (chapters) covering 2 ways you could potentially earn cash by writing video review posts or making review videos and each chapter includes a video, a downloadable PDF file and audio version.
Like Secret Millionaire Bot, Easy Retired Millionaire, The Profit Shortcut and pretty much every other ClickBank product I've reviewed, Movie Review Profits comes with an upsell. This one's called Extreme Music Profits which is a course on getting paid to review music which will set you back an initial $37 then a monthly membership fee of $17.
The Outdated, Ineffective Training
Now let's dive into the training so you can know exactly what to expect if you buy this product. As I say, there are 6 chapters of training in total, here's a lesson by lesson breakdown:


Chapter 1: Yes, You Can Get Paid for Watching Movies
The course starts off by giving you a quick overview of the two ways you can make money as a movie reviewer.
Firstly, by writing up reviews and submitting them to review websites for a one-off payment or secondly, by working for yourself and setting up your own review site.
The lesson covers the main differences between these two approaches, pointing out the major pros and cons of both.
Chapter 2: Getting Paid Directly
This lesson focuses on the first method of writing movie reviews for third party websites and gives you a list of sites to apply for like ReviewStream.com and RateItAll.com and even a site called Squidoo which is actually no longer online.
Chapter 3: How To Scale And Make More Money
In this lesson, Jeff runs through how to scale your movie review writing business in 3 ways, all of which are terrible and I do NOT recommend you try and implement:
Scaling Method 1: Hire writers from Fiverr.com
I've published over 600 posts in the last 4 years across all of my websites and I wrote 95% of those posts myself.
While outsourcing content creation to hired writers can work well for building your online business to scale, from my experience, Fiverr is one of the worst places you'd want to go to to find writers.
You end up paying too much and the quality is almost always appalling.
2. Scaling Method 2: Rewording reviews
When talking about rewording reviews, Jeff himself (if that's even his real name) openly admits this isn't "the most ethical practice" and that he's not endorsing this method, just "showing you it exists."
This is yet another example of how old this training is. Years ago you could get away with scraping content from other sites, changing it slightly or running it through what's known as a 'content spinner' and still get a post ranked in Google.
Not anymore though!
Google has become much more sophisticated over the years and the only chance you have of getting your reviews ranked in the top spots of search results is by creating high quality and unique content. Period.
3. Scaling Method 3 – Opening Multiple Accounts
Remember those sites that you're told to sign up to but no longer exist?
Yeah, Jeff goes on to tell you to create multiple accounts for each of them, write your movie reviews, reword them and upload them and get paid multiple times.
This is just wrong on so many levels. Essentially what you're learning here is how to get banned from sites no longer online by using black hat techniques that no longer work!
Chapter 4: Get Paid To Watch Movies Indirectly
In this lesson, Jeff starts to talk about my preferred way to make money with Movie Review Profits – by creating your own movie review website.
The lesson covers some of the free and paid traffic generating methods, again, a lot of these are extremely outdated but the basic concept is still sound.
If you're determined to go down the route of reviewing movies then starting a review blog or YouTube channel is by far the best way to do it in my view.
Unfortunately, I just don't see how this training can get you to where you want to be, especially in terms of earning $20-$30 an hour.
Chapter 5: Advanced Method To Get Paid To Watch Movies Indirectly
This chapter covers some of the basics of buying a domain, setting up web hosting and installing WordPress for your website.
Jeff also covers some of the ways you could potentially monetise your website, including putting ads on it or making money as an affiliate with Amazon.
Both of these would work for sure. I have sites where my main stream of revenue comes from ads and others where I make the most money from affiliate links.
The truth is once you have a website that's getting a lot of daily visits, there are at least half a dozen ways to make money from it. I just don't think Movie Review Profits is the best training program to learn how to do it.
Chapter 6: Putting Everything Together
The final chapter is basically just a quick summary of what's already been covered in the previous lessons.
All in all, I found the training super disappointing and I didn't realise when I bought this just how this training was. There are way better options out there, that's for sure.
Can You Make Money With Movie Review Profits?
Yes and no… Let me just give you my take on the 2 income-generating methods that are being taught here:
1. Making Money Writing Movie Reviews
This method is most definitely obsolete and has been for some time.
With broken links galore and the outdated, ineffective techniques taught within the training, I think the fact the Movie Review Profits creator hasn't bothered to update the links within the members' area tells you a lot about the quality of this program…
That being said, if you're looking to get paid for writing reviews for someone else, whether that be writing reviews of movies, music, children's toys or fishing gear, then becoming a freelance writer is always an option available to you.
Website owners go to sites like iWriter.com looking to pay writers per article. They're free to join and in most cases, you can view the job spec, number of words they're looking for and how much they're willing to pay you before accepting.
The best course I've come across so far that shows you how to make a full-time income with freelance writing is Elna Cain's Write To $1K (my review).
2. Making Money With Your Own Movie Review Website
This is definitely the option with the highest earning potential.
Though, with just very basic information quickly glossed over with no practical step-by-step, if this is something you're wanting to get into then check out Wealthy Affiliate's beginners' training course.
With over-the-shoulder video training showing you how to build an income-generating website and a super supportive and helpful community of online entrepreneurs, this is by far the best training to get a strong start.
You can find out more about this training platform by checking out my full and in-depth Wealthy Affiliate review where I outline exactly why, after reviewing 500+ programs, this is my all-time, top-rated course for learning how to make money online.
What I Like About Movie Review Profits
1. The Training Is Available In Different Formats
Go to each lesson and you'll be given the option to watch a video, listen to the audio or download the written version in a PDF file.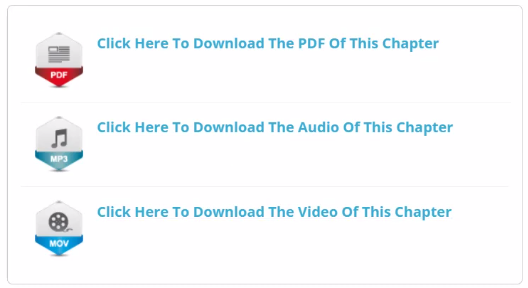 I like this because some of us are visual learners, or prefer to listen and learn while we're on the go, so really they cater to all types of learners.
2. The 60 Day Money Back Guarantee
Even at the price of $37, it's reassuring to know you have the option of getting a refund if Movie Review Profits doesn't meet your expectations.
Sold through the ClickBank platform, you can rest safe in the knowledge you have a 60-day window where you can get your money back with no questions asked.
What I Don't Like So Much…
1. We Have No Idea Who This 'Jeff' Guy Is
We're told in the sales video that someone called Jeff is the author of this program and that's all we know. We're not given any links to his Facebook or Twitter pages and we don't even know what this guy looks like.
Why is this an issue?
Because in my view at least, the creator of a legit training program should have no problem showing his face and proudly standing by his product.
When I don't see that it automatically raises my suspicions…
We have no idea of this guy's track record, who he is and how trustworthy he is and should always be a cause for concern when deciding whether or not to buy a 'make money' training program.
2. The Training Is At Least 5 Years Old
This is a lifetime online.
This training is so outdated that now none of the sites Jeff gives you to sign up to are currently paying people for writing reviews.
And the content spinning techniques he teaches (but says he doesn't endorse) simply don't work anymore.
I've said it before and I'll say it again:
This training might've got you results in 2005 but it's totally useless today.
Is Movie Review Profits A Scam?
At least in my view, Movie Review Profits is not a scam. However, I struggle to see how anyone can make $20 to $30 an hour like you're promised in the sales video.
The training is years out-of-date telling you to sign up to paid movie review sites that no longer exist.
If you really are serious about building an internet income stream then do make sure you check out my Wealthy Affiliate review for a better Movie Review Profits alternative. You'll see how you can access the training, tools and community support you need to really be successful online.
The best part?
They have a completely free Starter membership so you can try out the platform without getting your wallet out.
What Do You Think?
Now you've read this review in full and know what I think, what do you think about the Movie Review Profits training program?
Is it worth paying $37 for a few crappy, outdated videos that teach dodgy black hat methods and tell you to sign up to sites that no longer exist?
Scroll down and let me know – I'd love to hear from you!
Simon Crowe is on a mission to help as many people as possible kiss their bosses goodbye.
Take the free Commission Academy course to discover how to smash your online income goals and make your dream business a reality.