Welcome to the only Million Dollar Replicator review you'll need to read as we look beyond the hype and clever marketing to help you decide if Million Dollar Replicator is a scam or legit.
I applaud you for doing your research on a program that guarantees you'll be a millionaire in 12 months because this is the best way to dodge the get-rich-quick trash and find legitimate online training.
Million Dollar Replicator is being promoted heavily right now, especially through email.
(That's how I found out about it anyway)
And at first glance, the Million Dollar Replicator website looks suspiciously similar to other scams I've exposed like Explode My Payday and Real Profits Online.
Nevertheless, I go into this review as I do with every review: with an open mind.
Let's dive right in.
Million Dollar Replicator Review At A Glance
About: Michael Sachs' Million Dollar Replicator system promises to reveal the secret to making a million dollars a month online.
Price: $37 plus $750 in upsells (discount info)
Pros: Comes with a 60-day refund via Clickbetter.
Cons: A mysterious owner, fake endorsements and no real student success stories.
Verdict: Million Dollar Replicator is a typical scam promising easy money to get your money. Save yourself the hassle of getting a refund and give this one a pass.

The crooks behind Million Dollar Replicator want to convince you they've developed money-making software that will turn you into a millionaire by this time next year.
Unfortunately, these bold claims are not backed up by their legal disclaimers.
Everything from hired actors pretending to be successful students of the program to the fake news endorsements point to the fact their website can not be trusted.
If you're tired of wasting time with useless get-rich-quick scams and ready to finally achieve your online income goals then check out our top-rated training course.
What Is The Million Dollar Replicator?
A guy calling himself Michael Sachs presents Million Dollar Replicator as the only done-for-you software you need to free yourself of your car payments, loans and mortgage.
Watch the video and he'll say the Million Dollar Replicator system has made him $36 million in 3 years and his team of beta testers $1 million a month.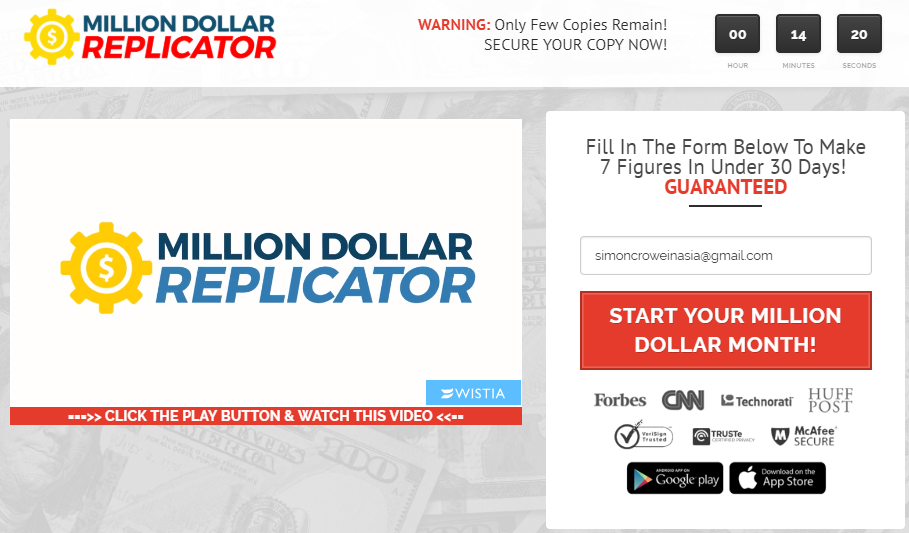 After years of research and development, he's finally come up with a proven method to live the life of his dreams and now he wants to share it with you… for a price.
How did he manage to develop this life-changing "Replicator" software?
He hired top statisticians, mathematicians and programmers from around the world.
"The Replicator" is so good, Michael says he's had to open 3 new bank accounts just so he's got somewhere to put all his money.
This mysterious software really is magical:
All you have to do to see colossal amounts of money pour into your account is "turn the machine on and leave it running".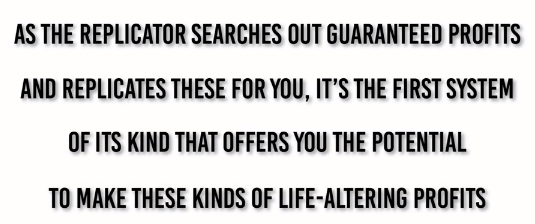 How do you get access to the Replicator?
Easy, you just fill out your details and pay a small one-time fee for lifetime VIP access.
Under the video is a box to enter your email, hit the button and you're taken to the next page where you're asked to enter your credit card details.

They say the price is $37 but try closing the page and you'll see a pop-up offering a discounted price of $17.
Something tells me they really want you to buy this…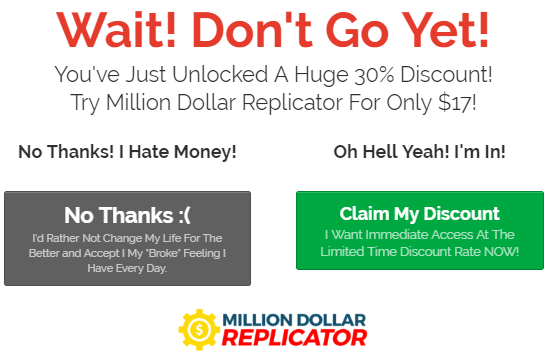 My first question is:
If you have developed a guaranteed income-generating method then why are you selling it? Why would you tell anyone about it for that matter?!
Second question:
Why charge a measly $17 for a system that turns ordinary people into millionaires?
I'll tell you why:
Because the scam artists behind Millionaire Dollar Replicator know they'll be able to bombard you with a long line of higher-priced upsells once they've got you inside.
As you're about to see, these upsells come at a total cost of $750...
Upsells you're going to have to buy to have even half a chance of making money.
For $37 all you get is a basic short course made up of old and recycled videos thrown together from all the training programs they've sold in the past.
How Million Dollar Replicator Really Works
Million Dollar Replicator's sole purpose is to make money for the owners and affiliates promoting it, NOT the people buying it.
The more you believe this is a legit system, the more money you will lose.
The more you invest, the more they will ask you to invest and before you know it, what started as a small one-time investment turns into almost $1,000.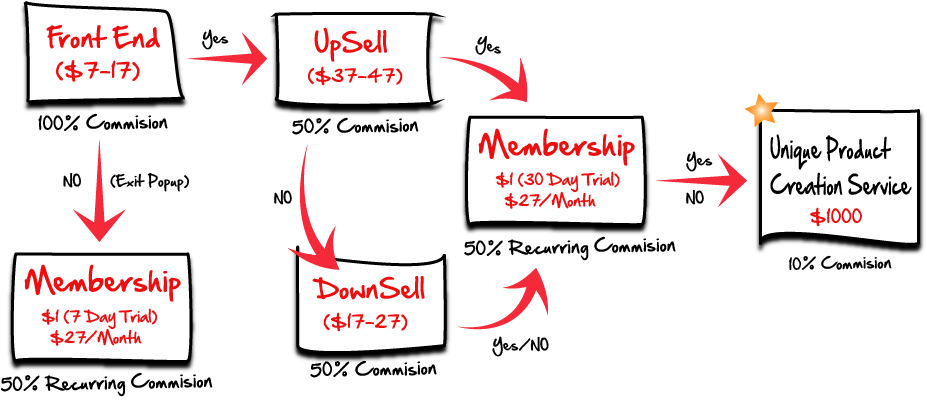 Million Dollar Replicator is a Clickbetter product, meaning anyone can promote it and earn commissions.
The upside is you have 60 days to get your money back.
The downside is, after reviewing 100's of Clickbetter products, I can tell you at least 95% of them are useless garbage and they always come with upsells!
You're strongly encouraged to hand over more money for a 'completely done-for-you' upgrade to earn 'even more money faster' and so on.
To get an idea of the true cost of this program you have to click on the 'Become an affiliate' menu tab at the bottom of the website.
Here's what you'll see: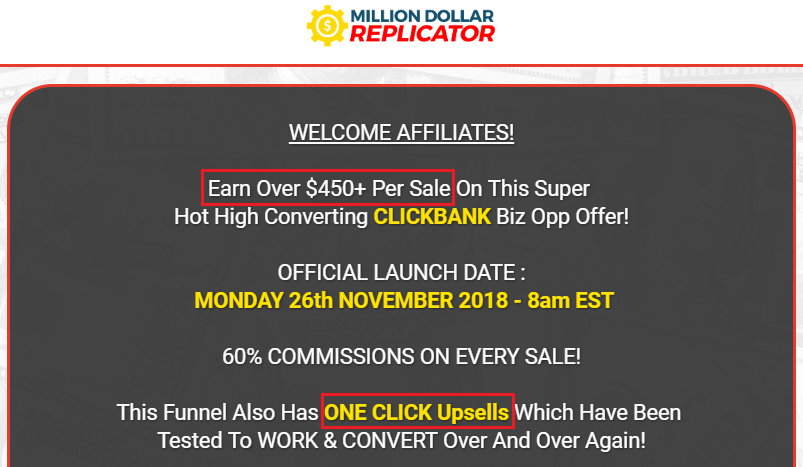 If affiliates at a 60% commission rate are earning $450 per person, the total cost to you is going to be $750.
The front-end $37 payment is just the beginning of a sales funnel that's specifically designed to take as much money out of your wallet as possible.
Rather than help you become financially better off with a legitimate step-by-step training course packed with practical info, these guys are more interested in peddling this crap to make a quick buck for themselves.
Can You Make Money With Million Dollar Replicator?
We already know the owner and his affiliates are making money convincing people to sign up, but can folks like you and me make money with this?
Honestly, it's always possible, but highly unlikely.
Are you going to be making $1 million in the next 12 months?
Not a chance.
The only way you're going to make any money is if you can manage to sell this course to others, which is going to be a very hard sell when it's clearly junk.
You've got to count the real cost of this opportunity with the upsells and advertising budget you're going to need to drive traffic to their sales pages.
You can either spam social media with links or become an email spammer. Either way, there's a cost involved with no guarantee you'll get anything back.
5 Signs Million Dollar Replicator Is A Sleazy Scam
Whenever you're considering a potential work from home opportunity it's crucial you know what common scam indicators to watch out for so you stay safe online.
Here's an insightful 2-minute video we'll use to contrast with Million Dollar Replicator to determine whether it's a scam:
According to Ramit, you can spot a legit course because:
The person teaching it has an excellent track record
The student testimonials are verifiable
They don't make unrealistic promises
Now I'm going to walk you through how Million Dollar Replicator fails to meet these criteria at every level and is, in fact, a total sham of a scam:
1. Only God Knows Who's Behind This
We have no idea who the Million Dollar Replicator system creator is.
It's not Michael Sachs as we're led to believe. This is just a fake name with a random stock image from Pixabay:

Why hide your face if you discovered a genuine millionaire-making system?
2. Actors Paid $10 To Say They're Making $1,000s
Watching the promo video I instantly recognised the so-called students bragging about making life-changing amounts of money…
The truth is they're not students at all, but people reading off a script.
I've seen these same actors promote dozens of online scams. They tell you they've made millions but really they've made $10 for shooting a fake testimonial video.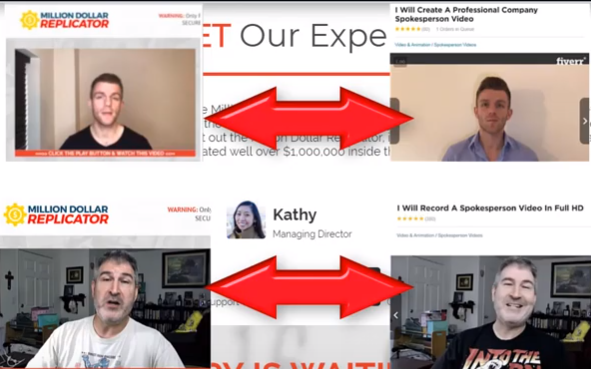 This would be funny if it wasn't so deceptive!
It's these kinds of tactics scam artists have to resort to when they're selling a system that doesn't get results. No real testimonials here!
3. Million Dollar Replicator = A 'Money-Making Machine'
Always be on guard when someone offers you profit pumping software or hidden secrets to making money on autopilot with little or no work.
I've heard it all:
Push-button systems, automatic profit machines, hidden back doors, secret software and even magical black boxes (special shout out to 7 Minute Sales Machine!)
Don't believe a word of it.
Yes, if you build an online business you CAN become a very successful entrepreneur but like anything in life, you have to put the time and effort in before you see results.
4. Everything On MillionDollarReplicator.com Is Fake News
And I mean everything:
The earnings claims
The video testimonials
The creator's name and image
The media outlet endorsements
Countdown timer and limited spots
Social media feed
The list goes on and on…
This is all manufactured to make themselves look like a reputable and legitimate company when in truth they've pulled the images off the internet and have never been mentioned in any of the publications as they claim.

They use fake countdown timers, saying the site will be shut down at the stroke of midnight tonight and there are 655 people in the queue to try to fool you into giving them your money before you 'miss your chance'.
Don't fall for it!

Is Million Dollar Replicator A Scam Or Legit?
Millionaire Dollar Replicator is 100% a scam and the con artists behind it have conned 1000's out of their hard-earned cash. They couldn't care less if you succeed or not, as long as they have money coming in.
Is Million Dollar Replicator going to deliver on their promise of making you a millionaire in the next 12 months?
HELL no!
Even in their earnings disclaimer, they say:
"For all intents and purposes, you agree our content is to be considered for entertainment purposes only."
At least they were honest about that!
Ready To Build A REAL Online Business?
What I'm about to tell you may be hard to hear, but please listen carefully because it will save you a lot of time, money and frustration:
There's no easy shortcut to getting rich.
I wish there was (I really do!)
But success in any area of life comes from good old-fashioned hard work.
I know from experience that breaking free from the 'get-rich-quick' mentality will put you in a position where you can actually replace your full-time income online.
With 4 billion people surfing the web every day, there's infinite earning potential for those ready to take massive action and make it happen.
I started a real online business and now make $7,000+ a month and it's all because I followed this step-by-step training course and applied myself.
With the right know-how, support and work ethic – you can too!
Simon Crowe is on a mission to help as many people as possible kiss their bosses goodbye.
Take the free Commission Academy course to discover how to smash your online income goals and make your dream business a reality.