Today we're going to talk about WorldProfit and discover if this is a legit platform or just another blatant scam.
Making money online is more than just about building a website or a virtual store where you'll sell your products. You have to get people in your store and move them to convert.
If you're new in the online money-making industry you might need a hand in understanding the twists and turns, to make your website a money-making machine. In this review, we're going to find out if WorldProfit is helping you helping hand you need.
WorldProfit Review At A Glance
About: WorldProfit is an online opportunity offering PLRs to make money. A current version of the system allows earning commissions from making referrals.
Price: Signing up is free. But if you want to access more tools, you either have to pay for the Silver membership worth $99 and Platinum VIP membership worth $149.
Pros: Has a long history.
Cons: No refund policy, expensive membership, useless traffic source.
Verdict: WorldProfit has been around for 25 years but their outdated strategies won't keep up with the changing dynamics of making money online.

What Is WorldProfit?
WorldProfit is a platform owned by George Kosch and Sandi Hunter. Kosch is a retired Canadian Air Force Pilot. He decided to turn in his wings to become a businessman and a self-taught software engineer. He built WorldProfit in 1994.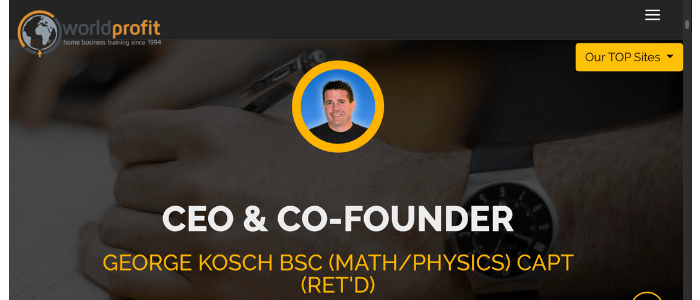 Hunter on the other hand joined Kosch and handled the research and training part of the platform.
I'm quite impressed with how long WorldProfit existed. I must say, being in the industry for 15 years is a great feat in establishing credibility.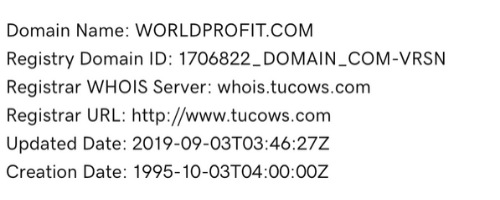 Scammy companies can last up to a few years but only as long as they gain people's trust, then poof, they're gone. WorldProfit proved to be better than that.
The landing page is pretty striking, it's modern, sleek, and looks really professional. I'd say this can really make people interested.
But here's the kicker:
The members' area is an exceptionally different story. I'll tell you more about this later on.
How To Join WorldProfit
The good thing is, you can sign up for free. The free membership lets you access some of the services. If you want to access more tools you can choose between:
Silver Membership – $99
Platinum VIP Membership – $149
How WorldProfit Works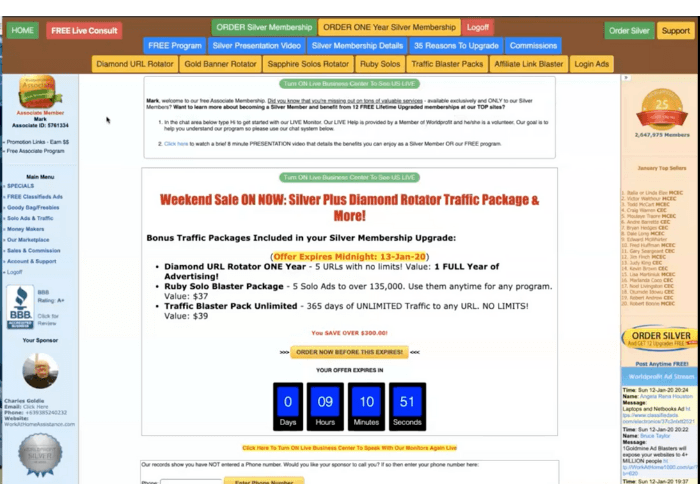 With the old members' area, feels like I accidentally opened another tab to an outrageously confusing archaic page.
The page is jam-packed with menus of different sizes and colors everywhere you look. Even the categories are a complete bamboozle. It's like a whole page of a maze where you'll end up wasting your time looking for something you need.
Fortunately, they realized people can question them how they can help others attract visitors while they themselves have an outdated site.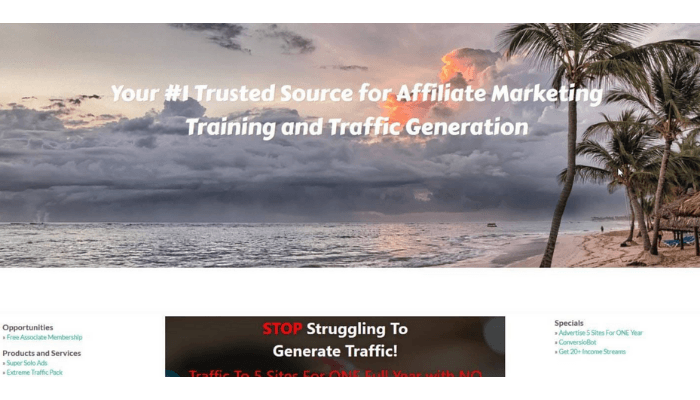 Looks a bit better now.
Anyway, here are the basic services they offer:
1. 50,000 Visitors Directed To Your Site
Sound like a lot of money knocking on your door, right? But hold that thought and erase the dollar signs in your eyes.
They didn't actually explain what kind of visitors you'll get and over how long they can get that number of people to your site.
This means you can't be sure if this traffic is really interested in buying something from you and if it will take a lifetime for 50,000 people to visit your site.
2. Email Exchange
WorldProfit has a solo email blaster that just actually allows members to spam each other. You'll get flooded with promotional emails from other members while you do the same to them.
It's actually funny how they think this will work. If I received emails from other members (which I can easily identify in time) they'll go straight to my trash folder. Most likely, others will do the same.
Making money online isn't complicated…
This video will show you exactly how to get started. Tap to watch now »
3. Login Ads
WorldProfit creates full-page ads for you which will pop-up in its partner website's login. The thing is, most people will quickly close a pop-up without looking when they're trying to get inside a website.
So basically, your ads won't stand a chance and will be more of a nuisance.
4. Solo Ad Packages
WorldProfit has 3 solo ad packages which you can use:
Super Solo Package
Ruby Solo Blaster Ads
Sapphire Solo Ads
They mostly cost around $47. If you think it's a good price to pay for ads, stop. They actually don't tell you how much traffic they will send to your website.
All the uproar is just about how many subscribers they have. They don't actually make it clear if they'll send ads to all those subscribers.
The most important part is, they don't tell you what kind of traffic you'll get. For all you know, your visitors will be a bunch of juveniles who don't have an inch of interest in what you're pitching.
5. Clickbank Super Store
This is just for Silver members. This is a Clickbank store site plugin allowing you to list all products with your affiliate link. While this can seem like a great deal you have to remember you still have to work on sending traffic to the store and you can only attract those who feel like exploring to buy something. Otherwise, there won't be a reason people will head on to your store, especially if they're only on the lookout for a specific product.
6. Outdated PLR Content
WorldProfit lets you access: Sales Page Rapid Fire from 2008 and Overnight Cash Pump 2010 among other outdated PLR books. They also have cryptocurrency-related books.
But the thing is, these PLRs are over a decade old. A lot of development happened between those years and today so typically these books are useless unless you study history.
If you want to know more about PLRs you can check my Website Profits Pro review.
7. Ad/ Traffic Exchange
They have a number of ad campaigns like "500,000 Free Credits", "Top 20+ Traffic Sources", "Extreme Traffic Package", and a lot more.
Don't think you're getting multiple income streams because you won't.
Honestly, ad/traffic exchange works, decades ago. Only because the online business industry was quite new and people are in for the hype, so they'll buy almost anything they can find.
However, things changed, businesses niched down so there's a need for a target audience. All the people in the ad exchange circle are online business owners, most of the time they're interested in their own business, not yours.
So, no matter how much campaigns you put in front of them, it won't convert.
What I Like About WorldProfit
1. It's Legit
It's been existing for so long and the owner introduced himself, and they do have marketing strategies to offer.
What I Don't Like About WorldProfit
1. No Money-back Policy
They want sure money, so if at some point you feel like it's not working for you it's a burned investment in your end.
2. Monthly Membership Is Expensive
If you think about just a month's cost, it doesn't seem much. But if you think about it on a yearly basis, you'll be forked out almost $1,200 for the Silver membership and almost $1,800 for the Platinum VIP.
This eats up a huge amount in the profit if you ever will have one. For $1,200 you'll be in line to score out the jungle of upsells just to find the obsolete services you need plus you'll also get outdated PLRs which you can just actually get for free if you search the internet.
I'd fork out a few thousand when needed as long as I'm sure I'd get the value for my money and an income worth the price. With WorldProfit, I think you're only burning your money.
3. Useless Traffic
Traffic exchange worked decades ago but not in the modern make money online dynamics. WorldProfit is still stuck with this archaic strategy it gives me the sense they're not keeping up the pace.
Being adaptable to the ever-changing dynamics is a big factor in ensuring a business owner you can help them make money. Sadly, WorldProfit lagged behind.
Here's the fact in recent money-making strategies that work:
You need to hit the target market because shooting campaigns to just anybody who's not interested in what you offer will not make you land a sale. You're just wasting your time.
4. Training Geared To WorldProfit's Business Center
Instead of teaching you how you can make your personal business work, WorldProfit teaches you how you can attract more people back to the business center to flood them with upsells and squeeze the money out of them.
So technically, they're just using you to make more money. They don't care much if you'll ever scale your business.
5. No Proof Their Tools Work
A variety of tools can be amazing because you can apply multiple strategies to make money. Sadly, WorldProfit failed to present any proof if the tools are ever effective.
Can You Make Money With WorldProfit?
Maybe, if you worked with them decades ago. This time around, you can make an income through referral commissions, if there will ever be a person who'll be interested in their marketing strategies.
But personally, I don't think it can help scale a business by attracting traffic, WorldProfit can't make it work.
Is WorldProfit A Scam?
I don't think it is. They've been up for around 25 years and it's a good indicator they're legit.
However, being legit is just one part of the story, it has to be profitable too. Sadly, I don't think WorldProfit can help you make money with their outdated strategies.
To give you an idea about what others think, here are some comments from people who tried it.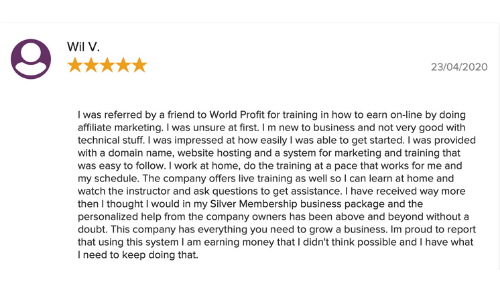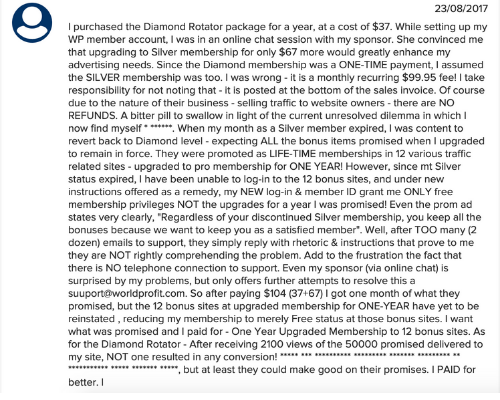 WorldProfit Review Closing Thoughts
There's nothing wrong with turning to marketing platforms to grow your income if you're fairly new. The thing is, not every platform claiming to help you can deliver. You need to have some proof of how they can help you scale your business or else you'll just be wasting time and money.
Systeme.io actually works better than this.
Make money online opportunities like affiliate marketing includes training applicable to recent make money online dynamics.
So, if you're interested in what you can learn from affiliate marketing, check out this Wealthy Affiliate review.
How I Make A Living Online?
After years of working in call centres I finally figured out how to create a 5-figure passive income stream and become financially free.
Thanks to the right training and a lot of hard work I kissed my old boss goodbye and booked a one way ticket to Thailand.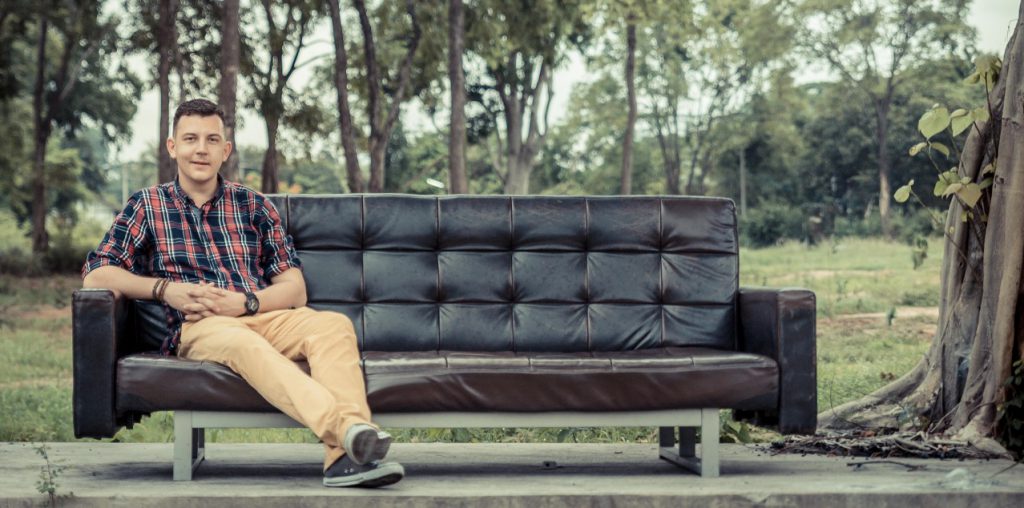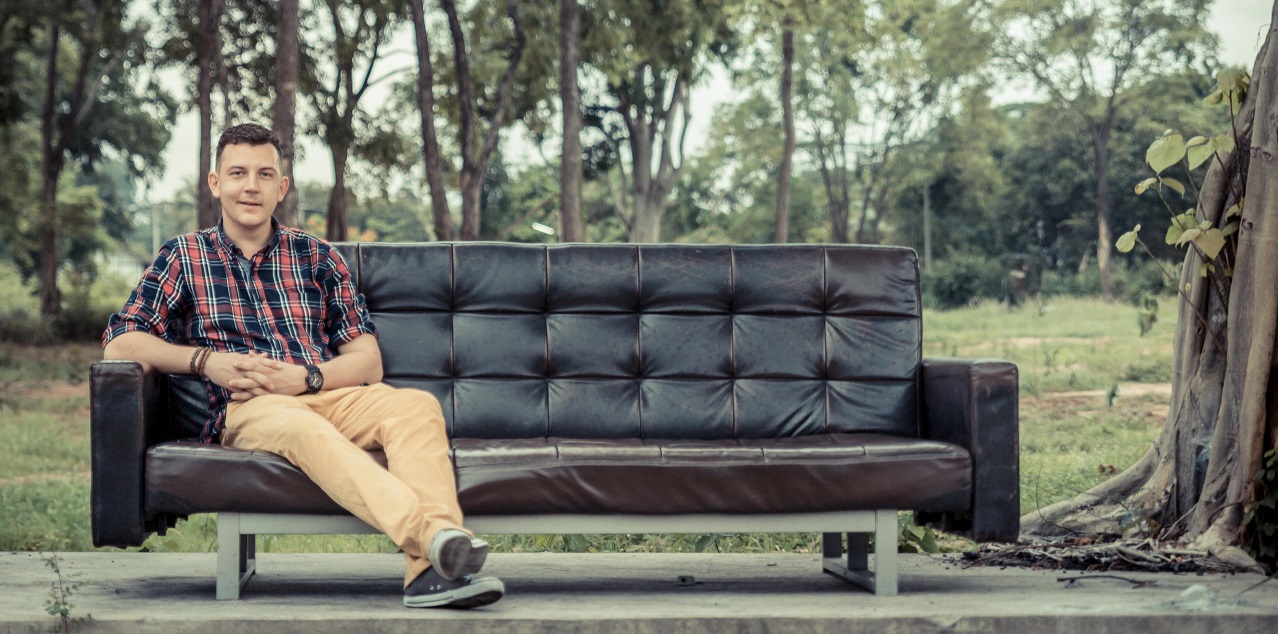 So if you're serious about building a thriving online business, click here for the exact step-by-step formula I follow.
Questions? Recommendations?
Share with us what you think, just scroll down in the comment section below and type away.
Simon Crowe is on a mission to help as many people as possible kiss their bosses goodbye.
Take the free Commission Academy course to discover how to smash your online income goals and make your dream business a reality.