Hi, and welcome to my VIPKid review where we'll be asking:
Is VIPKid a scam too good to be true or a real way to teach English from home?
Tons of people are taking advantage of legitimate work from home opportunities because they provide you with a flexible and convenient way to work from anywhere with a laptop and internet connection.
I've been my own boss earning a full-time income online for about 5 years now and let me tell you: I could never go back to working for someone else.
So what about VIPKid? Does it really pay off teaching English to kids in China? Is this something you can do full-time or part-time and how difficult is it to get started?
After doing a lot of digging, here's what I found out.
VIPKid Review At A Glance
About: VIPKid is a China-based language teaching platform for Chinese kids wanting to learn English.
Price: There is no fee to sign up. Though you have to be a US or Canadian citizen, a native English speaker and have a Bachelor's degree.
Pros: You can work anywhere, anytime. They pay well and lessons are pre-planned for you.
Cons: Time difference with students, strict cancellation policy, not easy to qualify.
Verdict: VIPKid is a good and legit platform for ESL teachers. It pays well as long you're up to adapting to the schedule of students.

As long as you meet the eligibility criteria and pass the rigorous interviews, becoming a VIPKid teacher could be a great work from home opportunity.
They pay well (yes, $22/hour is definitely achievable!) and they have excellent teacher support. You set the availability and timeslots you want to teach so you can teach full or part-time if you want to.
As a former ESL teacher myself, I really appreciate the fact they prepare all the interactive lessons for you in advance so aside from teaching 30-minute classes, there's nothing else you have to think about.
What Is VIPKid Exactly?
VIPKid.com is a China-based online language website that matches native English speakers with Chinese children aged 4 to 12.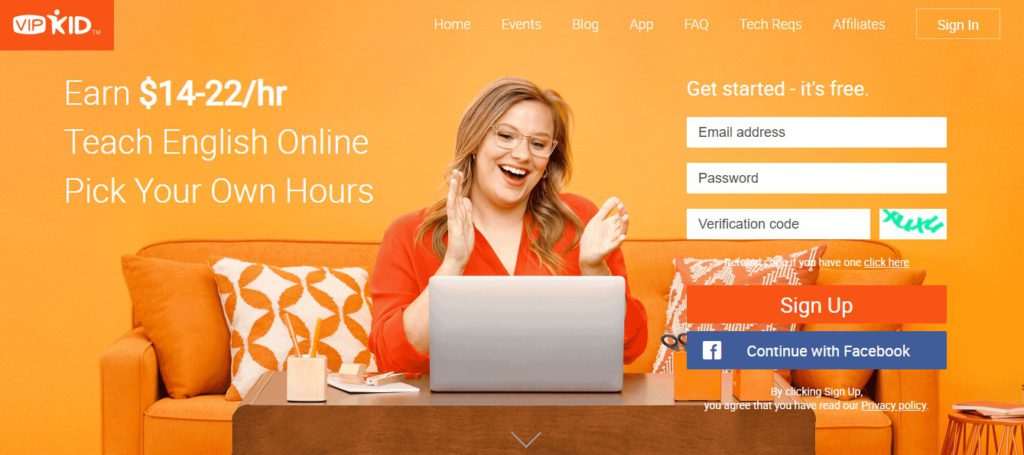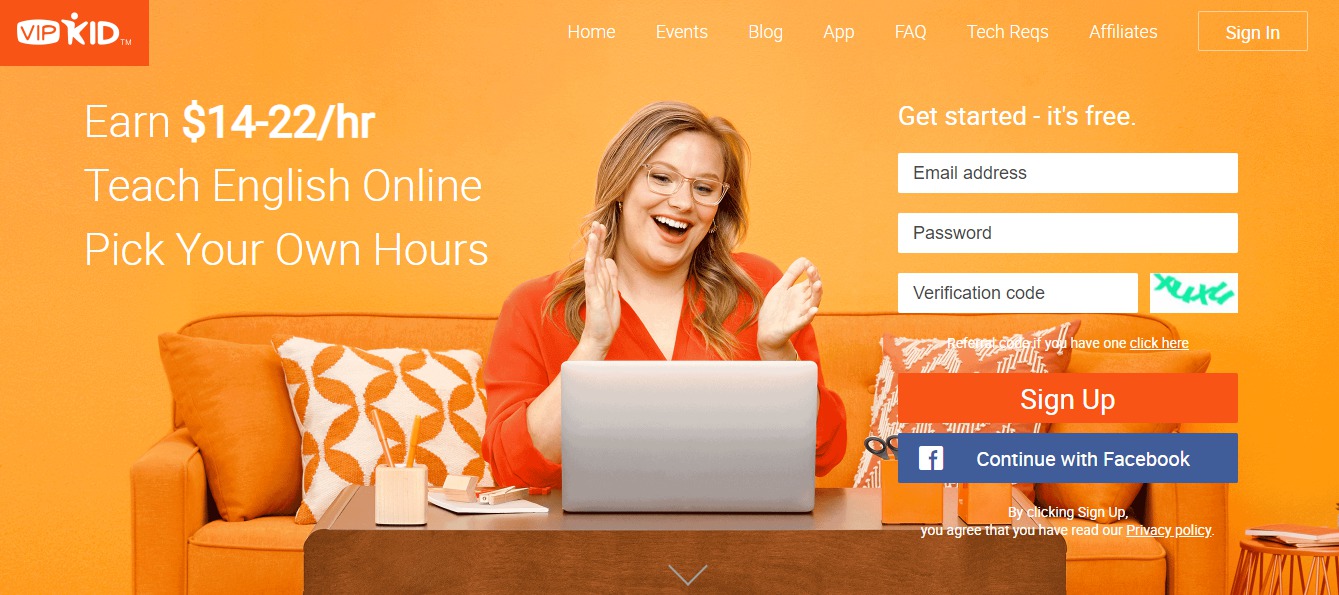 With the tagline: "Teach globally. Work locally", you can choose your hours and earn up to $22 an hour as an English as a second language (ESL) teacher.

All lessons are delivered 1-on-1 and the lesson plans are prepared for you in advance. VIPKid will liaise with parents for you so you don't need to start learning Mandarin.
Here's VIPKid's 30-second promo video:
It looks like you get a lot of help and support from other teachers who have built several communities and Facebook groups – a vital social component to help avoid the feeling of isolation when making the adjustment to working from home.
How VIPKid Works
To qualify you need to be a US or Canadian citizen, a native English speaker and have a Bachelor's degree.
(If this isn't you then check out my top 3 VIPKid alternatives)
You don't need to pay a fee to apply to become a VIPKid tutor, though you'll have to have an interview and give a demo lesson either live or pre-recorded. Getting the demo lesson right is crucial as it will determine your pay rate.
You set the timeslots you want to work and mark yourself available. Within the teacher's area you'll see when your available slot has been booked for a lesson.

Each lesson lasts for 30 minutes: 25 minutes teaching and a 5 minute Q&A.
Another important thing to keep in mind is, as an online teacher you'll be self-employed with VIPKid contracts renewing every 6 months. You'll need to organise your own taxes and health insurance.
Here's a great short video from Eric, a long-time teacher for VIPKid that gives you some insight into the practical day in the life of an online tutor.
Can You Really Make Money With VIPKid?
Absolutely yes you can! Exactly how much you can make completely depends on you and your schedule.
Here's a quick rundown of how much you can earn. Take a look at their FAQ's section for more details.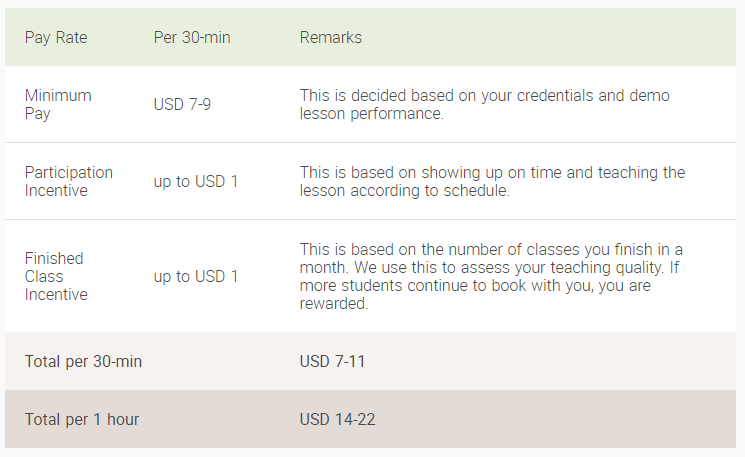 As you can see, you actually can make $22 an hour depending on your credentials and how well you do with the demo lesson.
Also, after looking at all the reviews out there, VIPKid definitely do payout which is always reassuring!
What I Like About VIPKid
1. You Can Work Anywhere
Whether you're teaching from your dining room table or from a coffee shop on some tropical island somewhere, with a laptop and internet connection you can earn money wherever and whenever you want to.
I love that you're not tied down by geographical restrictions like you are with a traditional office job.
There's no need to sit in traffic on your way to the office and I know personally a lot of people who teach English online as a way to fund their travels.
2. It Pays Well To Teach
As we've just seen, when you account for bonuses, making $22 an hour is realistic.
Even if you start off at $8 per lesson ($16 per hour) there's always the chance of getting a raise, referred to as a 'base rate adjustment'.
To qualify for a pay raise you must meet the following criteria:
Have no more than 2 no-shows in a 12 month period
Teach a minimum of 600 peak time classes
Have at least 25% '5 apple' ratings over the course of a year
As long as you meet the criteria you'll be given a base rate adjustment in increments of $0.50 per lesson up to $10 per lesson in total ($20 an hour).
3. Lessons Are Planned For You
No preparation required. You can access all lessons within the teacher's portal area.
The lessons are made up of fun and interactive slides and whilst it's a good idea to review ahead of time, aside from teaching there's not much else you need to do.
4. You Are In Control Of Your Schedule
You in complete control of the number of hours you work. You enter your own availability and time-slots, then parents book them.
Another good thing with VIPKid compared to other online teaching jobs is that there's no minimum requirement for the number of classes you teach.
5. VIPKid Teachers Give Them A Thumbs Up
While no program is perfect, check around on the web and the vast majority of VIPKid teacher reviews are very positive.
On the review site GlassDoor.co.uk VIPKid have a 4.4 star/5 star rating out of 1,200 reviews and 86% of teachers said they would recommend this role to their friends.
According to teachers, here are the biggest pros and cons of working with VIPKid: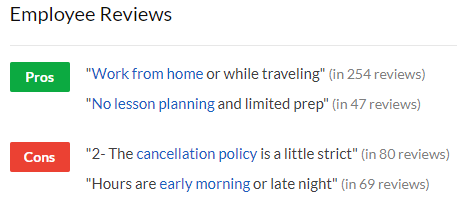 When asked what they liked most about working with the online teaching platform, here's how VIPKid teachers voted: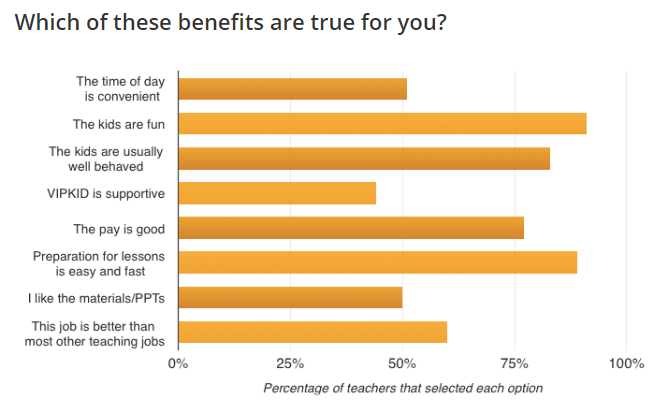 I think the fact most people are really happy to recommend using VIPKid to become an online tutor speaks volumes.
What I Don't Like So Much…
1. Be Aware Of The Time Difference
As you're teaching children in China this is definitely something to be aware of.
Of course, you can set your own hours but if you want to take advantage of the peak times to ensure you get the most bookings this could mean an early 04:30 start.
It seems like the busiest in-demand times are between 9pm and midnight EST.
2. VIPKid's Strict Cancellation Policy
A cancellation is when you don't turn up for a booked class and you haven't told them at least 2 hours in advance.
As a teacher you can only have 6 cancellations per 6 month period. Any more than this could mean instant termination of your contract.
3. It's Not Easy To Qualify
The cancellation policy is not the only thing they're strict on. VIPKid is well-known for having a tough interview process too, though they do give full interview guidance and success indicators on their website.
You can only become a VIPKid teacher if you are a native English speaker living in the US or Canada and have a least a Bachelor's degree level of education. If you don't meet these criteria then this opportunity is not an option for you.
Is VIPKid A Scam Or Legit?
For what it's worth, VIPKid.com gets a green light from me.
VIPKid is a legit and flexible work from home opportunity with a good hourly rate with the option to do this full-time.
If teaching and languages is your thing, this could be a great money earner for you – click here to apply and get started!
What Are The VIPKid Alternatives?
What if you don't qualify for VIPKid? Fear not, here are my top 3 alternatives:
Very similar to VIPKid where you're teaching Chinese kids, except you're eligible to teach if you don't have a Bachelor's degree as long as you're enrolled at a university.
Cambly gives you the opportunity to teach adults who already speak some English and want to practice their conversational skills. No university qualifications required.
With iTalki, you can teach any language and set your own hourly rate.
VIPKid Review: The Bottom Line
Whichever route you go down, there's definitely plenty of opportunity to become a full-time online tutor from the comfort of your own home.
I know a lot of people who have made the switch from working for someone else to running their own business and they've never looked back.
Personally I used to teach English as a second language where I live here in Thailand as a good way to fund myself out here until 2014 when I started making a full-time income from blogging instead.
I love blogging for a living because you can write about whatever topic you like, and unlike VIPKid where you trade your time for money, you put the work in once and get paid many times over.
It takes a little time and effort before you start earning, but as your blog gets more established you'll make steady passive income for years to come.
I make $7,000/month. Follow the exact step-by-step training I did and you can too.
The best part? This beginner's training course is 100% free.
What's Your Take?
Anything you're unsure about? Scroll down and ask your questions below and I'll get back to personally.
Have you had any experience with VIPKid or similar programs you'd like to share? We'd love to hear from you!
Simon Crowe is on a mission to help as many people as possible kiss their bosses goodbye.
Take the free Commission Academy course to discover how to smash your online income goals and make your dream business a reality.