Want to find out more about The Profit Shortcut to see if it's a scam or a legit way to make money online?
You're in the right place because in this Profit Shortcut review I'm going to reveal all.
As you are about to discover, with The Profit Shortcut, not all is as it seems…
The Profit Shortcut Review At A Glance
About: Promises to reveal the "top secret shortcut" to make $500/day from home. 
Price: $47 entry fee then upsells of $2,997, $12,497 and $17,497 (I kid you not!)
Pros: Some half-decent training on how to promote the system you just bought.
Cons: 98% of members spend more than they make because it's impossible to make the money they claim with the expensive and ineffective traffic methods they teach.
Verdict: The Profit Shortcut is a sales funnel designed to send people to The Super Affiliate Network; a pyramid scam with crazy high membership fees. Do your wallet a favour and give this one a miss.

What Is The Profit Shortcut?
Go to TheProfitShortcut.com and you'll see a video from someone calling themselves Keysha telling us how this is a brand new, revolutionary and powerful method that is putting $10,000's of commissions into the pockets of regular, every day people all around the world every single month.
We're told this method doesn't involve creating your own products and doesn't need any technical know-how. You don't need any formal education or experience whatsoever – it's just a real and honest way to finally make $500 a day from the comfort of your own home.
Other than that, the sales pitch is very vague about the kind of business opportunity you're getting into…
The video ends with Keysha giving her rags-to-riches story about how this method enabled her to go from counting pennies at the gas station to not having any money worries at all and travelling the world.
To be fair though, the sales pitch isn't as hyped up as other systems I've reviewed like The YTA Method or 7 Minute Sales Machine but it is still highly deceptive…
The Profit Shortcut is not what it claims. Far from it!
You see, what Keysha forgets to tell you is that there is no Profit Shortcut method because The Profit Shortcut website is solely designed to funnel people to The Super Affiliate Network; an online pyramid scheme with membership costs of up to $12,000 where the only way of making money is recruiting more people into the program.

Where's the honesty?
Where's the transparency?
The fact they're not being completely upfront with you from the beginning should already set off alarm bells.
How The Profit Shortcut Works
The Profit Shortcut works in almost the same way as Legendary Marketer; another high ticket affiliate marketing course we've reviewed recently which starts you off with a low entry price before pushing you to buy more expensive upgrades.
The Profit Shortcut's starting cost is $37 to get you in the door, but what Keysha doesn't tell you is that you are buying the first level membership of Misha Wilson's Super Affiliate Network. From there you'll be asked to pay out more and more…
Here's a quick run-through of The Super Affiliate Network's membership costs:
The Super Affiliate Network Basic Membership: $47 a month
The Super Affiliate Network Pro Membership: $2,997 one-time
Maui Mastermind Event: $12,497
All In Membership: $17,497
Yes you read that correctly – $17,497!!
And that's not even taking into account the fact one of the main methods they teach is driving traffic using paid email ads which can easily run into the $1,000's before you see a return.
But it gets worse, way worse:
Because you can only make money with The Super Affiliate Network by shelling out for the expensive membership fees first.
Just like other online pyramid schemes we've exposed in the past like Profits Passport, Too Damn Easy and Instant Cash Solution, the only way you can ever recoup your costs is to try and recruit others into the program.
But if one of your recruits pays out for a membership level you haven't paid for yet, that commission will be passed on to the person who referred you and you'll get nothing.
So the whole commission structure is geared towards "encouraging" you to pay out for the higher levels, no matter what the cost.
Will You Actually Profit With The Profit Shortcut?
Well no, because The Profit Shortcut is just the fake name used to cover up what you're actually getting yourself into, but if you're asking if you can make money with The Super Affiliate Network then the short answer is yes, but the odds are definitely stacked against you.
In fact, according to their very own income disclosure, you have a 98% chance of LOSING MONEY…
"The average partner spends between $3000 and $12,000 in expenses per year as they build their business. Less than 2% earns sufficient commissions to cover their costs of the The Profit Shortcut products."
Profit Shortcut Pros
1. There Is Some Decent Training
Although all the training is expensive and focuses on teaching members how to recruit others into the system, there is some solid training that teaches email marketing, paid ad marketing, how to follow up and having the right entrepreneurial mindset.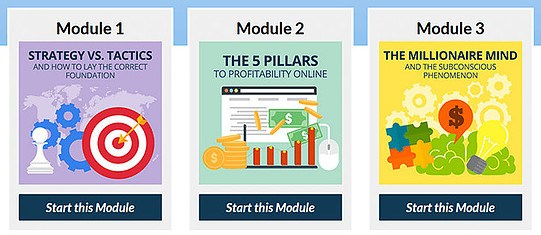 2. They Do Pay Out
If you sign up and learn how to refer other people into the program who then go on to buy any of the training courses then you, as the one who referred them will get paid out, on time and every single month like clockwork.
Profit Shortcut Cons
1. This Is A "Pay To Play" System
When it comes to real affiliate marketing you should never, ever, EVER have to buy a product before you can promote it.
You'll never see legit affiliate programs like Amazon or Clickbank taking money from their affiliates before allowing them to promote any of their products and that's because it's just not how it's supposed to work.
Misha Wilson expects you to pay $17,000+ for the privilege of promoting his products when you've never seen what they are.
That's absolutely crazy – how on God's green earth could you expect people to spend so much money without them first seeing the quality of the product? Why would you even pay money to be an affiliate in the first place?!
2. The Video Testimonials Can't Be Trusted
We're shown videos from supposed members telling us how much money they've made since signing up, the only issue is a lot of scammers like Misha Wilson simply go on to sites like Fiverr.com and pay someone $5 to record fake success story videos for them.
3. You Might Not Be Covered By The 30-Day Refund Policy
They do offer a 30-day money-back guarantee but only on some of their products, so you're going to want to double-check and read the fine print carefully to see if you're covered before handing them your credit card information.
But even then there's no guarantee…
Do a quick Google search and you'll find reviews from members across the web complaining about not being able to get their money back.
Here's a couple to give you a flavour:


4. The Sales Pitch Is Deliberately Deceiving
They feed you so much misinformation in the sales video. They tell you things like The Profit Shortcut has been featured in The Wall Street Journal and CNBC bit it's just not true.
Keysha also tries creating a false sense of scarcity by saying she "can't let everyone in" but "lucky for you, you're getting in on the ground floor."
I'm not a big fan of these fake pressure tactics designed to push you to sign up quickly – spots are not limited and there's no time limit on when you can join.
The truth is Keysha is not going to turn anyone away from joining, as long as they bring their wallet with them.
Is The Profit Shortcut A Scam?
Some would say The Profit Shortcut is a legitimate affiliate marketing training platform. Others would say it's a blatant pyramid scheme. I would personally categorise this as a high ticket affiliate marketing program, but not the good kind because:
You have to buy the products before you can promote them
You only learn how to promote the program you just joined
In all honestly, you should stay as far away from The Profit Shortcut and The Super Affiliate Network as you possibly can. The sales page isn't even honest and upfront about what program you're joining.
Add onto that the fact you'll end having to fork out over $17K to access their library of training and you're much better off investing your time and money into an affiliate marketing course that's not going to break the bank.
If you're looking to build a profitable affiliate marketing empire then there are a ton of better (and cheaper) alternatives out there:
My Ultimate Affiliate Marketing Guide For Beginners which is completely free or this incredible 10-lesson course will walk you through how to create your first money-making affiliate site with no credit card details required.
I believe anyone who is willing to put in the work can earn life-changing amounts of money through affiliate marketing, but The Profit Shortcut is definitely not the path I'd recommend.
Let Us Know What You Think
Were you also caught off guard with the whopping $17,497 membership fees? Did you get suckered into paying $37 for The Profit Shortcut or did you find this review just in time?
Let us know if this review helped you out by leaving us comment below!
Simon Crowe is on a mission to help as many people as possible kiss their bosses goodbye.
Take the free Commission Academy course to discover how to smash your online income goals and make your dream business a reality.