If you're looking for the best way to learn affiliate marketing and you're thinking about enrolling on one of the Tecademics courses then let me just congratulate you on checking out this review first.
I'm going to be giving you the best answers I can to questions like:
What is Tecademics?
What do they teach?
How much do their courses cost?
Is Tecademics a scam or legit?
And more importantly, are they right for YOU?
These are important questions to answer before handing over your hard-earned cash!
Read this Tecademics review in it's entirety and you'll know for sure whether it's a scam made to make you poorer or a legit program designed to make you richer.
Unlike other reviews out there, I'm not writing as a Tecacademics affiliate. I always try and review in a fair and balanced way. I say what I see and tell you what I think.
Tecademics Review At A Glance
About: Tecademics is Chris Record's digital marketing course teaching anything from affiliate marketing to social media management.
Price: From $100-$12,000.
Pros: Teaches various digital marketing niches.
Cons: No longer offer courses.
Verdict: Tecademics is legit but they teach anymore. Click the "See Better Alternative" button to know a sustainable and profitable way of making online income today.

Similar to Four Step Marketing Consultants but way more comprehensive, Tecademics is a campus-based affiliate marketing training program.
They've recently announced the rollout of more US-based campuses and online courses in the future, but as it stands right now the only way to study with Tecademics is to pay the expensive tuition fees and travel to Arizona.
I really like their courses but because of geographical limitations and very high costs, Tecademics isn't for everyone.
Update: As of August 2018 Tecademics no longer offer training courses as confirmed by a member of staff.
What Is Tecademics About?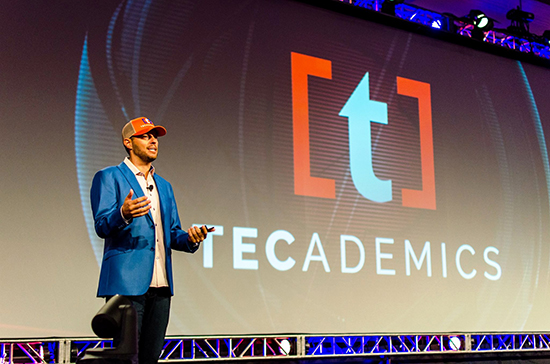 Now let's get into the nitty gritty of Tecademics!
First impressions?
Tecademics.com is beautifully laid out, professionally looking website.
Tecademics was launched by Chris Record in the summer of 2016 under the less cooler name "Internet Marketing College".
Thank God they revamped their brand and are now known as 'Tecademics'; a combination of "Technology" and "Academics".
After a couple of Google searches, the founder Chris Record turns out to be a pretty interesting character:
Just 15 months after creating Tecademics, Chris Record sold it for "several million dollars" and bragged about it in a Facebook post.
Kim Piccolo has now taken over as CEO and recently announced that the company has been bought out by IQUP.
I gotta say as an affiliate marketer myself I love their whole ethos and philosophy.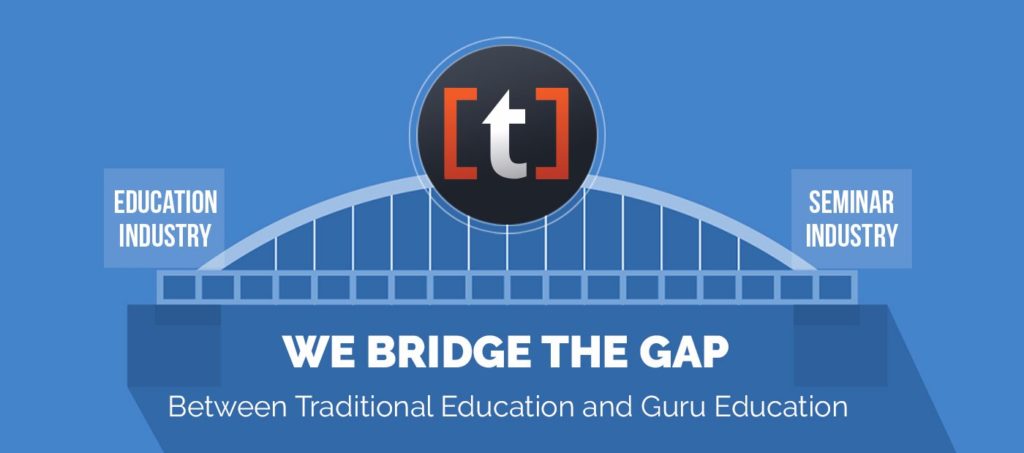 Their vision is huge:
"To have a digital marketing and online entrepreneurship campus with co-working spaces, innovative marketing tools, full training courses and internet marketing events all under one roof."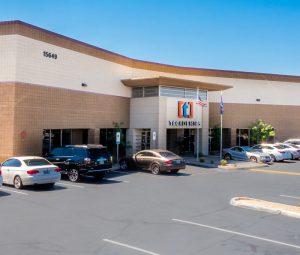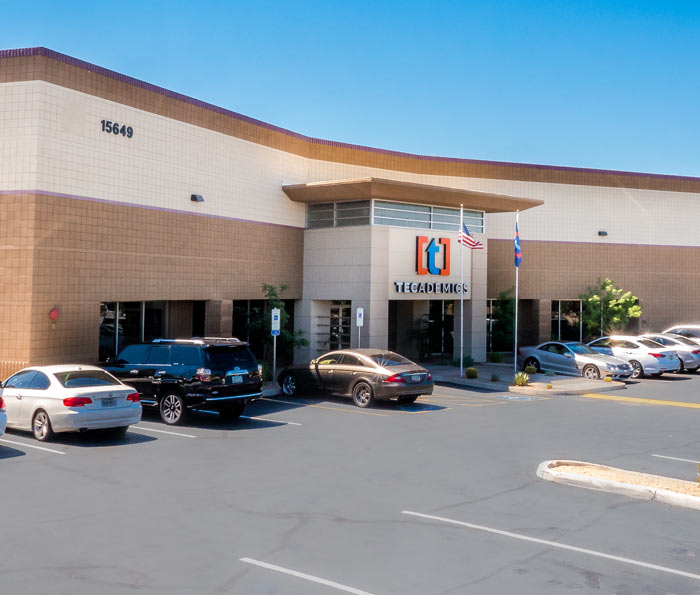 The digital marketing world is full of self-proclaimed gurus creating and selling courses. The issue is it's not always easy for newbies to figure out what's legit and what's not.
Tecademics are coming in with the goal of being the leaders of affiliate marketing training; they want to offer office space, digital studios and sound booth recording equipment for hire.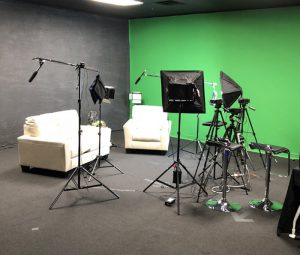 The affiliate marketing facilities look awesome!
There's a state-of-the-art studio and sound booth designed for content creators, bloggers and YouTubers.
I think as more people wake up to the huge potential of the internet to make money from home, businesses like this will become more popular.
Check out this online video tour of their whole campus, including the studios, working spaces and classrooms:
If I was in the Arizona state area then I would definitely check out these guys.
While I love working from home, I also like the idea of having a separate working and living space to help with the work/life balance.
The Classroom-Based Training
OK so most of you reading this review want to know about the training they offer and whether they're legit or worth it or not, so let's take a detailed look.
One of the first things that struck me about Tecademic's training program is it's only available in a traditional classroom format.
Yes, Tecademics actually have a college campus, based in North Scottsdale Arizona. So if you're going to enrol be prepared to pack your bags.
The issue here is flexibility. With an online course, you can go through lessons at leisure in the evening or on a Saturday, whenever you're free. Travelling to a physical location means setting aside a sizable chunk of your time to focus solely on this.
16 Success Paths To Choose From
I'm pleasantly surprised at the wide range of courses they offer; 16 courses or "Success Paths" in total: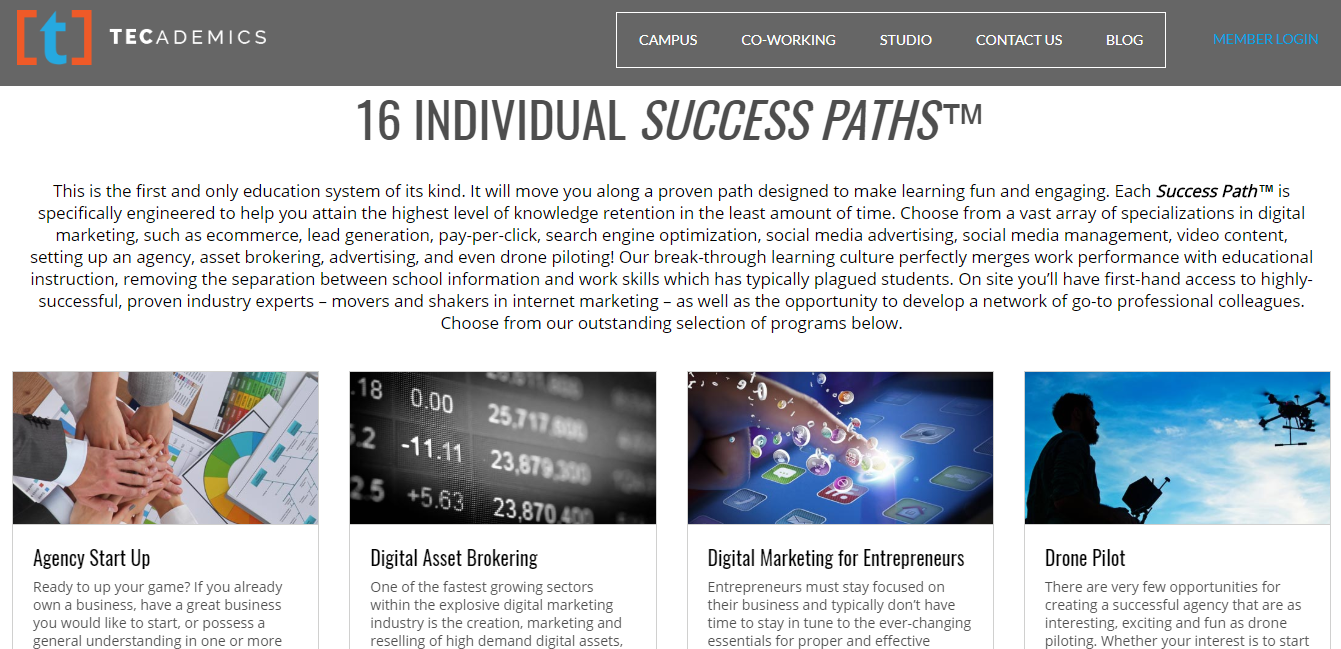 1. Agency Start Up
For people interested in starting their own digital marketing agency. With every business wanting to get on top of search results and willing to pay you a fair sum to do just that, no doubt there's great earning potential here.
2. Digital Asset Brokering
The internet age brings with it a certain set of digital commodities. This course teaches you how to profit from the buying and selling of digital assets such as domain names, websites and digital content.
3. Digital Marketing for Entrepreneurs
There are 30 lessons that give you an overview of the digital marketing world, from content creation to traffic generation and commission earnings. I think this would be ideal for anyone looking to become an affiliate marketer.
4. Drone Pilot
This course looks like fun if you're interested in setting up a photography or video based business. Everyone knows drone photography is becoming more and more popular and can be used for TV, films and ads.
I like the fact this course is practical and also teaches you how to set up your drone photography/filming agency.
5. Ecom Foundations
Ecommerce is a huge and exciting marketplace estimated to be a $4 trillion industry by 2021. I tell you guys, the opportunity to make real money online is getting bigger and bigger by the day.
This course serves as an overview before studying the Ecommerce Management or Ecommerce Mastery courses.
6. Ecom Management
Speaking of which, this course helps you learn how to profit from the fact more business is now being done online than on the high street and yet, many retail businesses are falling behind. Helping them stay on-trend and leverage the online world for sales is how you build your own client list.
7. Ecom Mastery
Similar to the digital marketing course, they teach you how to drive traffic to your offers including free and paid ads, designing landing pages and sales funnels.
8. Email Marketing
The best bang for your buck – email marketing is direct and highly effective. Whether you're thinking about running your own email marketing campaigns or building someone else's brand, this is definitely a popular marketing strategy.
I love email marketing! That's probably why I've written a lot about on this blog. Take a look at these articles if this is something you're interested in:
9. Facebook/Instagram Ad Specialist
This course teaches you how to run successful Facebook ad campaigns to reach your target audience. This is an invaluable skill and you can definitely make money running Facebook ads for companies full time.
10. Lead Generation Strategist
If you want to learn how to generate leads this might be a good course for you. It runs through the various types of lead generation techniques and find people ready to buy what you're selling.
11. Online Video Marketing Specialist
Whether you're wanting to launch your own YouTube channel or create video content for businesses, everyone knows video is where we're all heading. This course looks like a good mix of theory and practical-based teaching.
12. Pay Per Click
This course teaches you how to use Google, Bing and Yahoo search engines to drive traffic to your website or offer using paid ads known as "Pay Per Click" ads.
Again, this is something you can learn for a lot lower price at Wealthy Affiliate.
13. Print On Demand
Using Amazon as your primary selling site, you can provide companies with personalised merchandise. This course looks very comprehensive and will run you through everything you need to know.
14. SEO Strategist
SEO simple stands for "Search engine optimisation" and this course will teach you how to rank content at the top of search engine results. A very sought-after skill that companies are willing to pay you good money for.
(By the way, this is a core element to the Wealthy Affiliate training too.)
15. Social Media Ad Specialist
Another thing companies are desperately looking for is someone who can help run their social media ads for them to generate new leads, sales and recruit new clients.
This course will show you how to run effective campaigns on the likes of Facebook, Instagram, Twitter and Pinterest.
16. Social Media Manager
One step up from the Social Media Ad specialist course, this runs you through everything you need to know to run an effective social media account for any of the big businesses.
The course covers reaching your audience through the creation of engaging content, creating great video and photographic imagery to captivate your target audience and building a huge brand presence online through social media.
Foundation, Core, Tactical and Optional
This is where the training structure can start to get a little complicated so I'll just give you a brief run over here.
As far as I can tell, each path has courses that can be classified within 4 categories:
Foundational Courses
Core Courses
Tactical Courses
Optional courses.
You can check out the Success Paths page of the Tecademics website and take a look at each of the courses for a full rundown of the lessons included.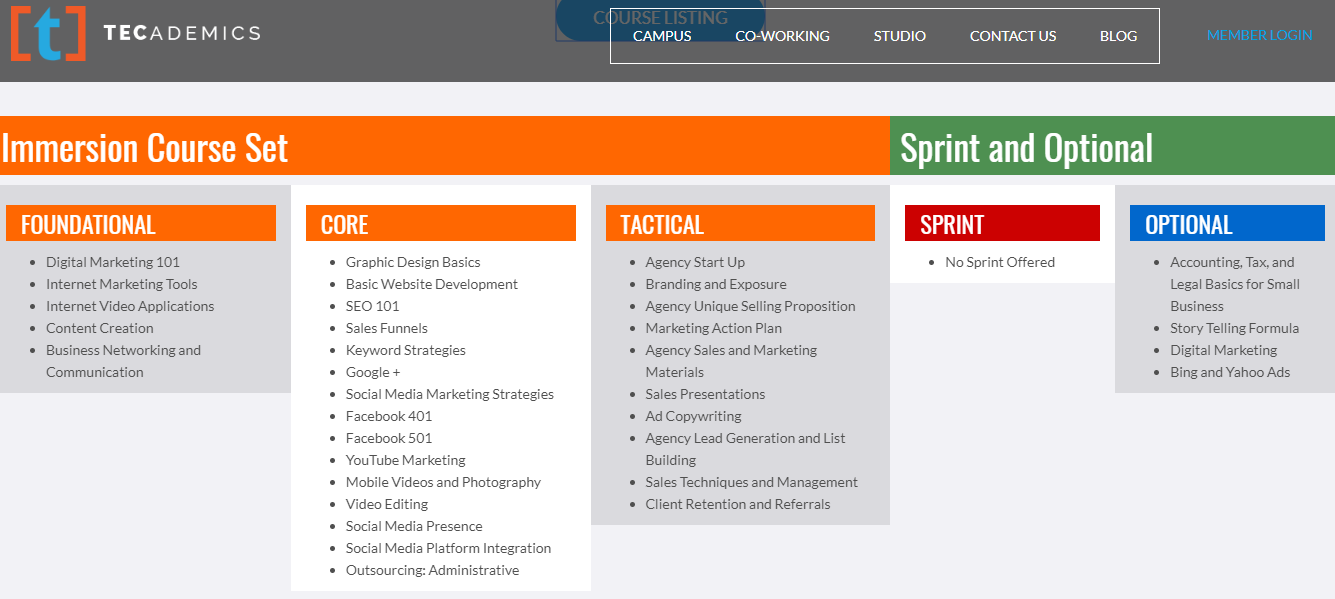 They don't list course prices on the website so I emailed their support team ([email protected]). I'll let you know as soon as they reply, hopefully with a full course price list.
All I can say at this point is that due to the travelling costs and physical campus location, you can expect the costs to be on the high end.
2021: Tecademics No Longer Offers Courses
I was surprised to hear from Tecademics support staff they no longer offer courses.
See their email below:

Making money online isn't complicated…
This video will show you exactly how to get started. Tap to watch now »
Can You Really Make Money With This?
Yes, absolutely you can.
They teach valuable life skills and a viable online business model that if applied, will get you results.
I believe each of the courses we've just outlined has a lot of value and will give you a set of skills you can use to make money.
Whether you're looking to work for someone else or set up shop on your own, the techniques they teach are the same I use to generate a full-time income online.
Is Tecademics A Scam?
No, I don't think so, though I don't think this review would be complete without me sharing a few questionable events in the company's history with you.
For example, this Tecademics affiliate was bought up on stage at a conference and announced the winner of a $20,000 prize, only he never received it.
And as I mentioned in the introduction, I think the events around Chris Record's departure from the company is a little shady.
But under new leadership, I'm going to give Tecademics the benefit of the doubt.
They've changed a lot in the few years they've been around and now the company seems to be wholly focused on affiliate marketing training and facilities. I think if they stick to this they won't go far wrong.
What I Like About Tecademics
The website is beautiful
I love the company ethos
They have an actual college campus
The founder has a great track record
The layout of the courses and course content looks excellent
What I Don't Like So Much…
No online courses
Bound by geographical location
The courses are expensive though probably worthwhile
Is Tecademics Right For You?
If I was based in Arizona I would seriously consider signing up for one of their courses. I'd probably take a look around their office spaces too.
But is Tecademics the best place to learn affiliate marketing?
I don't think so because Wealthy Affiliate is less than 10% of the cost and they'll teach you pretty much the same thing without the need to travel to a physical campus.
Wealthy Affiliate has 12 classrooms, 2 core training modules with 60 plus interactive, task-based lessons that focus on affiliate marketing, social media marketing, PPC and email marketing.
Plus, with an active community of over 2 million online entrepreneurs, there's always expert help and advice on hand when you need it!
Check out my full and honest Wealthy Affiliate review to find out why it's my top recommended affiliate marketing course for beginners.
Simon Crowe is on a mission to help as many people as possible kiss their bosses goodbye.
Take the free Commission Academy course to discover how to smash your online income goals and make your dream business a reality.