Hi and welcome to my review of Stomperrr!
Today you'll know the truth behind the "next-gen software" that "automatically and effortlessly" helped Brendan get $1000 paydays. Are any of these true? Or are they all scams?
Amusingly, Brendan says this software helps you find desperate buyers with a problem to make money from.
The reality though, they're not really as desperate as what he makes it seem because, for one, you're the one who will reach out to them and not the other way around.
You see, Brendan is trying to target the inexperienced here because these are the kind of people who still don't know how something is supposed to work.
He can then easily make you believe in a certain process to be the right one when really, it's not.
This is the reason why I did this review, so there will be one person less to dupe, for now, and hopefully, a lot more as more people read this.
I'm going over what Stomperrr really is, how it works, why it's not as promised, tell you if it's a scam or not, then finish off by telling you my personal thoughts and suggestions.
Stomperrr Review At A Glance
About: Stomperrr poses to be a digital marketing solution to businesses with problematic websites. Helping them supposedly gets you $1,000s.
Price: Currently the price for the front-end is $17.97 and the 4 upsells total to a daylight robbery amount of $758.
Pros: It slightly works. If you can even, consider that a pro.
Cons: This system poses you to be an expert in helping businesses optimize their websites, but you're not taught how to execute the solution.
Verdict: Stomperrr is a low-quality system. It won't help you help businesses make their websites better so really won't make anything out of this.

What We'll Cover In This Post:
What Is Stomperrr?
Stomperrr is an under-performing website finder for businesses with website problems. It poses to work as a website optimization tool. It's made by Brendan Mace and launched in March 2020.
The sales page says you earn high-ticket commissions with this software while at the same time not needing technical knowledge for your part because everything is supposedly done for you.
Brendan says it's better to do this than to put up your own business, which is risky because "YOUR money and time" is on the line.
To avoid the apparent risk, you're told to help other businesses instead and earn from providing them solutions to their problems.
The hype game goes on by saying you get "predictable income" day after day. (more like you can surely anticipate no money will come in for you)
Brendan tells you there's no need for a website and hosting. He wants you to think your hard-earned savings won't get lumbered out.
The sad truth is, if you fall for this, he'll fork out more than $700 from you for upsells that supposedly "unlocks" the vital features of the software.
Keep your wallet tucked in your pocket. Better yet, lock in a vault for the mean time.
So far, after 100s of reviews I've done on making money online products, I can say this is closest to home.
Not because I like what Stomperrr is (believe me, I don't) but because I have a good knowledge of how website optimization works and it's not how Brendan puts it.
I'll explain this better in the next section.
How Does Stomperrr Work?
Essentially Stomperrr is supposed to be a done-for-you solution in finding a business with website issues, pitch your offer to fix it, and use the same system to fix it for you.
This supposedly gets you $1000s in income with little to no work on your end.
You just have to do 3 things:
1. Find under-performing websites.
2. Generate reports and pitch to fix them.
3. After closing the deal, deliver the solution.
Good in theory, but not in actual execution.
Supposedly, you just pick a niche and a location, Stomperrr will generate a list of websites with bad site speeds on those. Stomperrr identifies those issues and you contact the websites to offer the solution.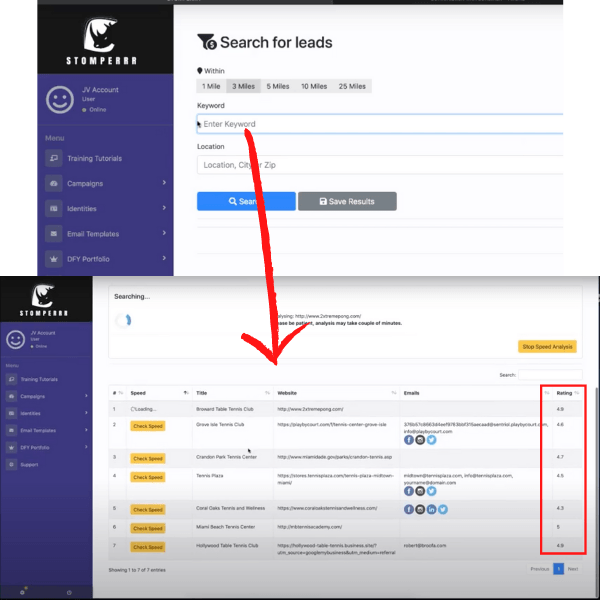 Oh, and by the way, one of Brendan's tactic in convincing you to buy this is since there are a lot of niches and locations to search, you'll have tons of websites to work on and make money from.
But no, those supposed options don't increase your income potential.
Anyway, other than site speed, other errors highlighted to be the reasons a website is under-performing are:
No SSL certificates
Broken links
Bad on-page SEO
Poor mobile optimization
And poor social linking.
On the demo video, Brendan says you just simply have to "pick a keyword, anything you think of, it doesn't really matter".
Actually, it does.
How can you provide a solution when you know nothing about it?
Say you choose "table tennis" to be your keyword. How do you suppose you can optimize the website when you don't know a thing about table tennis?
What stuff about table tennis should be seen on your website? What content about table tennis should you make to rank better?
You won't know the answers and the solutions if you know nothing about the niche you're trying to work on.
Now, once the results get pulled. You get:
A percentage of the supposed site speed
The name of the page
The website it's found on
Contact details
Site rating
I have 2 problems here:
1. The site speed result is in percent format. Good if they provided the metrics on how they calculated that percentage, but they don't!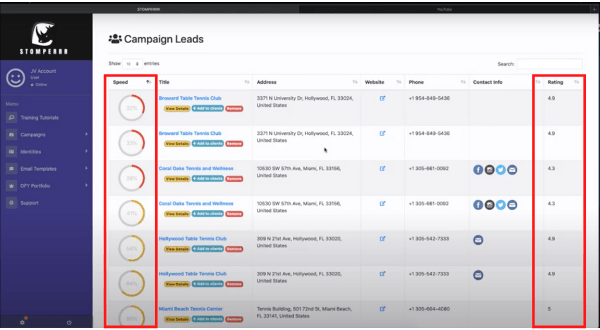 How do you explain to client why his site speed is at 47%?
You can't just say, "oh that's what Stomperrr says'. You will sound irritatingly absurd!
You actually have to explain how the percentage was calculated so they know you're presenting solid and credible results.
Plus, they're just pulling this data from Google's Page Speed Insights service anyone has free access to. There's no point paying Stomperrr for this service.
2. The same goes for the site rating. There are no metrics given on how they came up with the number. What a bummer.
So, after getting the "data" you need, you can now contact those under-performing businesses that showed up in your search.
Stomperrr has email templates you can use when reaching out to them. It's basically a generic email you send to everybody.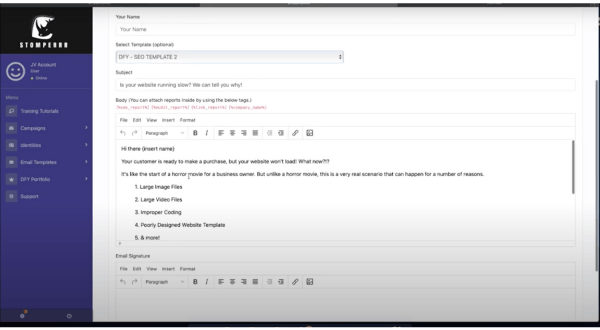 To somehow make it "tailor-fit" for the business, you just have to change the figures. But since you can't provide back-up data for the figures give them, I hardly think anyone will take you seriously.
Think about it:
It's so easy to say, "Your site rank is just at 4.3 because it's not mobile-friendly". Explaining why it's not mobile-friendly is not part of the package.
Or "Site speed is 30%, improve on-page optimization".
What do you improve? The content? Images? Meta title and description?
How can you position yourself to be an expert on the field when you can't give the exact solution to their site problems?
I'm just spitballing examples here but basically, the gist here is Stomperrr tells you why a website is bad without really explaining which specific part of it is bad so you can tweak accordingly.
Does the 20-minute training magically make you a web expert? Absolutely not!
You're only taught how to use the software and how to reach out to website owners, you're not really taught how website optimization works.
You can't compress everything you need to know with just 1/3 of an hour!
At best, what you can only do is present website owners with a problem. A problem you can't fix.
Here's a tragically sneaky part:
I've watched one user go through the process and apparently, you'll be told to make multiple identities and not use your own name.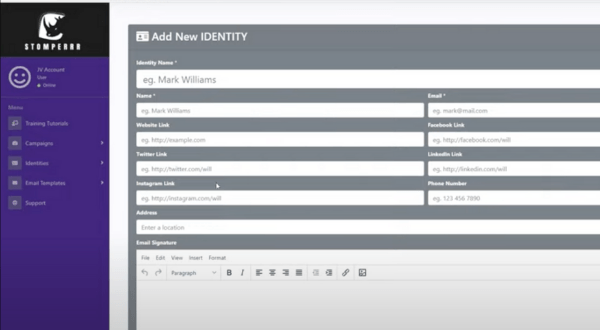 So, how is the potential client going to build trust on you when they don't even know who you really are?
Honestly think:
Will business owners, who receive random website solution pitches from some random person, hand out their money to get their website improved based on data backed-up by nothing?
Hard slap of truth, eh?
It might sound absurd because it is, but this is basically this is what Stomperrr teaches you.
Stomperrr is a just a lousy tool.
It won't make you an authority in web optimization not just because you can't provide solid analysis on the website, but because you also know nothing about website optimization because you're not trained about it.
If you're not taught the skill set, if you have no experience, what can you really deliver to website owners?
Instead of wasting your time on this lousy tool that makes you think you magically become an expert who earns $1000s, it's better to learn building your online business from scratch.
And it's not as risky as what Brendan makes you feel!
3 Reasons Why Stomperrr Is Not As Promised!
1. The software only provides, lousy data with no back up.
2. You're not trained to execute actionable solution to problems.
3. Ultimately, you won't make $1000s from this.
Is Stomperrr A Scam?
Stomperrr is a scam essentially because it promises outrageous income claims if you use the software. But you only get some lousy data that no one will dare to pay you for.
Where Do You Go From Here?
If you really want to learn about website optimization and make money from it, build your own website, learn how to optimize it, and monetize it with affiliate offers.
How?
Take Wealthy Affiliate's course.
You'll learn how to start a sustainable business using affiliate marketing, learn to build a website, and optimize it for better conversions for your affiliate offers, and so much more!
If you want to delve into SEO, Wealthy Affiliate also gets you covered because it has a dedicated keyword tool called Jaaxy.
This is just scratching the surface, if you want to learn all the benefits of Wealthy Affiliate, jump into this in-depth Wealthy Affiliate review to get started.
What's Your Take?
Were you shocked to know how lousy Stomperrr is? Did you get critical knowing its sneaky tactics? Tell us what you think down in the comments section below.
Simon Crowe is on a mission to help as many people as possible kiss their bosses goodbye.
Take the free Commission Academy course to discover how to smash your online income goals and make your dream business a reality.