There is no doubt in my mind that KashTree is a scam. But I know I couldn't convince you by just saying it is.
KashTree leads you to believe money grows on trees, virtual trees that is. But in today's review, I'm exposing it for what KashTree for what it really is, a data-harvesting scam in a façade of a referral-based income system.
Aside from knowing what it really is, I'll also give you an inside look in the members' area and expose why the tasks won't help you make money. 
Lastly, I won't also leave you sullen over a broken dream of making money online by revealing a way better alternative which is proven and tested to help you reach your online income goals. 
KashTree Review At A Glance
What We'll Cover In This Review:
What Is KashTree?
KashTree calls itself the #1 Influencer Network when in reality there is no such thing. It claims to be founded way back in 2015 by an unknown owner but was just really launched in just August of 2019. 
Each sentence above clearly shows how phony KashTree is. 
For one, it banks on the concept of transforming you into an influencer once you sign up. Pretty much like Plenty Bread, PaidNova, EZ Bucks, and MoneyGenie.
True, being an influencer is a profitable job, it's probably why they anchored this money-making scheme to it. 
BUT, no one becomes an influencer overnight. You have to build credibility by showing your authority in a niche and thereby create a huge following. KashTree doesn't make that happen to you. 
Secondly, it claims to generate income for you by simply sharing your referral link where they'll pay you from the revenue they generate from ads. No matter how many times you go back and forth on every page of KashTree, you won't see a single ad display disproving the claim they make money from ads.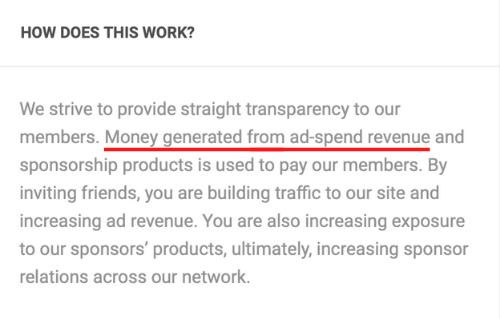 I'm not even halfway through exposing KashTree, there'll be more in the following sections. So, if you haven't been convinced yet, the next sections will help you to be. 
An Inside Look On KashTree
You don't have to wade in the waters yourself to uncover every facet of KashTree, I'd gladly do it for you to save from the risks it comes with. I'll explain to you how I got in and what you can do once inside the members' area.
To join KashTree, you simply have to provide your name, email, and password. It's always better to dedicate an email account for this alone and a different password from the one you usually use in your online accounts. I'll explain why in a bit. 
Once you finish filling out the form, you'll be redirected to the login page to type your details and voila you're in. 
You'll immediately see the dashboard containing the tasks on the left tabs. On the major portion of the page, you'll see your own referral link, a task monitor, and your supposed balance. (You automatically get $50 as a signup bonus)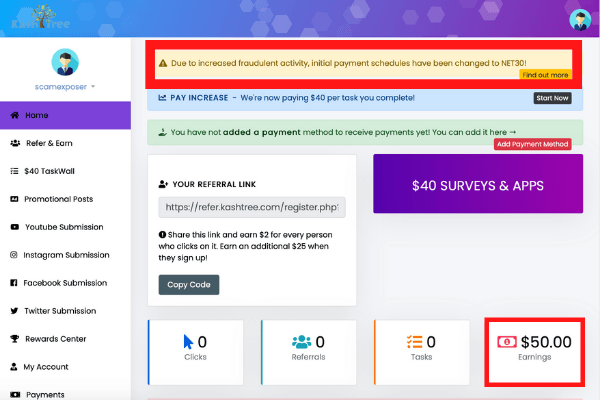 Now let's move on to the tasks.
Refer & Earn
Every time someone signs up using your referral link, you get $25. However, even if they don't but they just clicked on the link, KashTree still gives you $2 for it. 
Obviously, $25 seems like a great amount for just referring KashTree to others. But think about what's in it for Kashtree, clearly, they don't have ad revenue so where will they get the money to pay everybody?
Aside from this, the hefty pay can tempt you to spam every person you know just so they'll sign up. I tell you, KashTree is not worth burning bridges. 
Tasks
Tasks can range from playing games to taking surveys. If you notice, some tasks require you to give your email or phone number.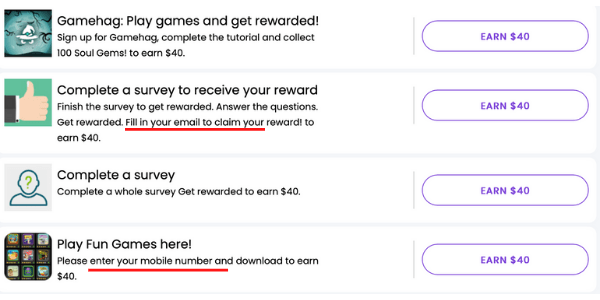 This is the signal for you to know to be ready for unwanted calls and endless email pitches.
I tried one survey out. After annoyingly taking the redundant screening questions they told me there was no survey available. I ended up wasting my time instead of earning $40. 
Social Media Submissions
As you can see on the left tabs are dedicated to Youtube, Twitter, Facebook, and Instagram submissions. The pay you get is similar to the Refer & Earn section except for the Youtube submissions. 
By uploading a video of at least 1 minute in length promoting KashTree, you'll get $50. Simple right? 
Funny enough, some of these submissions are found on the KashTree's testimonial page.
The lady here undoubtedly shows she's no convinced about what she's talking about.
While this lady makes it too obvious she's reading off a script.
Think about this too:
These people are required to say KashTree is legit and they made money from it BEFORE even proving this to themselves just so they can "earn" $50. This just shows their testimonial can't be trusted. 
Another thing, KashTree claimed to have paid over $44 million to 300,000 members. It's safe to say half of the members will make Youtube submissions for the hefty pay it comes with. 
Imagine KashTree paying $7.5 million for these submissions alone. Most of them with views just ranging from a 100-300. 
And KashTree pays $50 for that?! What a joke. 
Rewards Center
Rewards found here are just too good to be true. 
For one thing, some rewards will ask for your home address so they can "send" it to you while other ask for your credit card info without providing a reason.
Giving your details is a recipe for disaster. They already have your password and email, now they also have your credit card info.
Scammers prey on the idea you use the same information for your online accounts. Because they already have the details they need which YOU provided, it'll be too easy to head to any bank's online page and input this information to get your money. 
Another thing to keep in mind:
Legit companies give away prizes but do so in a way that will still benefit them. They always have a good campaign in place targeting existing customers. These rewards will be a means to thank their customers, so they'll keep on buying the products. 
Randomly giving awards for some useless task is always next to impossible. 
Cashing Out
You won't have the liberty to cash out any time you like. KashTree will require you to have:
5 referral sign ups
20 referral link clicks
5 completed tasks
An at least a $200 balance
After you reach these qualifications, you'll process for a cashout BUT will have to wait 30 days to get it! If you noticed on the dashboard screenshot there's a notice saying, "initial payment schedules have been changed to NET30".  
Clearly, KashTree wants you to prolong doing the heavy lifting for them. So, it will take longer before you realize you won't gain anything from them. 
Really though, the hefty pay promises without any revenue is a proof in itself KashTree doesn't really intend to pay you for the work you do. But what slaps the truth in front of you is when they tell you they'll ban your account for a fraudulent activity you never even did!
People have even expressed their dismay in Reddit: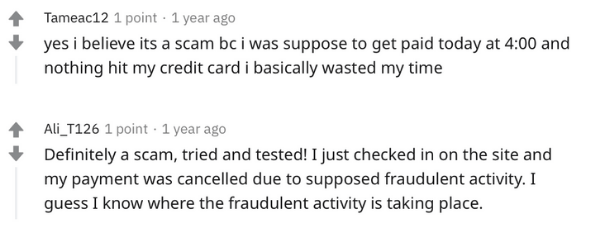 7 Reasons Why KashTree Is A Scam
KashTree is a scam because the whole platform is based on lies and it doesn't really intend to pay you right from the start.
To make things clearer, here's a list of KashTree's lies
1. Fake Payment Proofs
KashTree was launched just in August 2019 but the payment proofs go way back in February and June. 
Another reason is that they have the exact same payment proofs from another influencer network called ViralPoints.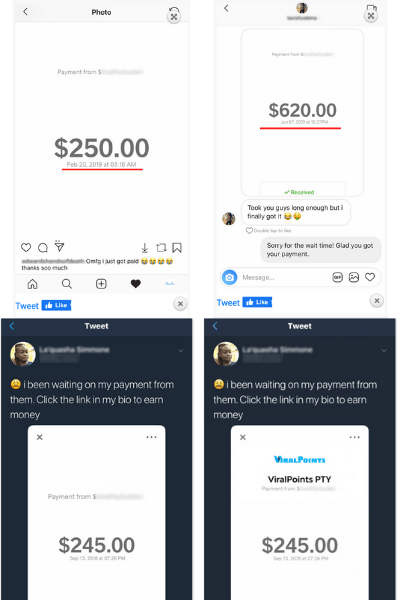 They're becoming too careless about making people see these platforms are part of huge network of scams. 
2. Fake Testimonials
Happy members? I don't think so. If they did have "happy members" they won't need to use stock photos to vouch for them.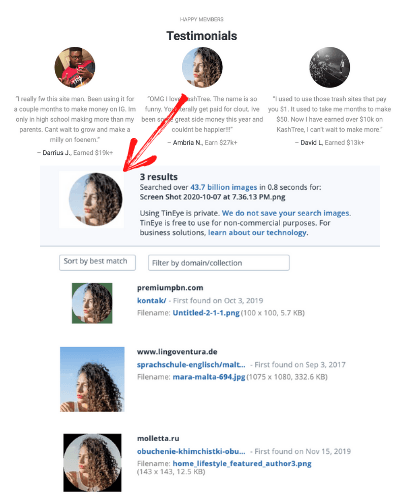 3. Fake Revenue Source
Like I said earlier, they claim to generate income from ads but there's not a single one in any of KashTree's pages. 
4. Fake Forbes Mention
They say they have coverage from Forbes but Google tells us otherwise.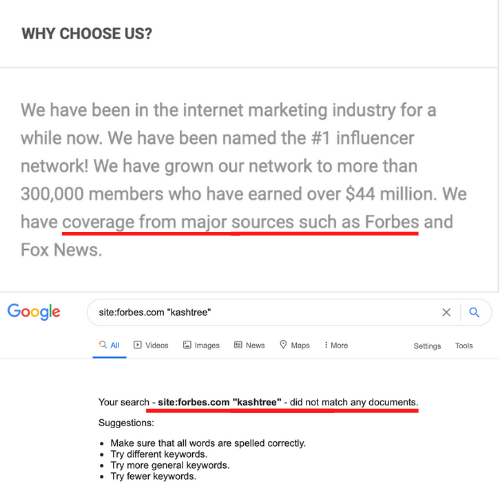 5. Fake Email Support
If you want to get help for not being able to cashout, you won't get any because the email they give doesn't even exist. 
6. Fake Fraud Accusation
They're accusing you of something you didn't do just so they'll have an excuse for not paying you. 
7. Fake Front
They claim to be an influencer network when there's really no such thing just to hide their main purpose of taking your information to get into your bank account and to steal your identity. 
A Better Alternative
Fake over-hyped income systems come and go but legit online opportunities are here for the long run.
Instead of investing your time and effort on get-rich-quick schemes like KashTree, it's way better to learn how you can make a full-time income of legit opportunities like affiliate marketing. 
It's as simple as creating a niche-based website, creating interesting and relevant content, get social shares and ranking, and monetizing it by offering products or services related to the niche you chose. 


At first glance, it can sound overwhelming, but it won't be so when you start learning about it. This is where Wealthy Affiliate comes in. It provides you the training and community you'll need in running your OWN online business.
Test out the 1st 10 lessons for free to know what I'm talking about. 
But if you're a bit apprehensive in diving right in, you can head to this in-depth Wealthy Affiliate review to know why I'm all good words for it. 
What's Your Take?
We're you surprised knowing you can't really earn from KashTree, or did you see it coming? What else gave it away for you? Share your thoughts in the comments' section below. 
Hi I'm IG, nope not a kin of the social media; I've been IG since '93. I'm 1 part writer, 2 parts reader and 3 parts puzzle nerd.