Brendan Mace has partnered with Ike Paz and Dalton Scott to create this money-machine that supposedly gets you $278.62 not per day, but per hour!
Is it a scam?
You're about to find out.
Brendan promises you training for passive income which comes with free traffic and just takes 20 minutes to set up. And the cherry on top?
No competition so you can hoard commissions!
If you think it's too good to be true, reading this review gets you one step closer to finding out the truth.
I'll tell you:
What Printly is and what it's not
The myth versus the truth on the sales page claims
What you're getting taught in the training
If you're really going to get fast money with this
If it's a scam
And finish off with my final thoughts on this product
Stick around to discover the decision-changing truths you're about to uncover.
Brendan Mace's Printly Review At A Glance
About: Printly is a printables-for-sale training created by Ike but peddled by Brendan which promises $100s in income in just a few hours.
Price: The front-end is priced at $15.92 while the upsells go up to an extortionate $2,331.
Pros: The training is straightforward, and the method taught does have potential.
Cons: You won't earn overnight money with this and you'll need more training if you want to stand out against the competition.
Verdict: Printly is an average training on making printable you can sell. You actually don't have to pay for training to know it works.

What Printly Is And What It's Not
Printly is a printable video training course by Ike Paz and promoted with the help of Brendan Mace. It's not to be confused with Printly, the print on demand service for white label products. They are not the same.
There's actually a third owner named Dalton Scott by I don't clearly see what's his participation in Printly.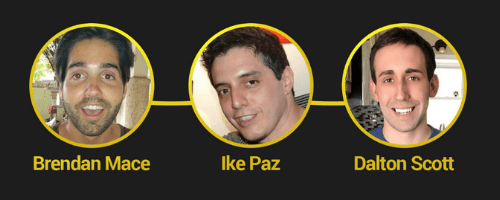 The Printly of Brendan Mace and his friends essentially teaches you how to make printable items you can sell.
The print on demand Printly on the other hand is a service you can tap to print your designs on and also ship the products to your customers.
They are in no way connected to Brendan Mace's training.
If you have a knack for creating designs for white-label products like mugs and shirts and don't want to worry about keeping stocks and inventory, you can work with the print on demand service Printly.
Myth Vs Truth On Printly's Sales Page Claims
1. It's A Brand-New Method
Printables existed since colored printers were made. Printly was launched just 3 years ago so it's not newfound as what Brendan made it look like.
2. Uses 100% Free Tools
It teaches you to utilize Canva to make your designs and Pinterest to get people to see them. Yes, you can Pinterest for free and Canva also has a free version.
However, you only have limited access to Canva's design elements unless you buy the Pro version worth $119.40 if paid yearly or $12.95 if paid monthly. If you'd get serious in this business, you will definitely have to pay for the Pro version.
3. 100% Newbie-Friendly
As you'll realize, later on, you'll need your own website to display your designs on. Printly won't teach you about this part so you won't get the comprehensive training a beginner deserves.
They even say no stones are left unturned but then again, they don't actually teach you to make the virtual store for your designs.
4. Takes 20 Minutes To Setup And You'll Start Getting $100s Every Hour
No, you won't.
Even if you finish a design and upload it to Pinterest in under 20 minutes, you won't get the traction that fast and at best it'll be weeks or months before anyone gets interested enough to click on your designs.
Brendan is even going to show you income proofs on how easy it is to supposedly make money with Printly.
Interestingly, when you scroll down at the bottom of the sales page and click on the "Earnings Disclaimer", Brendan will take back everything he says by saying there's no guarantee it'll make money for you.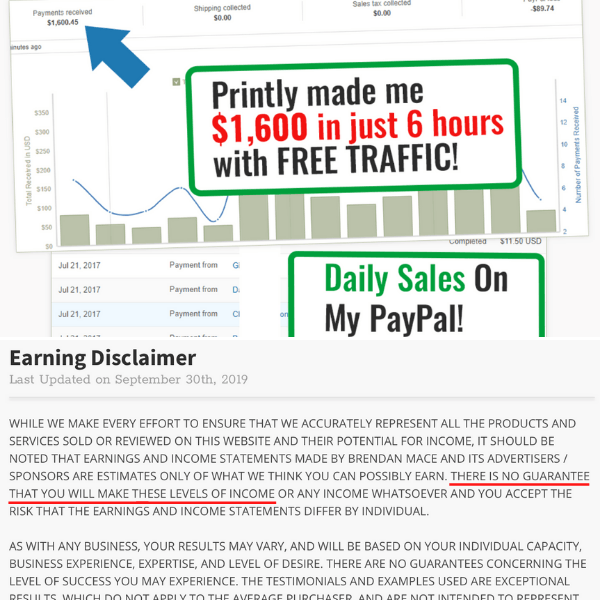 If it was so easy, why can't he be confident you'll make the same money as him?
5. Get 30 Days To Get Your Money Back If You're Not Satisfied
Again, not true.
Here's one user expressing her dismay on a Youtube review on Printly on how she was not able to get her money back as promised.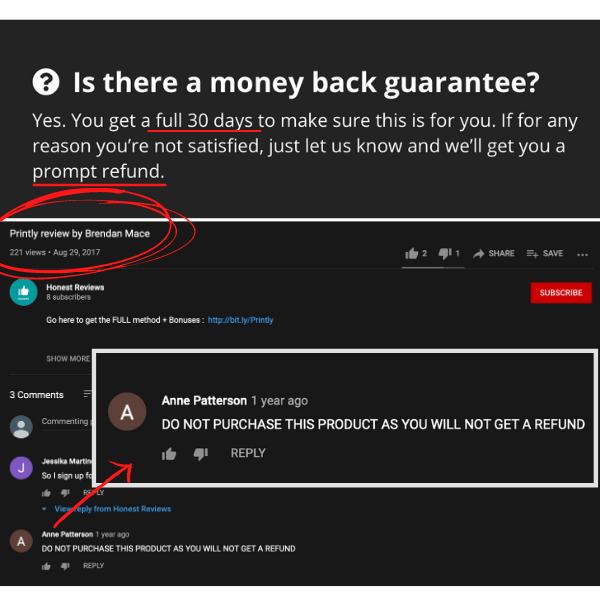 Training So Easy, You Don't Actually Need It
Essentially, Printly will teach you how to make graphic designs for banners, logos, calendars, and invitations people can print out so you can make money.
Other than telling you to make a website to showcase your designs own, they do also tell you to put them up on Etsy and Fiverr to reach a wider market.
You'll get 14 videos on the training (if you don't opt-in for the upsells which adds on around 4 more videos), each less than 20 minutes long.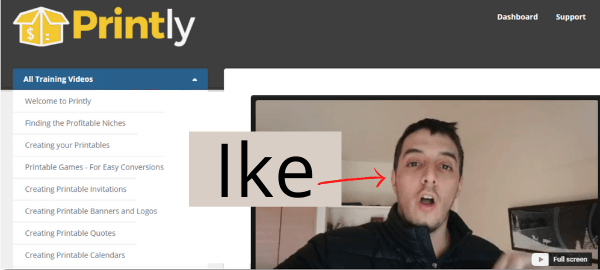 Here's a summary of what you get in the training:
1. Go to Pinterest and get ideas on trending things people are sharing or repining on the niche you chose.
2. Go to Google Adwords to get more specific ideas based on what you found out on Pinterest, whether you make designs for invitations, banners, party games, or whatever you find on the results.
Ike then says to make your keyword search as specific as you can to lessen competition. Calling into question yet another sales page claim of having no competition to worry about.
3. You're then told to start making designs based on Canva's pre-made graphics then save 1 copy as a PDF file, and another as a PNG with a watermark to post on Pinterest.
Ike says making a PNG file with the watermark compels people to actually buy the original copy from you instead of just taking the one on Pinterest.
4. The next step is to pin it to related boards for people to see when they search for something in the niche related to it.
5. Ike then tells you to put the link of your website on the Pinterest post so you can direct people who are interested in buying it to the original piece where you earn from.
Here's Ike on a Youtube video if you want to see him in action:
As you know by now, the video covers everything you need to know in making a printable. It's so easy to do, you don't actually need to pay $15 to learn how it works. The video is enough t tell you what to do.
Can You Make Money Fast If You Use Printly?
No, you won't make money as fast as Brendan promises to and for 2 reasons.
1. The search portion of the video says you'll definitely have competition
This means you have to put in the time and effort to make your designs better than others. This will take more than 20 minutes.
There's no overnight money if you do Printly's method.
2. It's so easy, anybody can do it.
This doesn't only mean more competition for you; it also means people won't actually need to pay for printables because they can make it themselves.
Is Printly A Scam Or Legit?
Printly is not a scam. You actually get to learn how you can utilize Canva and Pinterest to make items you can make money from.
However, there's a free YouTube video about how it works, you don't need to pay $15 for it.
The only downside I'd say is the hype on making money fast with it because you won't like I explained earlier.
There's potential to making money here only if you make designs that are good enough for people to consider paying for. Unless it is, they can do the printables themselves.
My Final Thoughts On Printly
I'd actually say making printables can help you make money online. However, with how simple it is to do, there's a thick competition looming over you aside from the fact people can do the designs themselves.
You can make money with Printly but it will take time and skills. You also have to worry about creating the website like they promote but don't teach you about.
So although the training is straightforward, it's not enough to help you build your own sustainable online business.
If this is your goal, you'll need step-by-step training that teaches you all the things you need to know from the ground up on a business that has bigger potential.
Wealthy Affiliate offers to get you training from square one, on a more sustainable business called affiliate marketing.
It teaches you what niches are and how to pick yours, how you make a website for your business, how you monetize the website with affiliate offers, how you drive people to your offers and get them to convert, and more.
Essentially everything you need to know to build and sustain your business.
If you're interested in learning more about the potential of affiliate marketing and how Wealthy Affiliate can teach you about it, take a look at this detailed Wealthy Affiliate review to get you started.
What's Your Take?
Did you think Printly's method is so easy to do? Do you feel the 20-minute income result is too hyped up? Tell us what you think down in the comments section.
Simon Crowe is on a mission to help as many people as possible kiss their bosses goodbye.
Take the free Commission Academy course to discover how to smash your online income goals and make your dream business a reality.