Is Automated Daily Income a scam to avoid or a legit opportunity you can trust?
They make some pretty bold claims on their website like:
"Make money and change your life NOW! Within 5 minutes you could be making REAL MONEY working from the comfort of your own home!"
And: "Learn how to get paid $1,250 – $5,500 working from home!"
But in this review I'm going to call them out on their BS!
I'm not affiliated in any way to Automated Daily Income. I'm just an honest guy on the outside looking in, doing my best to make sure people find truthful and unbiased information about the best ways to make money online when they need it.
Bite-Size Automated Daily Income Review
If you don't have time to read the full review, here's the quick version:
Automated Daily Income doesn't have any training products of their own. The site simply acts as a gateway to an internet scam and pyramid scheme known as MOBE which stands for My Online Business Education. (Now shut down by the FTC)
This is an expensive and blatant scam that's conned 1,000's to lost money without any hope of getting it back.
According to AutomatedDailyIncome.com it's just $47 to start making money, but this is just to get you on the first rung of the ladder. You'll be strongly encouraged to buy upsells which cost up to $30,000 a time; this literally could bankrupt you.
The more you trust the system, the more money you will lose. Instead of making money, you'll find yourself worse off than when you started. There have been cases of retirees losing life savings when all they wanted was to supplement their pensions.
But that's not even the worst part:
This malicious scam forces its victims to scam other unsuspecting victims with the same scam to try and claw back some of the $10,000's they've lost.
My advice? Leave this well alone and do not give them your credit card details.
After reviewing hundreds of online programs and make money systems, nothing beats the income potential of creating your own internet business.
Becoming a self-made online entrepreneur is the most legit, ethical and lucrative way to make money online. Check out my Weathy Affiliate review here and get started for free.
Wanna Make Money Online But Sick Of Scams?
What Is Automated Daily Income?
Automated Daily Income is a website that promises to show you how to make crazy amounts of money every day from home.
They say you don't need any experience or skills and you'll start earning within 30 minutes of signing up.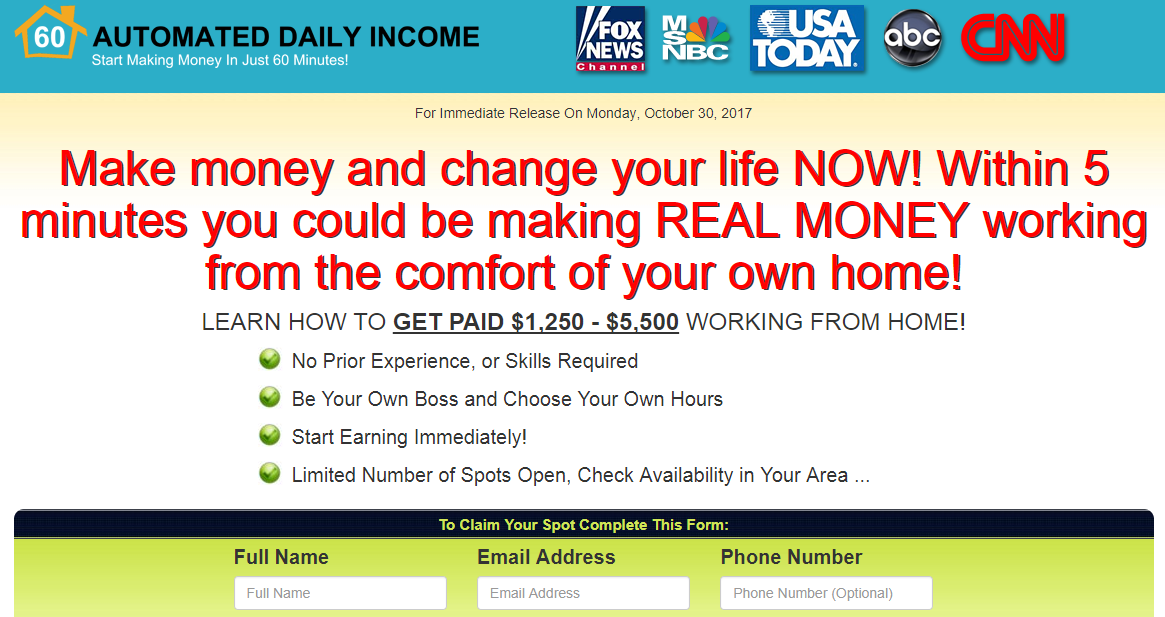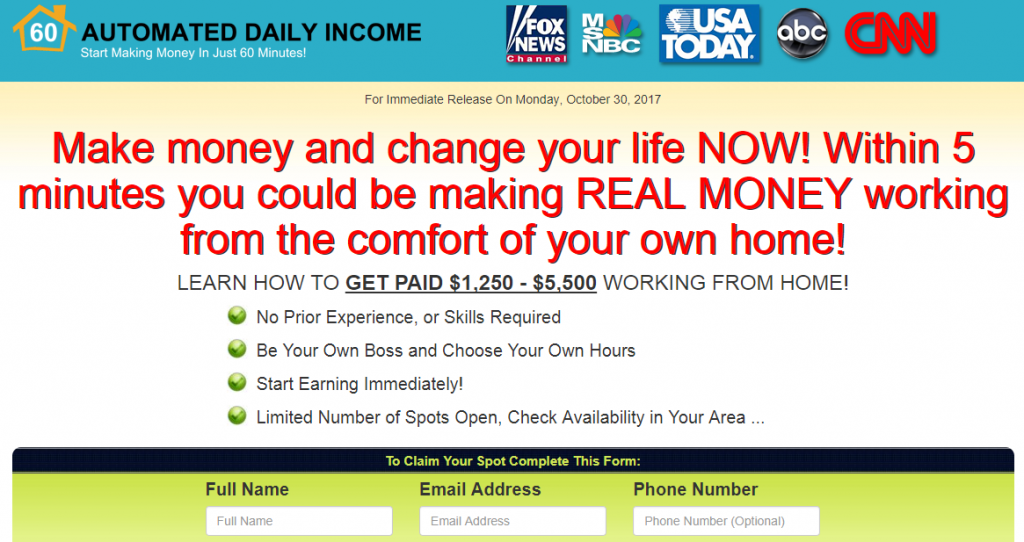 On the surface this might sound like the perfect work from home opportunity but as the old saying goes "If it's too good to be true then it probably is." 
So what's the catch and what exactly will you be doing to earn money?
To find out I decided to dig a little further to see what this was really all about.
Once I entered my name and email…
You're then told there are 9 positions currently available in your area. Good news right?
I was then redirected to a long sales page full of testimonials and more promises of fast and easy cash. It's here they ask you to hand over $47. This fee is just for the first level of the MOBE membership.
As soon as I saw the landing page I knew this was a scam. I've seen these exact same pictures, title headings and spiel so many times before.
In fact, I remember reviewing the Cami White Scams a few months ago exposing a different site with pretty much the exact same headings.
Check out what the Automated Daily Income sales page looks like: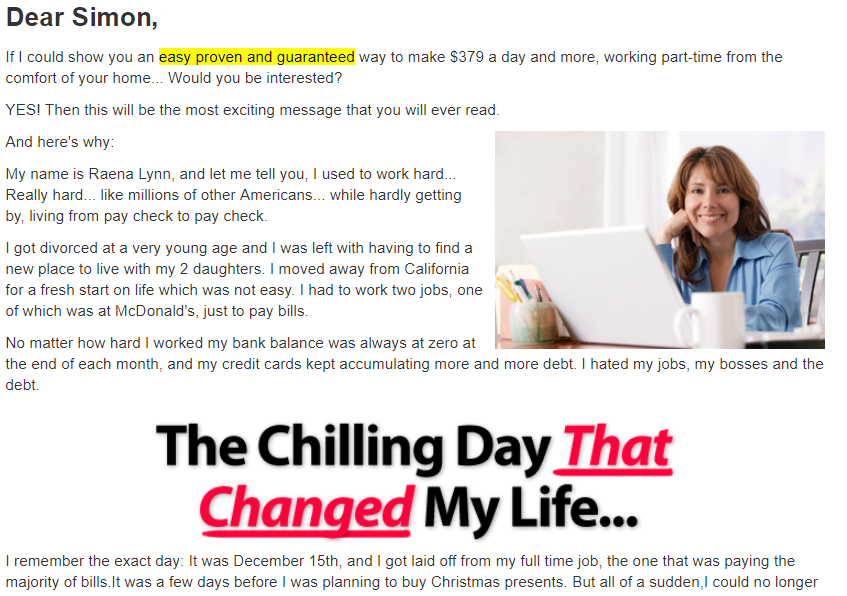 Now compare that to the screenshot I took from Cami White's DailyWebBiz scam: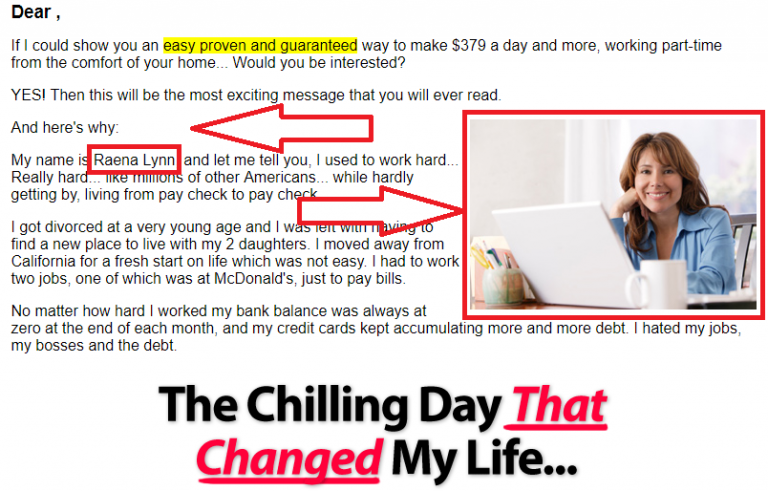 They're identical in every way: same fake stock image, same sob story and the same empty promises.
But then I noticed something else…
Automated Daily Income Is Fake News
At the top of the website you'll see all the major news channel network logos:
Normally this would show they're a legitimate website you can trust, but do a Google search and you won't find any mention of the Automated Daily Income program on any of these networks.
Take a closer look at the wording and it says "Work from home opportunities have been featured on:"


Right I see, that's quite clever. To try trick you into thinking this is a legit work from home opportunity they stick the logos up there.
This is very misleading. Scammers love to pull tricks like this to fool people into thinking they're more credible than they are.
Automated Daily Income Is Really MOBE
The Automated Daily Income doesn't have any products or training of it's own – it's merely a cover for Matt Lloyd's My Online Business Education (MOBE) pyramid scheme.
This is an expensive and notorious internet scam posing as a multi-level-marketing scheme where people pay for memberships to create their own business, only to realise the opportunity is selling the opportunity.
The $47 fee for Automated Daily Income is actually the most basic level of MOBE membership. Once they've got you in you'll be bombarded with upsell after upsell, increasing in price every time.
Update June 2020: Good news! MOBE has finally been shut down by the FTC.
The 'Iron-Clad' Guarantee Is As Solid As A Hot Marshmallow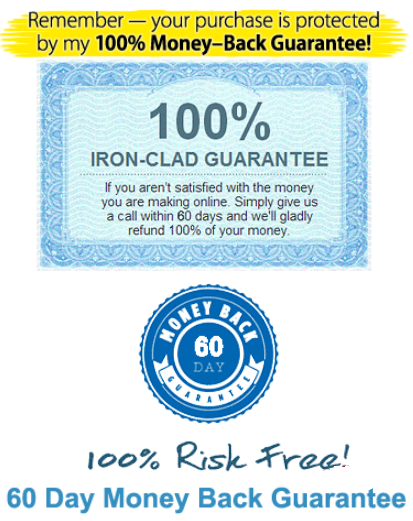 By this point I'm not believing a single thing the Automated Daily Income website tells me.
If someone is using fake images, making bogus earnings claims and not being straight forward about how the 'work from home opportunity' works then how can you put your trust in the so-called iron-clad guarantee?
There are hundreds of complaints online from people unable to get a refund, no matter how hard they try.
In MOBE's terms and conditions you'll find their refund policy which goes like this:
"MOBE offers a thirty-day, money back guarantee on certain products unless otherwise stated in the various product or service agreements.
All subsequent subscription fees are nonrefundable as the benefits of the service are realized immediately upon payment."
But take this pensioner in Malaysia instantly regretted getting sucked in and paying $1,997 out of his life savings. MOBE denied his refund even though he asked just 2 days after handing it over.
Losing $49 Is Just The Start: People Wave Goodbye To $10,000's
When I say MOBE is expensive, it really is. Here's what you'll pay if you go down this route:
Silver Masterclass –  a one-off fee of $2,497
Gold Masterclass –  a one-off fee of $4,997
Titanium Masterclass – a one-off fee of $8,997 plus $199 every month
Platinum Masterclass – a one-off fee of $14,997 plus $299 every month
Diamond Masterclass –  a one-off fee of $29,997 plus $299 every month
Yes, the highest membership is actually $3 away from $30,000 – is this crazy or what?
And what do you get? The ability to promote these products to others and get a cut.
It really saddens me when I see people promoting MOBE because I know just how much they've put in and how hard it is to stop and say enough is enough, especially when you've emptied out your savings and have nothing to show for it.
That's why their only option is to try and recruit other people under them to try and get their money back. And so the cycle goes on and on and on.
Their earnings disclaimer says 95% of all MOBE members make less than $250/year.
They'll be told it's because they're "not working hard enough", or if they just invest "a little bit more" they'll go to the next level when in truth, they should just cut their losses.
Is Automated Daily Income A Scam?
Yes, and one that's going to cost you dearly if you join.
Automated Daily Income is a cleverly disguised entry point into MOBE's pyramid scheme and losing $47 is just the very beginning; it goes downhill fast from there.
Automated Daily Income a scam that turns scam victims into scammers.
If you do manage to recruit others into the scheme, you're making money by scamming others with the same scam you fell for. Is this really the kind of business you want to be involved with?
A Legit Online Business Model
Sites like Wealthy Affiliate have turned complete newbies into online business owners and if you take advantage of the free Starter membership you can do the same.


With step-by-step training courses and action steps, top-notch community support and beginner-friendly website builders, you can turn any passion or interest into a successful and profitable online business.
I joined Wealthy Affiliate back in 2014 and I've been a member ever since. I've created several internet businesses that generate more than $7,000 a month, enough to quit the day job and book a one-way ticket to Thailand.
Check out the full Wealthy Affiliate review here.
Got Any Questions?
If you have any questions about anything we've covered in this Automated Daily Income review then go ahead and ask in the comments below and I will be more than happy to help you out.
Related posts:
Simon Crowe is the founder of The Make Money Online Blog and is on a mission to help as many people as possible kiss their bosses goodbye.
Get his free Affiliate Marketing Guide For Newbies to learn exactly how to build a real income online and make your dream business a reality.