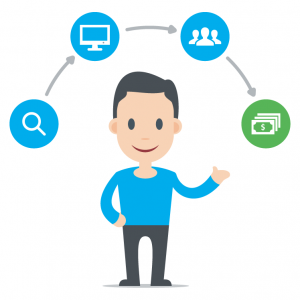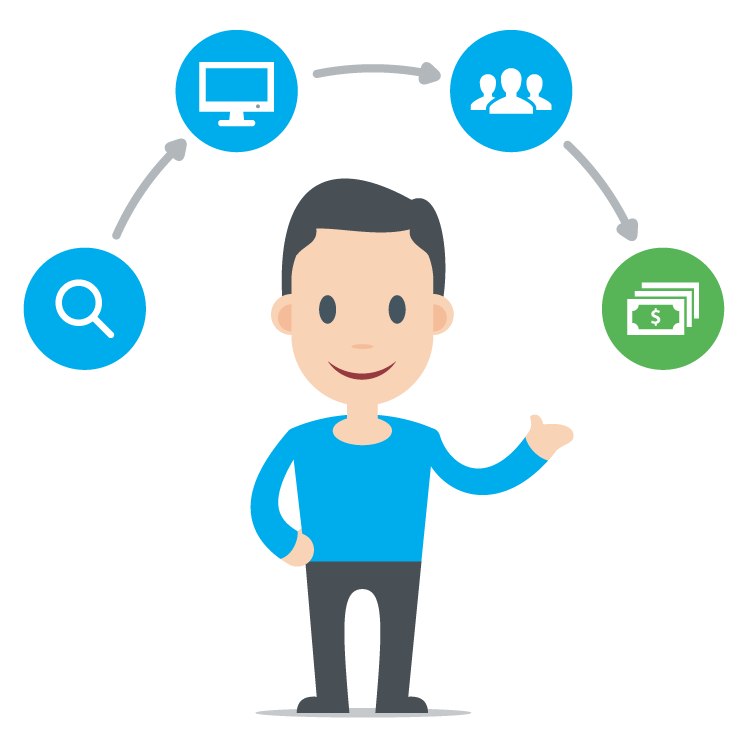 Last Update 8th May, 2017.
As I'm helping new Starter members get their businesses off the ground one of the most common questions I get asked is:
"How much money can you make at Wealthy Affiliate?"
You're weighing up whether or not to do this and I understand why you're asking.
The problem is this question never has an easy answer…
I mean I could just say:
"Make $76,592 a day on autopilot while you snooze and snore!"
…but Wealthy Affiliate's not like that and I try to be honest.
You see, there are members who have been working on their online businesses solidly for 3 months and have made $0 and there are those who have been doing this for 6 years and earning $20,000 a month.
Here's the deal with Wealthy Affiliate:
You don't work for Wealthy Affiliate like working a job (This is an employee mindset.)
They give you everything you need (training, tools, community support, to name a few) to build a successful online business, then it's up to you to take that and use it and build something awesome with it (Entrepreneur mindset.)
So how much money do I make at Wealthy Affiliate?
I share my  personal online income journey in more detail in:
But for now, I wanted to give you a quick glimpse into my earnings.
A good place to start is at the beginning – I started Wealthy Affiliate in 2014 as a total newbie, I mean I had never made a website before, I loved writing but I had never been a 'professional blogger' before and didn't even know what affiliate marketing was.
On the very first day of joining Wealthy Affiliate I wrote out these money goals myself and shared them with the other members: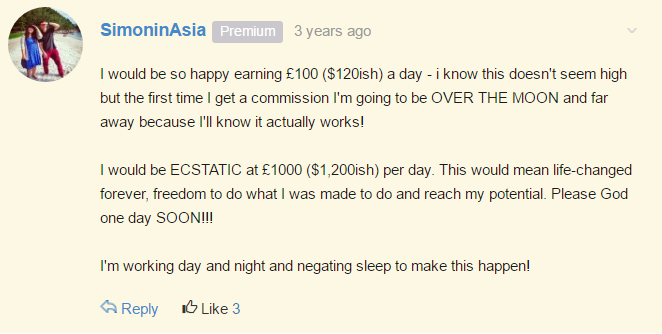 Did you see that last sentence? And I wasn't just being dramatic, I was serious.
I worked day and night, I watched every video lesson, I read every tutorial and completed every action step.
Then at the two week mark something amazing happened, my first sale!
I will never forget it – I grinned from ear to ear, punched the air triumphantly and did a terrible Irish river dancing impression. (it was terrible but at least there was no one else in the room!) 🙂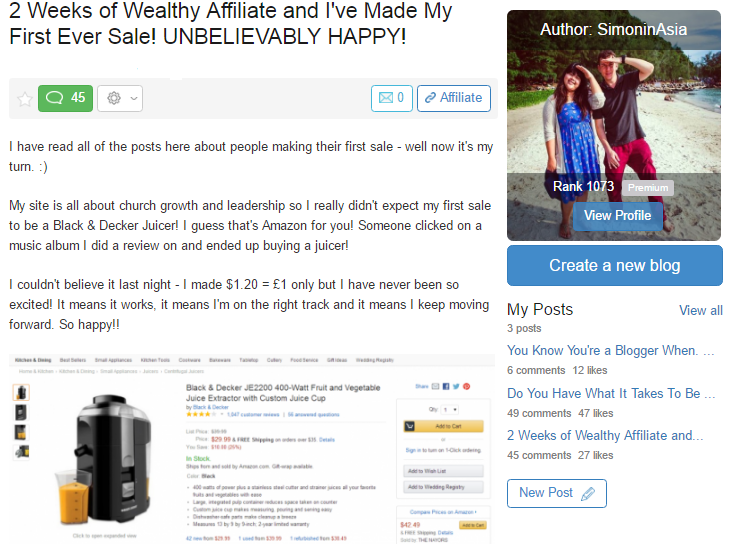 Do you want to know how much money I made?
$1.20
That's it! Peanuts right?
Wrong!
Because of the training I had learned how making money online works. I knew it was a process and I understood it would take time. But this first sale showed me I was doing something right, I just needed to keep going.
What started as a sale a week gradually become a sale a day and then several sales a day…
After 12 months I was earning enough to quit my full-time job, so I kissed my call centre boss goodbye forever and set sail for Thailand where I am to this day.
How much money do I make?
I've been working at this (on and off) for 3 years and I now earn $6,000+ per month. I've met my first money goal and now I'm working towards hitting my second goal of hitting $30,000 per month.
Do you know the difference between a dream and a goal? A dream is something I wish would happen. A goal is what I make happen – a massive difference!
Are you ready to start your online business?
"The longer you're not taking action    the more money you're losing."      Carrie Wilkerson
More Wealthy Affiliate success stories
You've heard my success story, now let's here from other members at Wealthy Affiliate…
The get rich quick mentality
People understand that an offline business takes time to build and grow, but when it comes to online business some people expect to be making thousands on day one.
Maybe it's because of all the 'get rich quick' gurus out their promising overnight riches or the fact that we can send messages across the world at a click of a button… when it comes to the internet we expect everything to happen yesterday.
This isn't how it works.
If you're serious about making money online, it has to be a legit business built on a solid foundation. And this takes time.
It took me 12 months to replace my full-time income – you could do it in 6 months or it might take you 2 years.
Here's the real answer to the question
While some people will reach the $1,000 mark after only 6 months, for others it could take 2-3 years…
So how much money can you make at Wealthy Affiliate?
Your earnings could be non-existent or limitless. Really.
It all depends on you.
I know, you might not like that answer but it's the most honest answer I can give you.
How much time are you willing to put into this?
How much time are willing to put into this? If you want to be a success and become a full-time affiliate marketer you're going to have to put in the hours.
Are you free all day so you can work 7 hours a day or can you squeeze a couple of hours a day on the evenings and weekends?
As well as putting the ime in, you have to give your business time to grow. When you're learning something new you have to give yourself time to learn new skills, to apply what you're learning and to get better over time.
Unfortunately I see so many people give up at the 3 month mark when breakthrough is just around the corner.
Are you willing to take action?
Each training lesson within Wealthy Affiliate have actionable steps to complete before moving on to the next lesson. I love this because it means you build your online business as you work your way through the course, ut only if you're willing to take action on what you're learning.
If you want to get the results you're not already getting, you're going to have to start doing things you're not already doing.
We often think we'll get from where we are now to where we wantt o be in one fell swoop, one giant leap. The reality is how much money you'll make at Wealthy Affiliate is determined by those small, seemingly insignificant steps you take every day consistently.
Know why you're doing this and never give up. Take action to make your dreams a reality and can you imagine where you could be 6 months from now, a year from now?
How different would your life look if you escape that office cubicle? What would your life look like if you could be a fully-fledged, profitable business owner, able to work anywhere in the world?
If you're ready to get started, let's build your online business together.
Got any questions? Check out my full Wealthy Affiliate review here or leave your comments below. What do you think it takes to make money with Wealthy Affiliate? 
Simon Crowe is on a mission to help as many people as possible kiss their bosses goodbye.
Take the free Commission Academy course to discover how to smash your online income goals and make your dream business a reality.