Hi, I'm Simon and welcome to the ONLY 2019 Blast Off review where we expose the TRUTH behind the hyped-up income claims.
I've been making a living online since 2015 and I'm forever on the lookout for genuine income opportunities that deliver and get you the results you're looking for.
You know as well as I do that 99% of the so-called 'profit generating methods' out there never actually help you, but instead just waste your time and leave you worse off.
So is 2019 Blast Off a scam not worth bothering with or a fun and legit way to earn $120/day?
Here's what I found out.
2019 Blast Off Review At A Glance
About: Bill Hugal's 2019 Blast Off promises you'll make $130 a day for just 30 minutes of work.
Price: $7.99 plus $120.95 in upsells, but you'll also need a paid ads budget.
Pros: Comes with a 60-day refund option.
Cons: It's impossible to make the money they claim with the expensive and ineffective traffic methods they teach.
Verdict: A short and outdated course on how to promote crappy Clickbank products via email that doesn't meet expectations. A remake of an old scam you want to steer clear of. 

They use deceptive and manipulative marketing practices to convince you this is a revolutionary and surefire way to earning $120 in profits a day, claims not backed up by their legal disclaimers.
People think they're getting the whole system for $7 when in fact they're paying to be led down a sales funnel with numerous higher-priced upsells.
The training itself is just 5 short videos telling you to buy paid email solo ads to drive traffic to your offers. Not only is this an expensive and well-worn path to failure, but it's old recycled material we've seen many, many times before.
What Is 2019 Blast Off?
In the video Bill Hugall tells you this is a never-before-seen new and revolutionary new money making system that no one else has discovered.
Want to quit your job, live that lurious lifestyle you've always dreamed about? Apparantely this is the system that's going to get you there.
"Literally just 30 minutes per day with this New "Blast Off" Method is ALL IT TAKES to start getting insane profits rolling in like clockwork."
He says you dont need a website, a list or any previous experience and we're told success is guaranteed.
It only costs $7.99 and it even has a 30 day money back guarantee. Earn $130 a day for a one-time $7.99 investment – that's a bargain, right?
If only it was as simple as that!
Once inside the training area I could see this was going to be a let down… The entire training course consists of just 4 short training videos and a summary video.
That's hardly a comprehensive training program to teach you how to make money online is it?
And it's all the methods I've seen before: outdated list building techniques and paying solo ad vendors to send out your email offers.
Bill Hugall said no one is doing this method – check your spam inbox and you'll see a lot of people actually are! Nothing exciting to see here.
And while deciding to become an affiliate marketer can be a worthwhile and profitable venture, the 5 short video course barely scratches the surface in terms of the thing you need to learn.
The 4 Upsells
Have you ever wondered why people like try and sell you an 'amazing $130 a day system' for just $7.99? You might think it's a steal but let me show you exactly why they price it so low.
While they claim it's a special one-time-oinly price it is in fact the normal price that's set very low for a reason: once you've bought in you'll be bombarded with upsells galore.
That's because 2019 Blast Off is in fact a sales funnel where unsuspecting buyers are taken through and presented with 4 additional upsells.
The people being paid to promote this proudct wouldn't bother trying to persuade you to sign up if they were only getting half of a lousy $7.99, but they know once you're in the sales funnel they're profits are set to increase!
Here's 2019 Blast Off co-owner Bill Hugall getting his promoters fired up to start sending emails and writing fake reviews to get people to buy in to his latest money making method: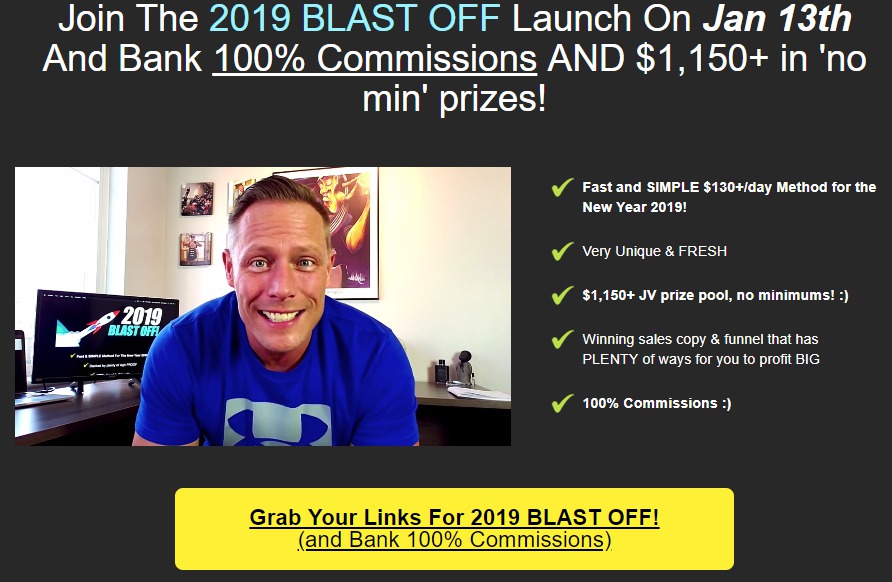 "For you [the affiliate promoters] this is an amazing sales funnel that you know converts like crazy with sale after sale after sale after sale…"
He's absolutely right. Paying $7.99 is just the very first step. You;ll be taken through a complete sales funnel designed to squeeze as much cash out of you as possible: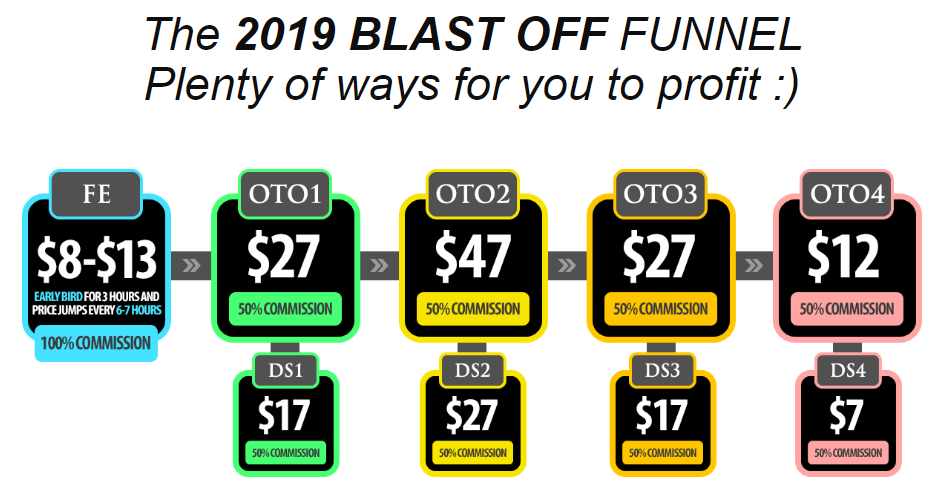 Upsell 1: Super Simple $300/day Method – $27
Upsell 2: Reseller's Rights to 2019 Blast Off – $47
Upsell 3: How To Bank Insane 5-Figure Days – $27
Upsell 4: Simple Buyers List Building Method – $12
Total cost: $7.95 + $27 + $47 + $27 + $12 = $120.95
Sure, the upsells are optional but you'll be told these are 'strongly recommended if you seriously want to maximise your profits.'
If 2019 Blast Off was as sure fire and newbie friendly as they say it is, why would you need these upsells in the first place? I mean isn't a $120 per day system with profits rolling in within 24-48 hours good enough?
Can You Make Money With 2019 Blast Off?
You might think I'm being a little harsh, after all the training comes in at less than $8 (without the upsells of course) and you could very well learn a few useful tips from the video training… but will it get you actual results?
I'd say definitely don't expect to be making $130/day like he says…
It's pretty clear by now 2019 Blast Off does not life up to the hype and pretty much fails to deliver on every single promise it made on the sales page.
This isn't a system where you simply set up once and start counting the money coming in – you are going to have to pay to drive traffic to your affiliate offers. Low quality traffic too, that doesn't convert.
Follow this method and you'll be paying for your emails to be send out by third party solo swipe vendors to their subscriber lists.
Everyone knows buying solo ads just doesn't work like it used to (Thank you Gmail spam filter!) and before you know it you're buying costly ads without getting a decent enough return.
You're going to need to constantly chase sales and buying ads in the hope of making a sale or two. This is the risky, cash-heavy way to try and build an income online, especially as a beginner!
If you're looking for a simple yet effective step-by-step training platform that will show you how to start making money with no money down, I suggest you take a look at this free beginner's course.
This is the exact course I followed that taught me how to make $7,000+ every month online and let me tell you, I NEVER pay money for ads or email swipes. I built an online presence which means rather than going out and chasing – traffic comes to me.
Proof 2019 Blast Off Is A Waste Of Your Time
1. 2019 Blast Off Is An Old Scam Rehashed
Bill is all about making money from the hype that surrounds a new product launch. That's why he's launching 'new products' every month with old, recycled videos that teach the same old worn out methods.
Instead of building a legit training platform that guides people from never making a dime online before to becoming full-time online entrepreneurs, he continues to peddle the same old rubbish.
Here's Bill and Spencer again boasting about how much money they've made from people like you and me who are genuinley looking for a make money online program that works: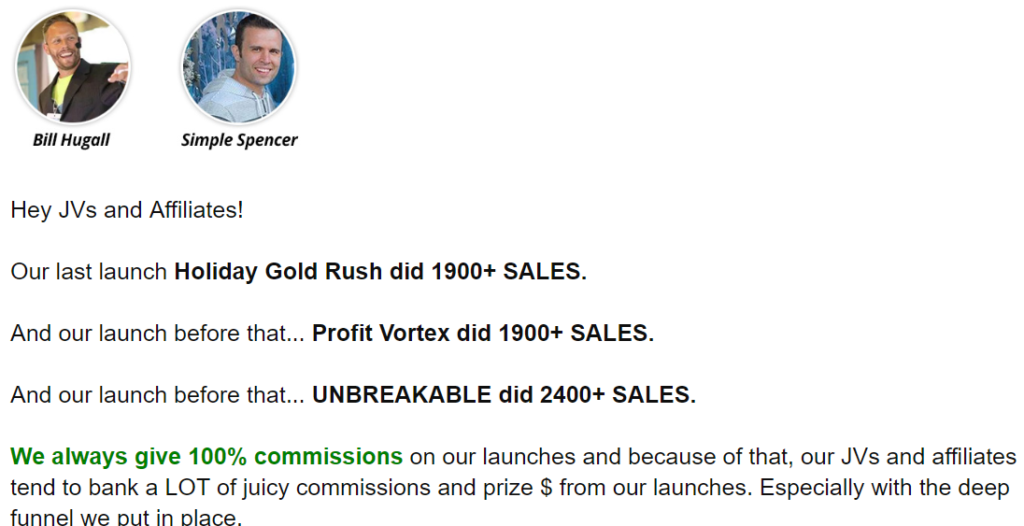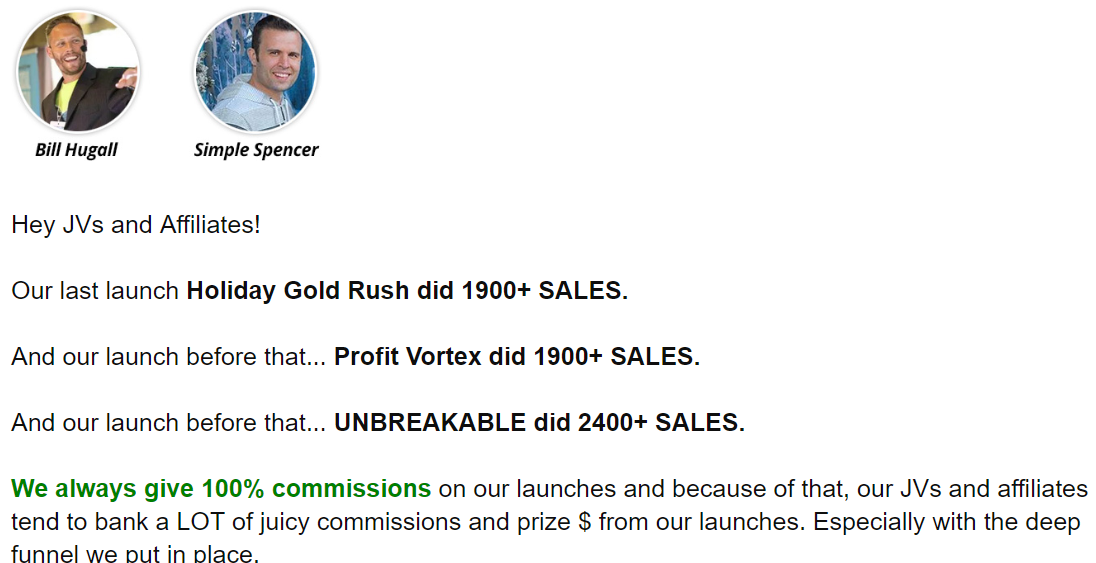 Instead of guys like Bill Hugall and Simple Spencer investing the time and effort into creating a legit training course that genuinley helps people achieve their online income goals, they throw the same old, recycled content together, give a new name and see how many people they can con into buying it.
Let me give you a real-life example of what I mean:
In Dec 2018, Bill Hugall launched a 'super simple $130/day method' called Holiday Gold Rush for Christmas.
In Jan 2019, Bill Hugall launched a 'super simple $130/day method' called 2019 Blast Off for New Year.
What's next, 'Cupid's Cash Generator' just in time for Valentine's Day?! Seriously!
Take a look at the Holiday Gold Rush and 2019 Blast Off sites and you'll see they've got exactly the same layout, promises and bonus income claims: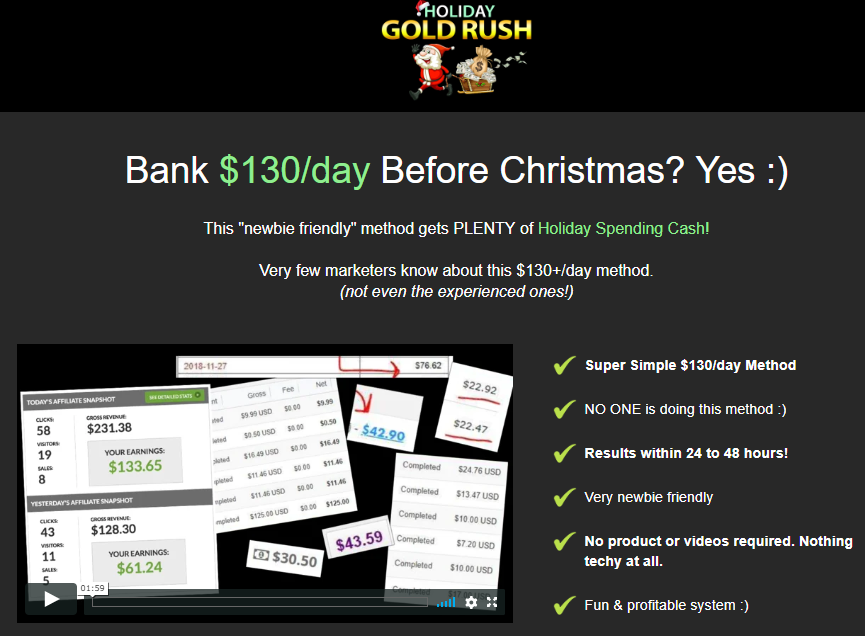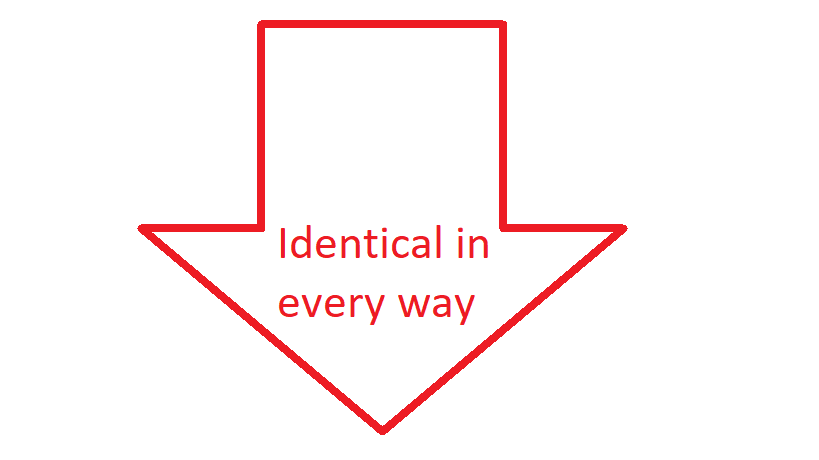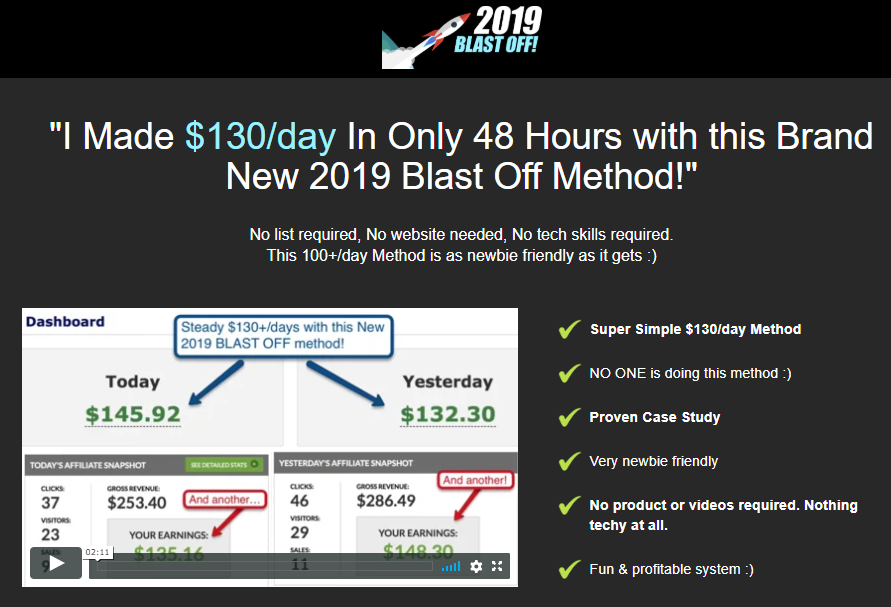 2. The Fake Reviews Are From Scammer Buddies Of His
Remember those Facebook reviews on the sales page?
Art Flair, Mark Barrett and Erik Cagi are Bill And Spencer's partners in crime, launching get-rich-quick scams I've already exposed here on the blog, including Profit Robot and The Secret Weapon.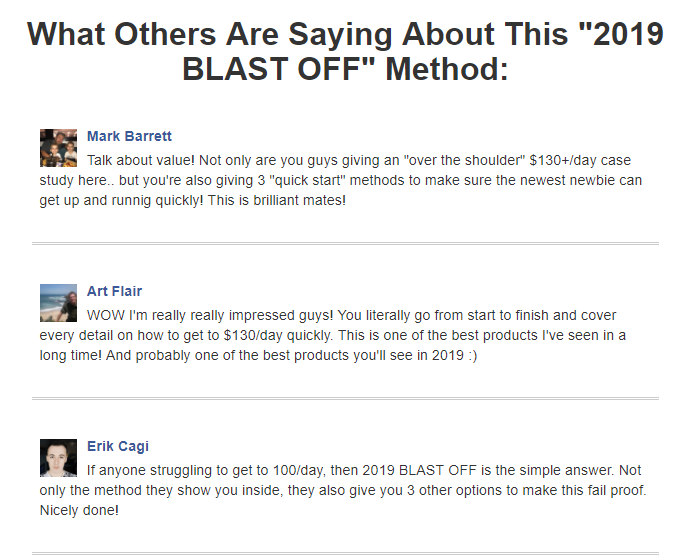 Trust me when I say you do not want to be taking recommendations from these guys!
3. Fake Ass Advertising
On the sales page they outright say This Secret UNTAPPED Method Brings Surefire Results and EASY $100+/days…then completely contradict themselves in the disclaimer.
The website sales page says you'll make $130 a day starting in as little as 24 hours:

The disclaimer doesn't sound so sure: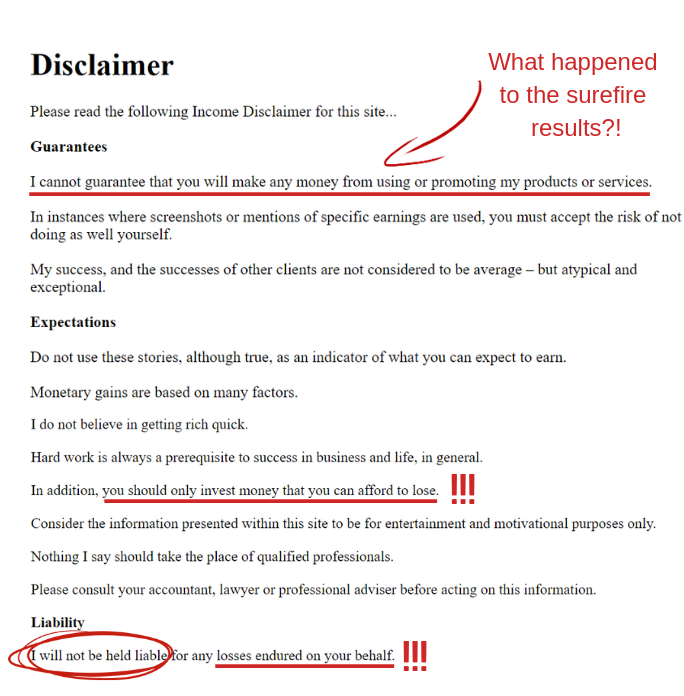 Is 2019 Blast Off A Scam?
At worst, 2019 Blast Off is the latest in a long line of scams that use hyped-up marketing practices and product launches to lure people into a sales funnel.
At best, it's a bunch of low-quality videos thrown together and called a course.
Either way, I won't be recommending it.
2019 Blast Off generates profits for the creators and affiliates promoting it, but leaves people like you and me worse off.
Once the hype of this launch has died down you can be sure this will disappear and next month they'll be busying themselves with the next 'never before seen' make money online scheme.
If you are serious about building an online income stream and making this your year of a breakthrough then there are so many better alternatives out there. Leave worthless scams like this behind and instead focus your efforts on building a legitimate income-generating business.
That's right. No shortcuts, no hype – an actual online business.
There are training programs like Wealthy Affiliate that have been guiding newbies through the process of making money online since 2006.
The best part? The beginners course is free so you can get started without getting your wallet out.
What's Your Take?
Thanks for checking out my review of 2019 Blast Off and I hope you've found it helpful and insightful.
Scroll down to share your thoughts and questions and I'll get back you!
Simon Crowe is on a mission to help as many people as possible kiss their bosses goodbye.
Take the free Commission Academy course to discover how to smash your online income goals and make your dream business a reality.