Hi, I'm Simon and welcome to my 20 Cogs review.
I'm always on the hunt for worthwhile side hustles so when a friend told me about this new UK-only survey and rewards site, I just knew I had to check it out.
I love the idea of being able to use your spare time to earn easy extra cash with reward sites – not just because it's a more useful than mindlessly scrolling Facebook timelines, but because they really do give you a way to earn an income at any time without tying you down to a specific location.
So far, Swagbucks is the highest paying survey site I've come across but first impressions tell me 20 Cogs could be a real contender.
Here's what I found out.
20 Cogs Review At A Glance
About: 20 Cogs is a UK only side income platform where you earn points by entering competitions, taking free trials, completing paid surveys and playing games.
Price: Free to join.
Pros: Lots of different money-making opportunities available, great support, has good user reviews and they definitely payout.
Cons: Expect quite a bit of email spam. Can cost you if you forget to cancel free trials.
Verdict: While this isn't a serious income earner (it's not meant to be), 20 Cogs is a good rewards site to earn some extra cash on the side.

What Is 20 Cogs?
I headed over to 20Cogs.co.uk and instantly liked the design and layout – it's clear what they're about and there doesn't seem to be much hype which is always good.
If you scroll down a bit on the homepage they say they are a rewards site that gives you the opportunity to earn a nice little side income by entering competitions, taking free trials, completing paid surveys and playing games.
They're completely free to join (UK residents only!) and say they've paid almost £1 million to members so far.
Create your account and you'll see 20 greyed-out cogs representing the 20 offers you need to complete before qualifying for a pay out. Get started by clicking on the first cog, following the instructions and completing your first offer.
If you don't like the look of one offer you'll be given a list of alternatives to choose from.
The vast majority of offers are signing up for free trials or subscriptions to things like Amazon Prime, Netflix and so on.
From what I've seen, each offer typically pays somewhere in the region of £5 to £30 which isn't bad at all.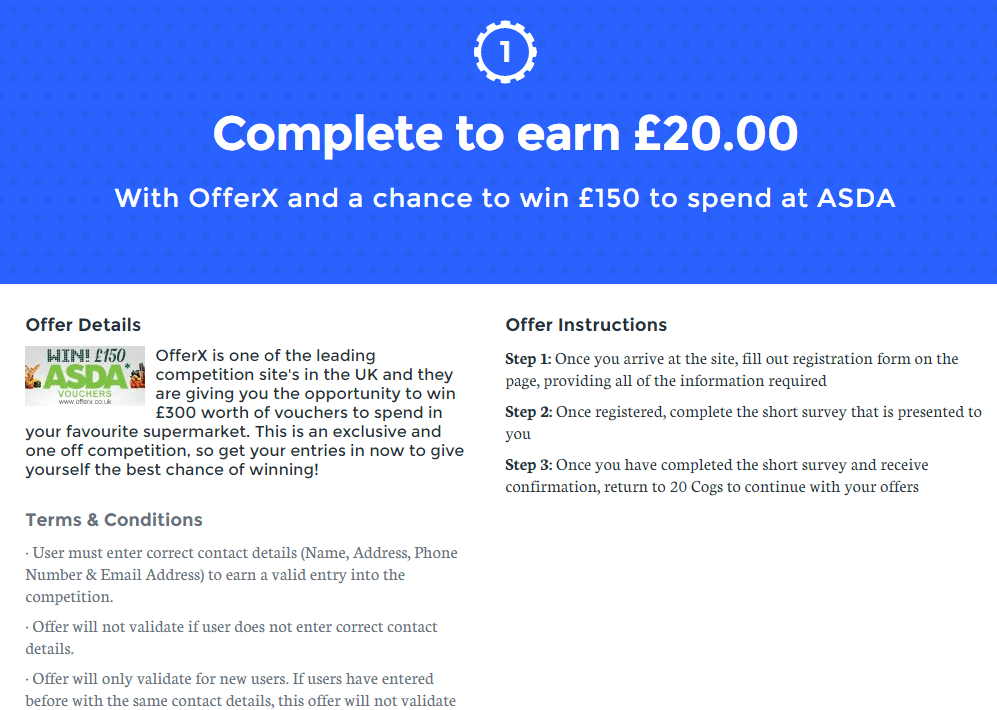 There's also a referral program where you receive 5% of what the people you refer earn. It's a good incentive to encourage members to invite their family and friends to sign up.
How Does 20 Cogs Work?
20 Cogs have partnered with the likes of Amazon, NowTV and Audible to make money by referring their members to these sites. Every time you sign up they earn a commission and pay you a portion of their earnings as an incentive.
What you've got to watch out for is those offers that ask you to enter your credit card details to make sure you're getting back more than you pay out.
You may, for example, be asked sign up to a £1 first month Which? subsciption to earn £12.50 then forget to cancel and be paying £10.75 a month.
The cashback you get should always surpass any money your paying out as long as you remember to cancel any subsciptions or free trial offers before you're billed for the full amount.
Obviously forgetting to canel will mean you end up paying out more than youever get, so it's critical you keep a note and cancel in time.
Keep this in mind and you'll be quids in! The site is simple enough to navigate, the customer support is good and it doesn't take too much time.
How Much Money Can You Make With 20 Cogs?
I like how they paint a realistic picture of how much you could potential earn instead of hyping it up – it's very refreshing!
Straight up they tell you the average member makes £200 which for a survey site is very respectable.

Does 20 Cogs pay out more than other survey sites like SurveyBods, EPoll or Survey Club? Definitely.
Play your cards right, turn all your cogs green and you'll be £20-£500 better off, depending on the kind of offers you chose to complete.
You'll see what the offer is, what the requirements are and how much the payout is before you decide whether or not to go ahead which is handy.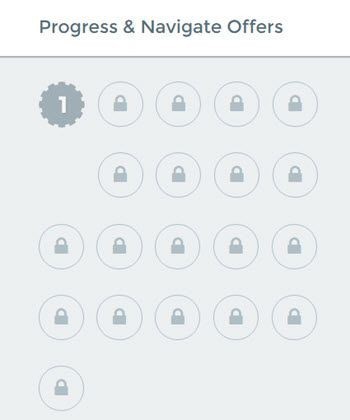 Pro tip: Some people on Reddit report completing offers without their accounts being credited. To make sure you get rewarded for your time every time, make sure you save screenshots of all offer completed offer confirmations so you have proof to send to the support team as a fail safe.
The biggest difference this site and other sites like PrizeRebel is that you only get paid once you've completed all of your cogs.
(As a side note, I'd be interested to know what percentage of members quit half way through and never get a pay out…)
All in all, I'd say I spent no more than 2-3 days (on and off in my spare time) completing the offers. I had to wait another 30 days for some of the offers to complete but ended up pocketing an extra £170.60 which I'm quite chuffed about.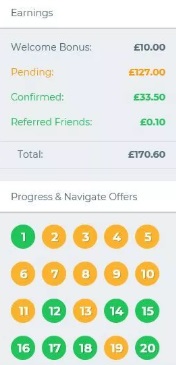 So while you're not going to become a millionaire, you are making good money compared to 99% of reward sites out there!
Do 20 Cogs Pay Out?
Yes they do, but as I say you need to have all your 20 cogs go green before you can request a withdrawl of funds into your bank or PayPal account.
It's also worth noting that some offers can be amber for 30 days, so you need all offers to be confirmed before you can get paid.
After your first withdrawal you can cash out for verified offers at any time.
Aside from extra cash, there are a lot of small side benefits too. Play it right and you can end up with a lot of freebies like a month's free Netflix access or a weeks' supply of free dog food. Every little helps right? 🙂
20 Cogs Reviews – What Members Say
There's a lot of happy members out there and reviews of 20 Cogs are overwhelmingly positive. They have a 4/5 star rating after over 1,000 reviews on Trustpilot.com.
Of course, as with any site, there are a few complaints mixed in there too so let's take a quick look at some of the biggest 20 Cogs pros and cons:
The good
1. There's always money making opportunities available
There's offers available every time you log in with new promotions being added all the time.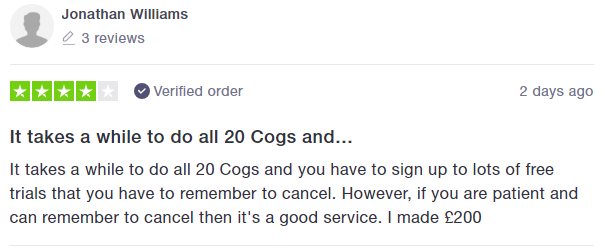 2. The support is top notch
Should any issue come up you can always submit a ticket via the 20 Cogs Helpdesk. They've got a team of customer support staff who are pretty good at resolving issues for you and usually get back to very quickly.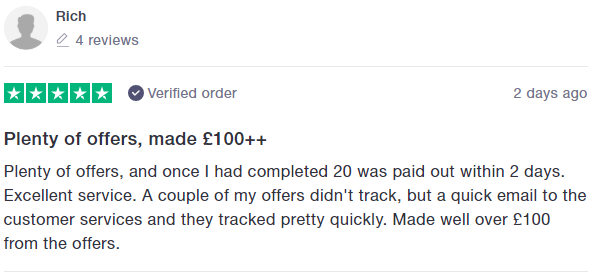 The bad
1. Beware of spam (not the canned ham variety!)
A common complaint from members is about the unsolicted sales calls and spam emails you get from companies after signing up to certain offers.
The best way to combat this is to use a fake UK landline number and alternative email address when creating your account.


2. Be careful with the offers and check the fine print
Remembering to cancel any memberships and subscriptions within the trial period will make the difference between ending up better off or coming out with a net loss.
Before handing your credit card details offer always be sure to read the terms and conditions.
Some offers will only validate after you've paid the first month at the full price so you've got to be vigilant in doing the maths to make sure you come out on top.
Other offers (gambling sites especially) may tell you it's just £1 to join and that you only have to be signed up for 7 days for your cog to validate, then you read the fine print and see you'll be changed £7 after 3 days!
Again, if you're going to be handing over your credit card details and personal contact information, do so with extreme caution!
Is 20 Cogs Legit?
20 Cogs is legit and they do pay you more for your time than most rewards sites out there.
Should you give it a go and try make some money with it?
While free trial offers give you the best payouts, they also come with the added risk of spending more than you make so you've got to be careful.
Mark the dates in your calendar so you can be sure to cancel any subscriptions within the cut-off dates and remember to check the specific details for each offer you're signing up to and you'll be quids in.
While reward sites like this can be fun little side income earner, obviously it's not something you can do full-time. It's just never going to be enough to pay your bills.
If you want to make serious money online you need to invest time into creating a legit online business. That's what I did.
The time you end up wasting on paid survey sites and the like could be put to better use by learning how to make real money online.
It takes time and effort but it's worth it – the results last longer and you make way more money that makes a real difference to your bank account balance.
I make $7,000+ every single month in passive income because I built a legit internet business from scratch.
This online income stream meant I could quit my office job, kiss my old boss goodbye and book a one-way ticket to Thailand. Click the button below for the exact formula I follow.
Simon Crowe is on a mission to help as many people as possible kiss their bosses goodbye.
Take the free Commission Academy course to discover how to smash your online income goals and make your dream business a reality.